Computer graphics in modern cinema have been pushing back natural landscapes and special effects for decades. After all, it is so easy to draw unusual fantastic characters or recreate life on distant planets! Well, it's not easy at all, but it's definitely easier than creating whole movie sets and prosthetics. And let's talk about the actors for a second. They have to play their roles, often talking to tennis balls on poles and green pillows, imagining monsters and creatures. To alleviate this issue, the director hires real experts — make-up artists, who are ready to make any wicked creature come to life in no time. Their work is incredible and delightful as CGI will never be able to create such a believable feeling.
Still not convinced? Let us look at some of the industry's most mind-blowing make-up transformations.
1. Ron Perlman is the best Hellboy no matter what you say.
2. Christian Bale's miraculous transformation from a young lad into an old geezer in the movie Power.
3. Remember when Robin Williams dressed up as Mrs. Doubtfire? This is how the mask looked like.
4. You'll never be able to forget Naomi Grossman is American Horror Story. That nose and those teeth. Wow!
5. And here's the handsome Richard Break as seen in the Game of Thrones.
6. Playing a mountain dwarf in the Hobbit must have been a real challenge for Richard Armitage.
7. Gary Oldman was an outstanding Winston Churchill.
8. It's hard to imagine Danny de Vito as a supervillain, but here he is — the Penguin!
9. The Lord of the Rings trilogy was full of incredible special effects, like John Rhys-Davis here.
10. Amazing Jack Nicholson as the Joker from Batman knows how to put a smile on people's faces.
11. A bit weird, but still charming Johnny Depp ad the Mad Hatter in Alice in Wonderland.
12. Angelina Jolie is easily recognizable as the witch Maleficent by her badass horns.
13. The legendary Arnold Schwarzenegger and his most famous role as the Terminator.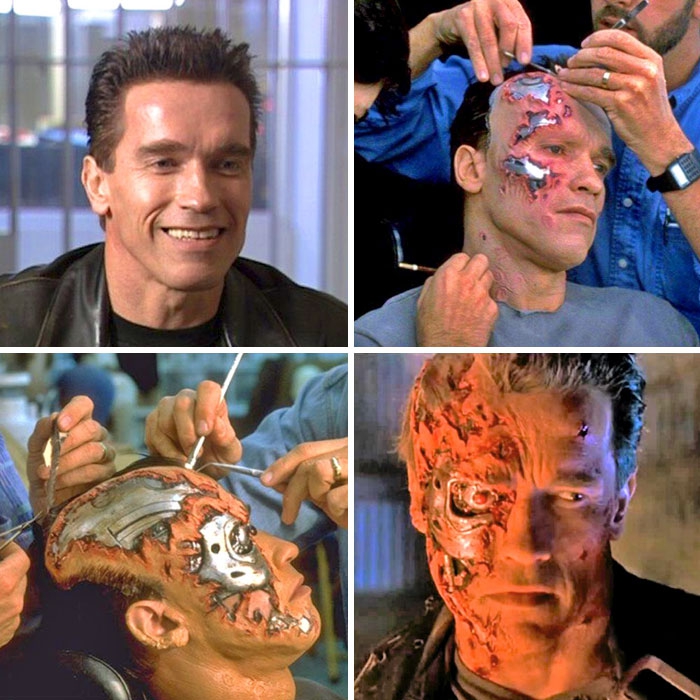 14. When people saw Bill Skarsgard as Pennywise the Clown, it was over for the whole generation. No. More. Clowns!
15. Karen Gillan as the alien Nebula, from our favorite Marvel movies.
16. You gotta have a real talent to turn a beautiful woman into an ugly abomination. Just look at Charlize Theron in Monster.
17. Jim Carrey can play anyone or anything, even the furry Grinch who stole Christmas.
18. Who's all red and has no nose? That's Hugo Weaving as Red Skull in Captain America!
19. It is difficult to imagine the lovely Mila Kunis as the Wicked Witch of the West. It just doesn't add up.
20. And lastly, we have the charming Marlon Brando playing a tough mafioso in The Godfather.