As we move through 2022, there are many beautiful things happening. One of those things is welcoming new children to the world. Celebrities are among those who will have new children this year. Because their lives are already in the spotlight, celeb babies are usually a big deal. Childbirth is a thing of national attention when it happens to famous and high profile people. These kids are born straight into the spotlight and grow up in front of the world. When they are born, the world takes notice and many times, it makes major headlines. These bundles of joy bring love and happiness to their families and the fans that follow what their celebrity parents are up to. And it couldn't be more exciting to eagerly anticipate the celebs who currently have buns in the oven. To learn more about stars who are expecting, check out these 9 celebrities who will have kids this year.
Rihanna and A$AP Rocky
One of the most talked about children to be is the one on the way for Rihanna and A$AP Rocky. These two have been all over headlines and social media, with the world in anticipation to meet their bundle of joy. The two have been friends for a number of years, and eventually began dating. Rihanna showed off her adorable baby bump on Instagram.
Priyanka Chopra Jonas and Nick Jonas
Musician Nick Jonas and actor Priyanka Chopra Jonas are excited to welcome their baby to the world earlier this year via surrogate. On social media, Priyanka commented on their new child: "We are overjoyed to confirm that we have welcomed a baby via surrogate. We respectfully ask for privacy during this special time as we focus on our family. Thank you so much."
Cristiano Ronaldo and Georgina Rodriguez
Cristiano Ronalod is a Portuguese soccer player, and is welcoming another child this year with Georgina Rodriguez. This will actually be his fifth time welcoming new life to his family. He commented on his Instagram about the excitement: "Delighted to announce that we are expecting twins. Our hearts are full of love – we can't wait to meet you."
Nicolas Cage and Riko Shibata
A day before his birthday, Nicolas Cage made an announcement on January 6th. He is expecting a baby with his partner Riko Shibata. Nicolas already has two children from his previous marriages, but this will be his first child with Riko.
Kylie Jenner and Travis Scott
Not their first time in the parenting role, Kylie Jenner and Travis Scott had a baby in February. They already have one child together named Stormi. Now their 4 year old daughter has a little brother named Wolf.
Chris Pratt and Katherine Schwarzenegger
Katherine Schwarzenegger and Chris Pratt are expecting a child this year. This will be their second child together. Recently she gave some insight into motherhood. "About this time last year, I became a mama. What a magical year it's been. I watch my little girl in awe as she grows and changes – moving from infant to baby to now the toddler phase," she said.
Jennifer Lawrence and Cooke Maroney
Jennifer Lawrence is expecting her first child with Cooke Maroney. There were many rumors circulating around the possibility of Lawrence being pregnant. She ended up confirming that the rumors were true recently during her appearance on The Late Show with Stephen Colbert.
Rosie Huntington-Whiteley and Jason Statham
Jason Statham and Rosie Huntington-Whiteley are expecting a child together later this year. This will be their second child together. Rosie has posted several pics of her beautiful baby bump on her Instagram.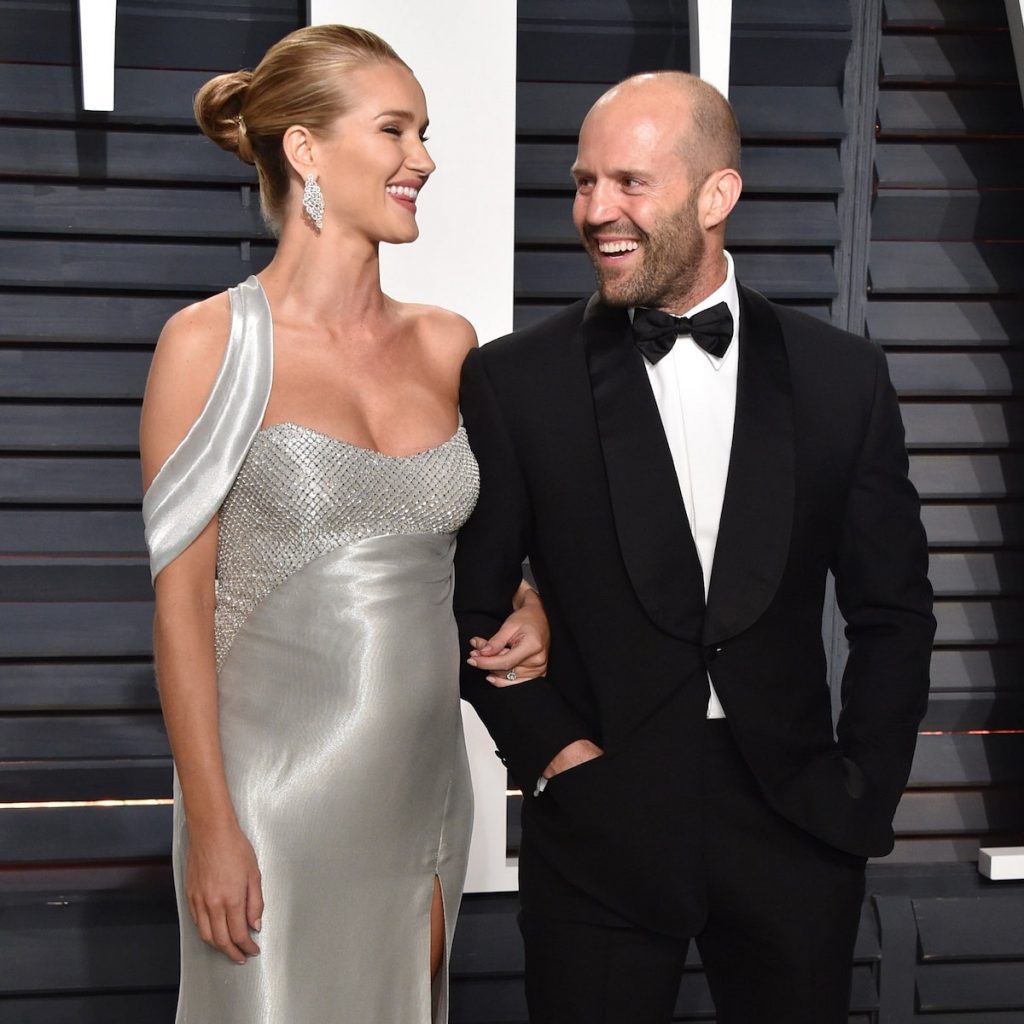 James Rothschild and Nicky Hilton
Shoe designer and author Nicky Hilton is expecting a child with her husband James Rothschild. This will be their third child together. On Instagram, she said, "the say the best things in life come in threes."