With the recent resurgence of the Taliban in Afghanistan, the future of the country is hanging in the balance. After 20 years of reprieve from Taliban rule, the militant group has forced its way back into surmounting power in Afghanistan, and this has thousands of Afghans in fear and fleeing to safety. One of the most dangerous aspects is how the Taliban will treat women, after a very harsh, brutal set of limiting rules on women during their first rule back in the late 1990s. While everyone is hoping for the best for Afghanistan, one Afghan woman is creating art that illustrates the frustration and fear of Afghans today. Shamsia Hassani is considered to be Afghanistan's very first female street artist and has created beautiful works of art all over the country, either on canvas or on the side of a building. She is a painter and teacher at Kabul University and makes paintings that speak the truth and heart of her country, and the women who have to maneuver male imposed dominance. To learn more about this impactful artist, read on about Shamsia Hassani and see beautifully heart-wrenching works by Afghanistan's very first female street artist.
Shamsia Hassani was born in Iran in 1988 to Afghanistan parents and has witnessed the volatile changes and hardships since birth. "I still remember that Afghans were not allowed to work in Iran just because of their nationality. Afghans were told that they don't have the government's permission to find a job, so my parents were facing a lot of difficulties. But I was young and didn't understand," she told online news outlet Bored Panda.
Shamsia Hassani eventually made her way back to Afghanistan and attended a graffiti worship in 2010. This is where the passion of Afghanistan's first female street artist was birthed. The workshop featured UK graffiti artist CHU. "CHU's lectures included theory, practical work, and presentations of different artists from around the world," Shamsia said. "There, we learned graffiti for the first time. As the workshop continued, we learned about spray techniques and how to paint large scale drawings on the wall."
Hassani has grown into an astounding artist since then and has developed a trademark character that can be found all over the country. It features an Afghan woman who here eyes closed and has no mouth, usually covered by what appears to be a niqab, the face covering that many women in Afghanistan have been and are now being ordered to wear by the Taliban.
She continued to perfect her craft and was very attached to her new form of self-expression. "I really liked it and thought it has a lot of uses. I believed that graffiti can be a tool through which I will change the war-torn walls of my city into colorful paintings," Shamsia said. "The colors would hide stories of the war on the walls of my city and people would see new things instead of bullet signs and cracks."
As she expanded her mission to spread beauty throughout her country, things grew more volatile in her country and she could no longer create her street art. People in Afghanistan are not against art, but they're against women's activities," Hassani explained. "So when someone saw me outside doing graffiti, they said bad words, they cursed, and some called it a sin. When I painted in public spaces, I would start feeling unsafe after about 15 minutes, so I would leave the place."
Once the Taliban was defeated in 2001, women were able to make great improvements and resume many roles in society. "During these twenty years, many women developed in various fields like education, trade, culture, medicine, etc. The progress was slow but very promising," she said.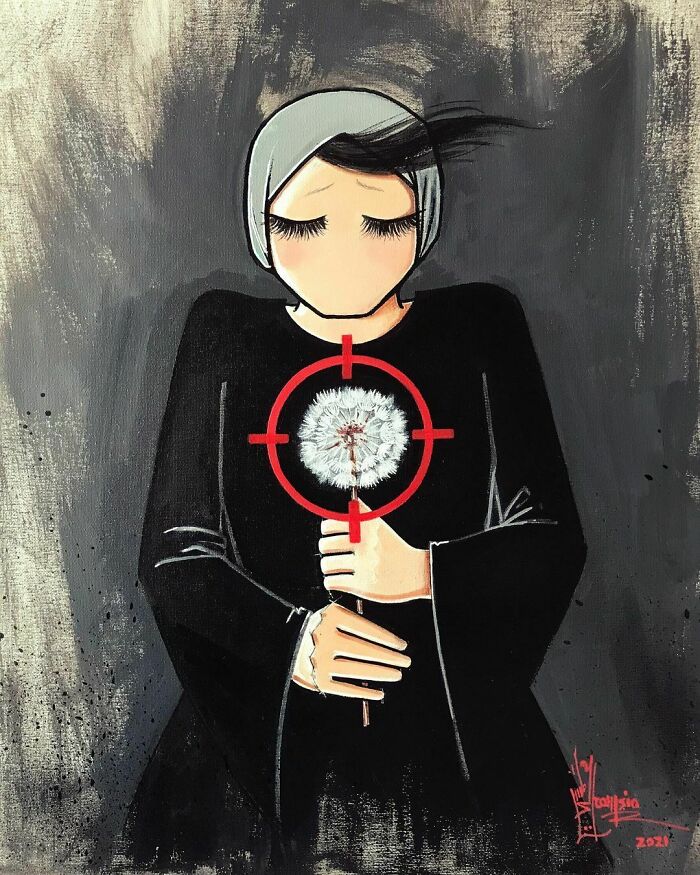 Even with the return of the Taliban again in 2021, things do not look hopeful, but Shamsia's art continues to provide a source of expression and emotion to illustrate the feelings of the women in her country.