Most men would agree that women are mysterious beings and most of the time even they themselves don't understand how they are weird. Sometimes they are drawn to simple things like truthfulness, kindness, intellect, sense of humour, but there are also those times when they are attracted to absolutely unexpected things. Despite what you might think, there's always some science behind each and every law of attraction, be it guys wearing red or the ability of men to go 100% geeky about something. Here are 9 unexpected things men do that women actually find attractive.
Brooding
Yes, as unlikely as it may sound, broody guys get more brownie points compared to the smiley ones. What's this all about, you might wonder? The answer lies in the evolutionary mechanisms that still rule some parts of women's minds. Broodiness is a sign of pride and signals about a stronger male partner as opposed to those friendly smiley guys-next-door. Well, it is true not all women are wired like that, still these old-fashioned values haven't gone anywhere.
Wear red
Apparently, there are things that both men and women find attractive (although for different reasons), and this is one of them! The University of Rochester did a peculiar study that revealed more unexpected facts about laws of female attraction – women consider guys wearing red much more attractive than those who don't wear the color! The reason is quite simple: red is associated with royalty, aggression/strength, and high status. Needless to say, the latter is the most important as guys wearing red are considered more able to climb the social ladder and reach all kinds of success.
Go all geeky about things
Being passionate about something is a major turn-on for most women. So when a guy starts geeking out about Game of Thrones, his favourite football team, or the game he's been re-playing for the umpteenth time because of reasons – that's actually a good thing! It turns out being so passionate about something shows women that a guy is able to take care of his own interests, can be happy whether he is with someone or not (he doesn't depend on a partner to be happy), and knows how to be productive with his time.
Cook
Well, the strict social roles of women-at-the-kitchen and men-earning-money have definitely become more vague over the last decade, yet still women are drawn to guys who cook (and, what's even more important, actually know how to do it). British neuroscientists observed 20 couples with male partners doing various tasks. The reactions of women were pretty straight-forward – the majority of them were more excited to see their men cooking than performing some more manly task like chopping wood. So it turns out a path to a woman's heart also lies through stomach!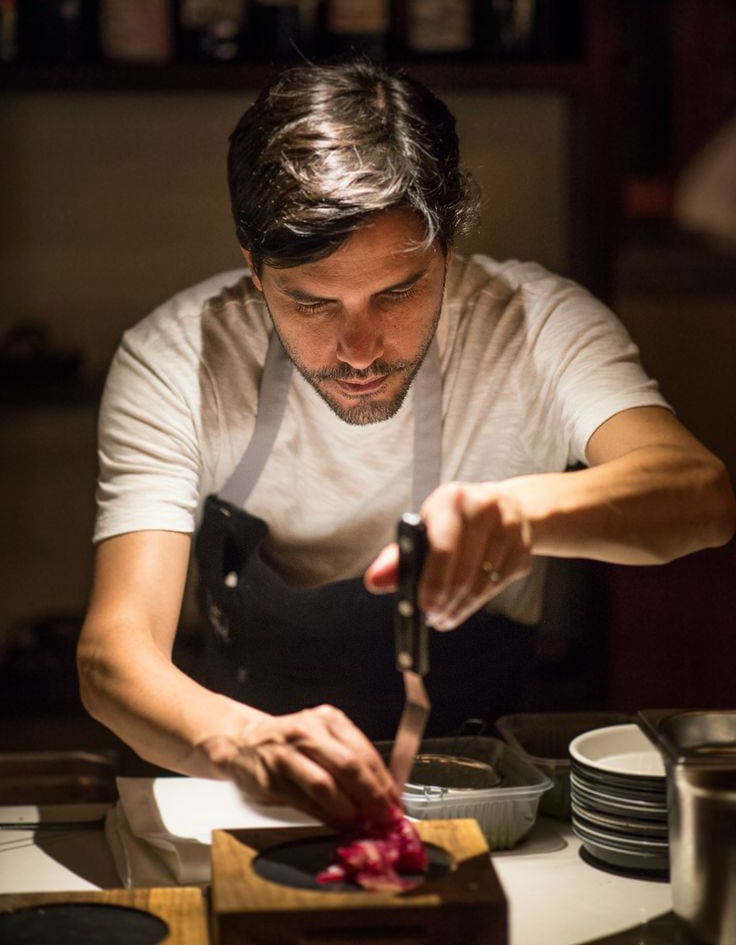 Talk in a sleepy voice
A guy with a low voice will always get more kudos than the one having a more high pitch that is usually associated with females. This happens due to the fact that high pitch indicates a smaller body frame, while deeper voices usually belong to bigger men. Yet, there's something more important than pitch itself – it's the breathiness of the voice. It is very similar to the voice a guy has when he just woke up…This type of husky voice is extremely attractive to women as it makes those deep voices sound less intimidating and more sensual or even cuddly.
Show off grey hair
Yep, as irrational as it may sound, women actually adore silver foxes. It might or might not have started with George Clooney who seems to become more and more attractive with age, but the whole phenomenon got dubbed as the George Clooney Effect. According to research, guys pay more attention to physical traits when choosing a partner (young, strong, beautiful) and one would think that women would be the same, but nope – they actually like them a bit older and more mature! The main reason is that such a man is an accomplished human being both psychologically and financially. But even those women who provide for themselves still find silver foxes more handsome.
Take risks, but not in a silly way
Women find brave men truly attractive now as much as they did in the prehistoric ages, when everyone was running around with spears trying to get that mammoth for dinner. Jokes aside, it is still true! That being sad, women are really into heroic acts and that kind of bravery, so taking unnecessary risks (like playing dangerous sports) is a real no-no for the majority of ladies. That's why professions like doctors, fire-fighters, and pilots are among the most popular on dating platforms like Tinder.
Act awkward
So it appears not only strong and confident men are attractive – awkward guys also have a shot in finding the girl of their dreams! In fact, they might have even more chances as they almost immediately become dear to the woman they are with, revealing their affection in the most obvious, yet sweet way. It actually puts most women at ease as they don't have to play the usual hunt-me-down game as it happens with more 'predatory' men and can relax and enjoy a different kind of dating experience.
Be a good friend
When a woman finds a guy she likes, she looks not only how he acts with her, but with his buddies as well! As it turns out, being a good friend is incredibly attractive to the majority of women as it signals about several very important traits like compassion, good comforting skills, the ability to manage conflicts, and overall ability to support another human being. All these qualities women find really important in building a relationship with a man.