Once upon a time, the highest-paid actor in Hollywood, world's sexiest man alive, successful entrepreneur and altogether great guy was just The People's Champion. It's hard to imagine a world of entertainment where Dwayne "The Rock" Johnson isn't showing up every once in a while, and that does make it easy to forget that he started off as a professional athlete.
Since his movies are easy enough to find a small rundown of, let's take a look at how The Rock started off his career and go through his athletic feats.
Blessed Genetics
Dwayne's father was also an athlete, and most of what we now know of Dwayne's physique comes from that side of the family tree. Even when he was only in primary school, Dwayne already showed size and athleticism that went way beyond his peers.
Football
When Dwayne got older, it was only a matter of time before he'd enter the world of football. First he played for his high school team at Bethlehem, PA – at that time Dwayne looked like a real undercover cop. He was head and shoulders above his classmates and was already built like a pro athlete.
After being a successful high school athlete, Dwayne got into University of Miami on a full scholarship, where he played in the same team as some players who would later go on to become well-known pro footballers. Sadly, that's not exactly how it turned out for Dwayne …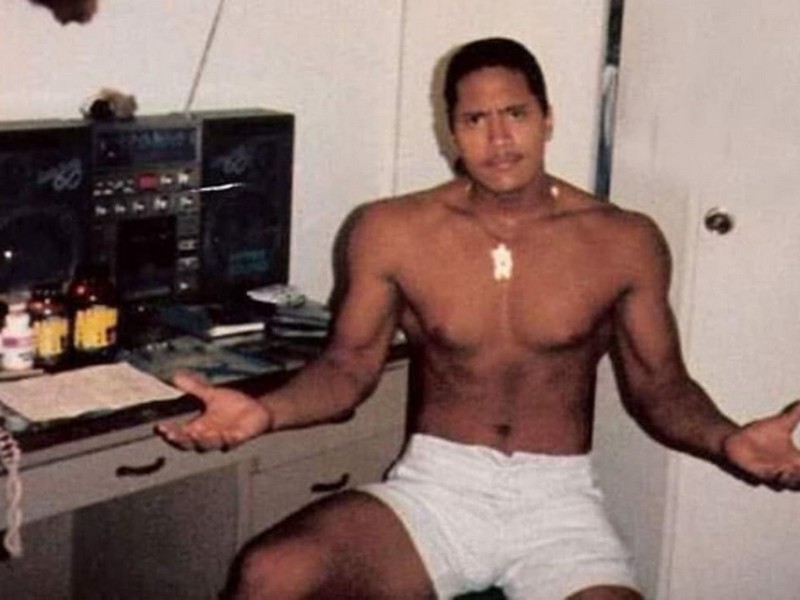 The Canadian Football League was as far as Dwayne was ever going to get when it came to football. He played for a team called the Calgary Stampeders and was actually cut from their roster only two months into the season. And after that short passage through the CFL, that was the time for The Rock to finally become who he was supposed to be.
Wrestling
We all know the WWE and we don't really consider it to be a sport as much as it is a form of entertainment, but if a person ever embodied both aspects so perfectly it had to be Dwayne Johnson. He had the athletic body, he had the technique, he had speed and he had tons of charisma to entertain the audiences. The People's Champion was born.
Gym Work
Naturally, the fact that Dwayne is now mostly a businessman and actor doesn't mean that he isn't putting in the work anymore. He has his own "Iron Paradise" that he brings along with him on every set he does so he can keep his body in the shape it's in and grace us with the occasional picture or video of him doing some insane exercise routines.
Back to Football Again
If you thought that was the end of Dwayne Johnson's career in sports, you're wrong. The infamous XFL, a potential competitor for the NFL, was pretty much doomed on arrival until Dwayne bought the league in August 2020. After reinventing the league, Dwayne has now announced that the XFL will be making a comeback in 2022 and we can't wait to see how this will change the world of football!