The Met Gala is a massive event that many look forward to every year, but this year it had to be postponed due to a worldwide pandemic. But don't despair, Billy Porter and Vogue magazine have you covered. They announced #theMetGalaChallenge on Instagram, a fashion challenge that slays. The rules are pretty easy. You choose your favourite iconic Met Gala look from the past yeast and try to recreate it at home to the best of your ability. The results are in and it looks like people really went ham on this challenge. The looks recreated at home look absolutely fabulous. Take a look below.
1. Mini Kailing as Jared Leto
Mindi Kailing did an incredible job recreating Jared Leto's look. All you need is some shiny red fabric or even red gift wrapping paper, fairy lights for accessories and a mannequin head to complete this iconic fashion look.
2. Awkwafina's Dress
Quite a few people chose to do the gold dress Awkwafina wore to the Met Gala and there were so many good ones, but this lady in a yellow dress definitely made the best one. It actually looks fit for a red carpet at a glance. It's only when you look closer that you realise the crinkly details are made of paper.
3. Eugene Lee Yang as Zendaya
Eugene Lee from the Try Guys did a spanking job recreating Zendaya's princess dress. Who knew you can do that at home? And he pulls off the look so effortlessly, seriously, let's all give Eugene a round of applause.
4. Rihanna's Look
This lady managed to recreate Rihanna's fabulous look at home, and while Rihanna is covered in gemstones and Swarovski crystals, this woman has achieved the same effect but with newspaper. Now that's a skill.
5. Keith Habersberger as Blake Lively
Keith from the Try Guys also attempted the MetGalaChallenge and his look of choice was Blake Lively. It's a pretty good attempt, don't you think? We especially love the hair accessories, such a creative solution.
6. Lana Del Rey
This girl pretty much created a copy of Lana Del Rey's look and even photoshopped her to be on the red carpet at the Met Gala. Now that's dedication. We can only imagine it took quite a bit of time to create all those accessories.
7. Gigi Hadid
This girl managed to copy Gigi Hadid's look using shower curtains, staples, duct tape and a paper bag. And it looks so freaking good we're kind of wondering why don't we just do this every day. Think about how many cool yet affordable looks we could try.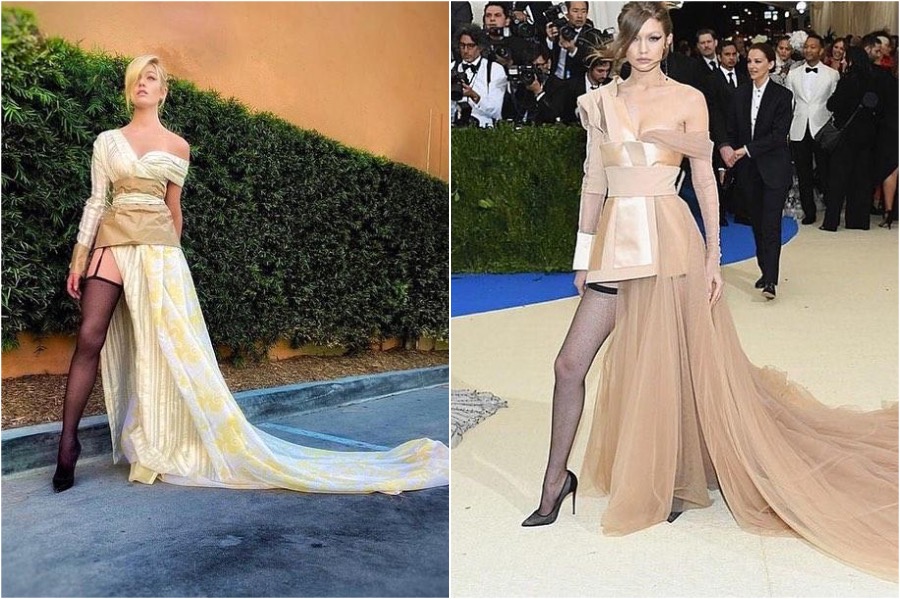 8. Billie Porter
Billy Porter did say that you can pick whoever you want for their Met Gala challenge including himself in the list, and this girl ran with that idea. Her recreation of Billy's look is so freaking cool we can't stop staring. How did she even do that?
9. Ezra Miller
Now, this must've taken a long time but the result is so stunning you might actually confuse them for Ezra Miller. The makeup, the bejewelled corset, the mask, it all looks so on point. If we could possibly pick winners in this challenge we'd say this one is at the top.
10. Kardashians Met Gala Carnival
We can't even imagine how they did this, but this group shop of the Kardashian sisters at the Met is absolute goals. The attention to detail is insane, look they even have little jewels hanging off Kim's dress just like in real life. Bravo to these people! Someone give them the Met Gala challenge award of some sort.