We have something for you. Just a few wacky ideas, to make you look at least somewhat like your favourite celebrity.
Let's get to the point! Here are over 30 ideas for a phenomenal makeup transformations. Enjoy!
This is how you become Owen Wilson and before you ask – yes, the wrench is totally necessary.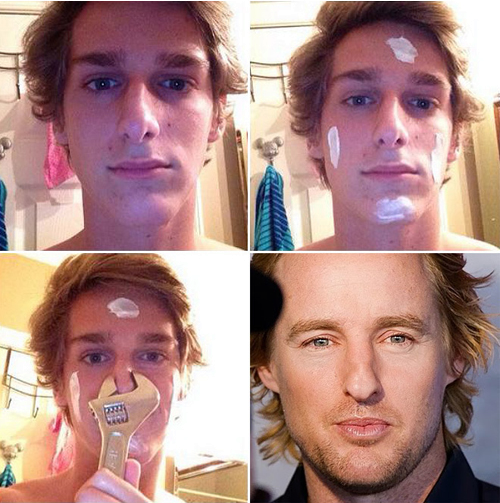 Become Khal Drogo for Halloween!

Or how about you be a random (probably very famous) girl?



This guy looks exactly like Snoop Do~… I mean Snoop Lion.

"Crying Kim Kardashian" must be a really popular character to cosplay.



What's his name again? Mr Freeze? Snow Guy? Ice T?

This is just uncanny. Girl, you got some real talent!

Katt Williams with boobs? Hell yes!

Can't tell if this is the actual Drake making fun of himself or…



Just keep trying, one day you'll become a sponge named Bob.

Well, he's not wrong.

Going UP?



Asian Brad Pitt is the best Brad Pitt

NO!

This one had me laughing like crazy!

Sweet sweet cupcake <3


"Ready the Nuke, my North Korean minions." – this guy, probably

Best d-bag makeup ever, or what?

That's one horcrux Harry won't be able to destroy – a meme.



That's not racist, right?

Who would have thought that a ball deodorant is actually a tiny guy with an oily head?

Whatchoo say 'bout my momma?

Eddie Murphy has never looked this good.



Getting a short haircut: reality VS expectation.

Can you smell what the Rock is cooking? I promise, it's not his cat.

They should do a collab video!