One of the last week's most important events nearly went down in flames. Of course, I'm talking about the 2017 Academy Awards. I've covered the La La Land/Moonlight fail, Matt Damon's broken chair, and all other things that went wrong, in my previous article (link), so now it's time to get silly!
Literally minutes after the sh#t went down, people started posting memes, one by one. Now, featuring all of them would be insane, so here are some of the best ones, in my opinion. Let's check out these 18 hilarious memes from the recent Oscars ceremony!
1. I like it when the tweets are actually making my job easier

2. When they're giving away your hard-earned Oscar. (if you have no idea what this is about, just google "Arthur meme")

3. This moment deserves all the memes!



4. Futurama did it first!

5. And now a word from our Illuminati sponsors.

6. This is what happens when you combine Harry Potter and Oscars.



7. Are you saying this ISN'T Emma Stone? Actually looks pretty legit.

8. Aww, 'member that one Miss Something pageant?

9. Gosling, you little devil you!



10. Specsavers sure know how to do viral marketing, gotta give 'em that.

11. Ah, yes, now it kinda makes sense. Mr. Shyamalan does live those twists!

12. And now a couple of "best picture" memes, starting with Space Jam, because why not?



13. Yup, that movie was the best! Especially that part where Paul was riding the Segway

14. Woo! Finally memes got some love!

15. Oh yeah, the best movie of 2016, for sure!



16. … brilliant… just. Brilliant.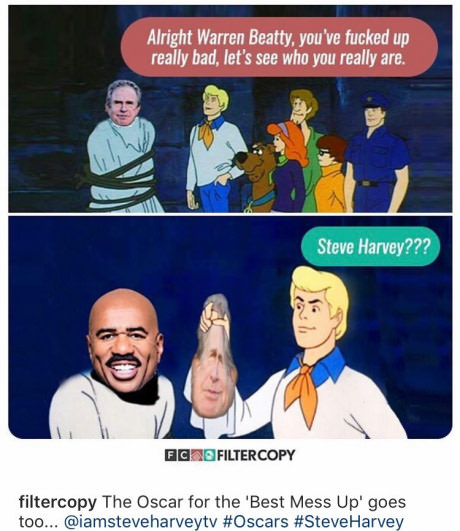 17. That moment when Seinfeld predicted the future…