Thailand is amazing. Once you've been there, you will always long to return. This country has so many hidden gems that you just can't get enough of it. And while most of its attractions are pretty much "permanent", there are some things that can be witnessed on a seasonal basis only.
In the north-western part of the country, to the north from Kumphawapi and 50 miles away from Udon Thani, there's a lake called Talay Bua Daeng, also known as the Lake of Pink Lotus Flowers.
Now imagine yourself floating on a lake surrounded by pink blooms of lotus flowers. That would be amazing, wouldn't it? No wonder it became one of the Thailand's most stunning seasonal attractions.
And it's popular not only with tourists. This lovely spot attracts locals as well. Thai couples come here for a romantic getaway. Parents bring their kids when they want to show them something special.
Most of the year it looks like a normal lake, but during colder times, pink and crimson flowers start to cover the lake like a blanket.
If you are thinking about visiting the lake, you should know that this one of a kind natural phenomena can only be experienced during late fall and early winter (November/December to be exact). The best time to see water lilies at their full bloom is around 6-11am, before the sun comes up too high and becomes too strong so the flowers start to close up.
The blossoms are not very dense from the edges of the lake, so you will have to take a boat to get to the center of the lake. The boat will follow the tiny narrow paths that will eventually get you to the most beautiful part of the lake.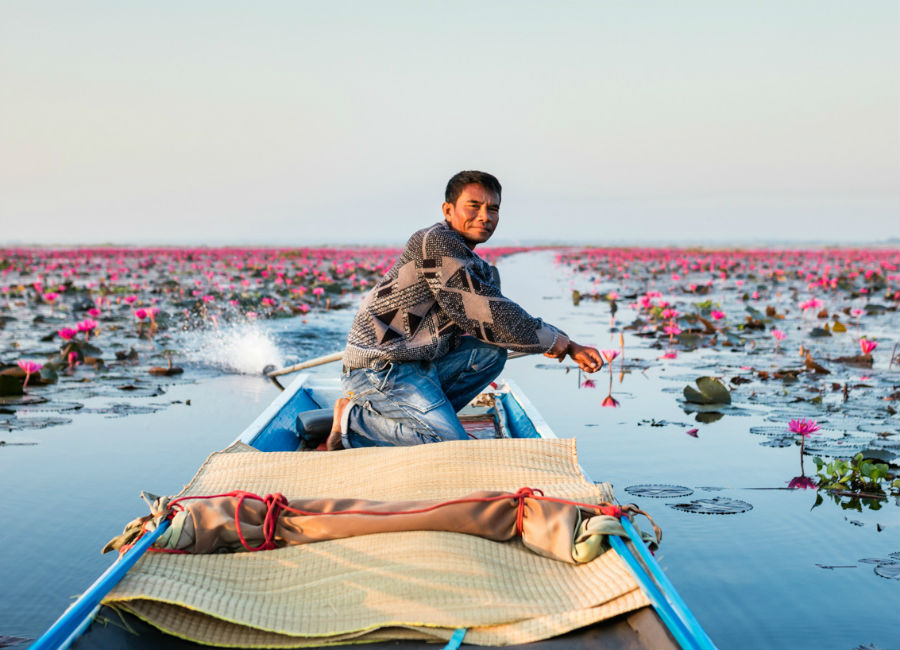 I recommend you take a wooden boat, especially if you are traveling with your partner and want to add a bit of Thai romance to your journey.