You'd think the middle of a worldwide pandemic wouldn't really be a time when people cared about fashion or bought expensive trendy items of clothing. You would assume this is the time we'd try to save money, live frugally and try to be as practical as possible, considering the fact that we have nowhere to go, we're all stressed and the economy is crashing left and right. But you'd be wrong. Clearly trying to predict what would and would not happen in a pandemic is a tricky thing to do, because how can you expect people to act a certain way in a completely unexpected situation. Summer 2020 will probably be forever associated in our memory with cancelled trips, social distancing and the strawberry dress.
Yes, that strawberry dress you've been seeing all over social media. You probably don't even know where it came from and why it's so popular all of a sudden. And we're here to clear up the confusion and attempt to analyze why such a fancy dress became so popular in such a weird time.
So let's start at the beginning. This strawberry dress was designed by Lirika Matoshi, a Kosovo native now based in New York City. Matoshi is a young fashion designer who has no formal fashion education but clearly, that's not stopping her. She started out with making chokers by hand and selling them on Etsy in 2016 and now she has a successful business selling apparel and accessories. It's a small business, but all the employees are women. The business is based in New York, but they also use a factory back in Kosovo for the production of goods. The overall style of Lirika's creations can be described as frilly, whimsical, romantic yet sophisticated.
So how did the strawberry dress come along? Well, Lirika first designed it in July of last year, a time when we couldn't have imagined what 2020 would look like. In January of 2020, Tess Holiday wore a custom version of the strawberry dress to the Grammy's and that's probably where it all started. Lirika also sent out the dress to various influencers and celebs as part of her PR strategy, but she never hoped for this level of popularity for the dress. It's not the first PR campaign she did, so she knows that it wouldn't garner this level of popularity and sales.
Her best guess is that the strawberry dress has an air of nostalgia and fairy-tales. It's a throwback to a simpler time in our childhood, a time when we didn't have to worry about face masks and social distancing. Plus the dress has this unique look and a fit that would suit everyone, which makes it perfect for any occasion. You could wear it to a fancy event, a picnic, a photo shoot, a trip abroad for a summer vacation, etc. And people need a distraction from the current situation, so buying a dress like this seems like a good idea. The popularity of cottagecore has also probably added to the popularity of the dress since it fits that esthetic perfectly.
But the strawberry dress is not cheap, it retails for almost $500, yet people keep buying it. Some have bought it as a treat, to distract themselves from their daily life, others have spent their vacation savings on it since their plans got cancelled. The funny thing is that most people who have bought the dress have no idea where they're going to wear it to, but right now they feel happy wearing it at home or for a photoshoot in their garden. It's just a pretty dress to twirl and look pretty in, a welcome escape from reality.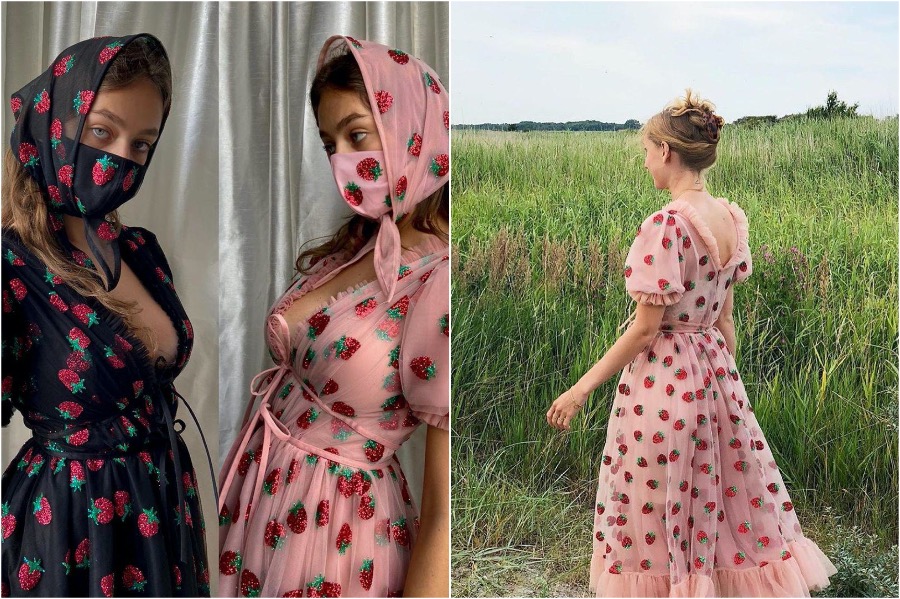 But of course, not everyone can afford a $500 strawberry dress. That doesn't stop them from fantasizing about it and photoshopping themselves or their favourite celebs in it. There's also a lot of fanart of various characters wearing this dress. You've probably seen edited images of Zendaya and Harry Styles in this dress (we hope he actually buys it for real). And there's been quite a lot of people on social media trying to recreate this dress DIY style. All in all, if we have to come to any conclusion regarding the strawberry dress, it's pretty incredible to see that even in the strangest of times we as people still gravitate towards beautiful things.