Svetlana Kazina, a photographer and a nature-enthusiast, left her home and job in the city 20 years ago, moving to a picture-perfect Uznezya, a village in the Altai Krai region of Russia. And she never looked back! Svetlana and her two kids started a new life in a simple wooden house that was around 70 years old, with no heating, running water, or toilet. Was it worth it? You bet it was! She and her family ended up living in one of the most beautiful places on Earth, surrounded by snow-capped mountains and gorgeous vistas, forests, and wild animals roaming around in the open. Svetlana isn't keeping all that beauty to herself – she takes photos of all the places she visits and she does travel quite a lot! One of her recent adventures brought her to mount Belukha, one of most sacred peaks of Siberia. Apart from the striking beauty of the mountain itself she witnessed a rare and breathtaking phenomenon – the iridescent clouds…
Belukha mountain is one of the most beautiful and powerful places in the whole Altai region. Local shamans regard it as a shrine of Mother Nature, while mystics regard it as none other than Mount Meru that is considered to be the centre of all Creation by Buddhists, Hindus, and Jains.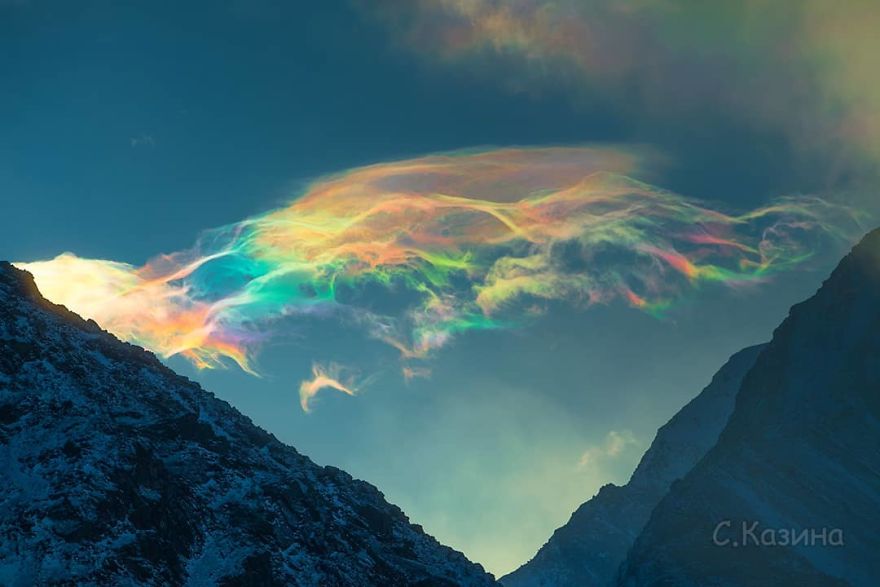 Svetlana visits Belukha quite often as it's her most favourite place, including the whole Katun mountain range. She lives far, but closer than most people who have to travel thousands of miles to reach this beauty. Svetlana needs to take a one-day ride to the nearest village and from there travel on horseback or by foot for two more days until she reaches the Ak-Kem valley. From there it's one more day of trekking till she can reach the spectacular Belukha!
She visited the Ak-Kem weather station, located at a spectacular height of 6726 feet, spent the night there, and witnessed the breathtaking sight of iridescent clouds early in the morning. Svetlana noticed that the clouds became a bit brighter as they were nearing the sun, and a beautiful halo appeared all around them…that was the iridescence!
Svetlana confessed that you can see iridescence quite often in these mountains, but usually you simply don't have the necessary tech with you to capture this beauty. It ends quite fast, leaving only memories of this natural phenomenon that you can't share with anyone else.
The sun was rising higher with each second, but Svetlana was fast and well equipped. She took the shots with her Nikon D850 and a Nikkor 28-300 lens.
The colours are a little bit enhanced to showcase what it was like in real life. But even without the filters you can see the colours with the naked eye.
Iridescence appears on the surfaces that gradually change colours with the change of lighting or viewing angle. It happens in feathers, soap bubbles, certain minerals, butterfly wings, and clouds as well.
You can see more of Svetlana photographs on her Facebook and Instagram accounts. She loves taking photos of both usual and peculiar natural phenomena when she's out in the wild exploring forests, mountains, and rivers.