Most of us have grown up hearing the same old tale from our parents – tattoos are bead, you shouldn't get them. And while some go as far as to say it's something associated with prisoners and criminals, others just think that tattoos can alter your path in life and stop you from achieving success or building a career in a "serious profession". It's kind of sad that in this day and age we still worry about tattoos as something that can discourage people from taking you seriously in a professional setting. This is where Sarah Gray comes in.
Sarah is a doctor and a future orthopedic surgeon and she's also a heavily tattooed woman. She's actually one of the most tattooed people in the medical industry, but she likes to just say she's colorful.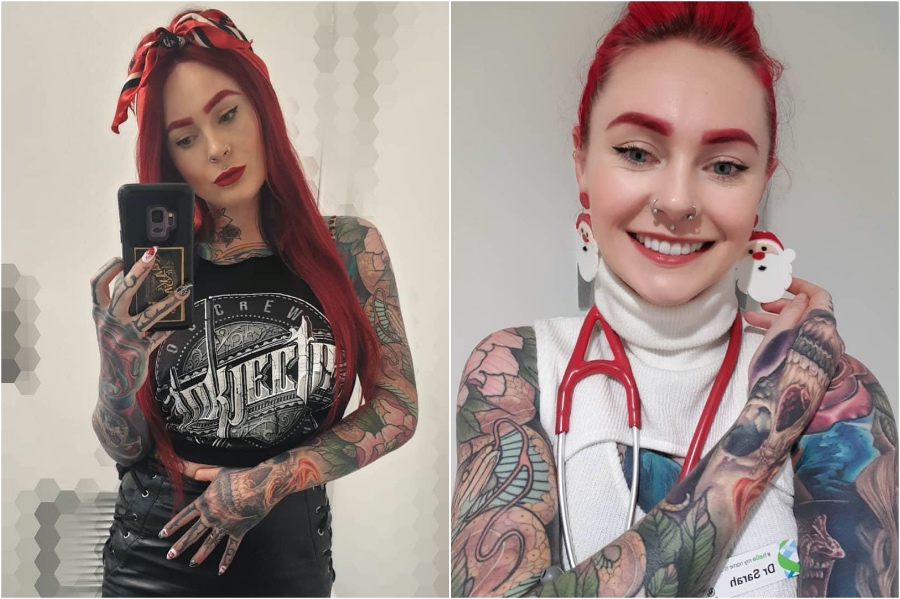 Sarah has a dream of becoming a doctor and a surgeon and she went for it. She graduated from the University of Adelaide in Australia and got a job at a hospital. She's obviously got a lot of tattoos and she was a bit worried about how her colleagues at work would react, but apparently, they just welcomed her with open arms and her appearance didn't stop her from getting a job in medicine.
Just by being herself and going for her dream job without compromising her personal ideas of beauty Sarah is making huge strides for every tattooed person out there. It's not always sunshine and rainbows, she has had her share of negative experiences, but she says that the good ones definitely outnumber the bad.
For example, Sarah and her boyfriend were once asked to leave a restaurant because of their tattoos appearance. So she knows firsthand how awkward some social situations can be just because you chose to adorn your body with tattoos. But on the other hand she truly believes that "If you want something and work hard for it, you can get it. The more people help to eliminate the limits set by stereotypes, the more they'll be able to change the way people think in the future". We love that she's got such a positive person and believes that to see the change in society you have to be the change.
Sarah's tattoos have allowed her to have quite an interesting life. Apart from becoming a doctor and a surgeon, she's had other successes in her life. In 2017, she won the Miss Ink Australia and she also managed to open a private art studio, called The Grim Raptor, where she tattoos other people.
We hope Sarah can inspire you to believe in yourself and also open up your mind to the possibility that being different isn't bad, being different just makes the world more fun.