Fashion might be ever-changing and many people say it's difficult to keep up with it, but this elderly German couple has no problem with staying fashionable even in their later years. Britt Kanja and her partner Günther Krabbenhöft are Germany's most stylish couple in our humble opinion. They might be silver-haired but they clearly know how to stay stylish no matter what.
Brit is actually known as a style icon of Berlin, and Günther has also gone viral for his style and got a nickname of hipster grandpa.
We love their ability to create extremely memorable outfits and pose in such a memorable manner. What's interesting is that a lot of their style can look kind of vintage or inspired by a different era, yet it doesn't look dated, it always looks cool and fresh.
Britt seems to have stopped ageing when she was young. We don't know if she has a special regiment or if she has sold her soul to the devil, but she still looks like she could be in her 20s or 30s and her miniature slender frame only adds to that illusion. Another curious detail we've noticed is that a lot of the time she has her hair covered under a hat or a scarf, a style choice that makes it seem like she actually time travelled from a different time.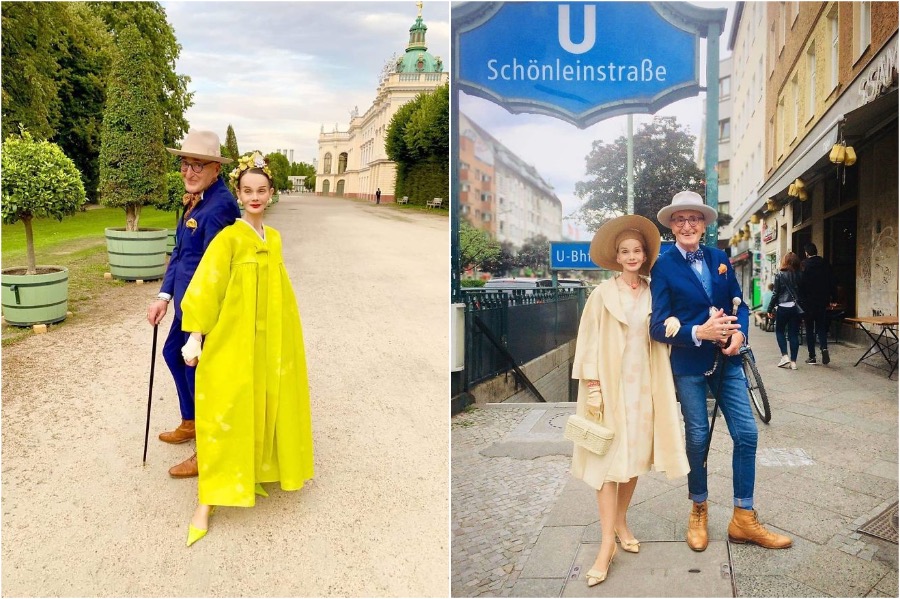 Günther also loves fashion, even though he has no actual training or formal education that has to do with fashion. He was just always into it, ever since he was young. He grew up in Hanover and jokes that he even used to wear miniskirts when they were just becoming a popular thing. He and his friends would run around in mini skirts and gladiator sandals for fun. But he said that particular style didn't stick.
Later he moved to a different city and there was a time in his life where he wore a lot of black, alternative looking outfits since that was fashionable at the time. But he never followed trends fully, he always liked to add his own little twist to the outfit, be it a unique item of clothing, a styling choice or an accessory.
These days Günther goes for three-piece suits, hats, round glasses and an occasional bowtie. He also carries a very stylish walking stick and we've noticed that he wears light colors and dark blue, and has a love for colorful socks. He says his style has always changed and evolved with him. He likes to match his looks to how he feels inside, so naturally, he's been through quite a lot of styles over the years.
Interestingly, Günther says he never thought of himself as someone who likes to stand out or be rebellious. He always listened to his parents when he was young and got a relatively normal job, he became a chef. But we suppose his style is his way of showing his true colors.
This elderly couple of fashionistas don't only dress up pretty for the camera, they're actually quite active in the cultural life of Germany and you could call them social butterflies. They like to attend various events and they always show up in style.
And the best thing is that they don't just sit at those events, they actually love dancing and always kill it on the dancefloor. Günther says it's his favourite way of keeping fit and he wishes he tried dancing when he was younger. It's fun and it keeps him looking fit and feeling young. If you want to see what Britt and Günther are up to and follow their stylish life, we suggest you follow them on Instagram.