Are you still trying to figure out what to give your geek friend this Christmas? There are so many fun and unique options on the market right now that it's easy to get lost. That's why we've decided to make an extensive list of awesome and totally nerdy gifts that will make your geek friend literally squeal with excitement! Is he or she a fan of Star Wars? Or maybe a devoted Trekkie dreaming about roaming through time and space on a starship? You need to look no more – here are 15 amazing gadgets for your nerdy friends and family members.
Star Wars Mighty Minis Darth Vader Micro Boost USB Charger
When you need some extra juice – just pop your USB cable into one of these cute little Darth Vaders and feel the force! Also comes in a form of Storm-troopers. Keep your phone from dying the best way possible! Price: $22.99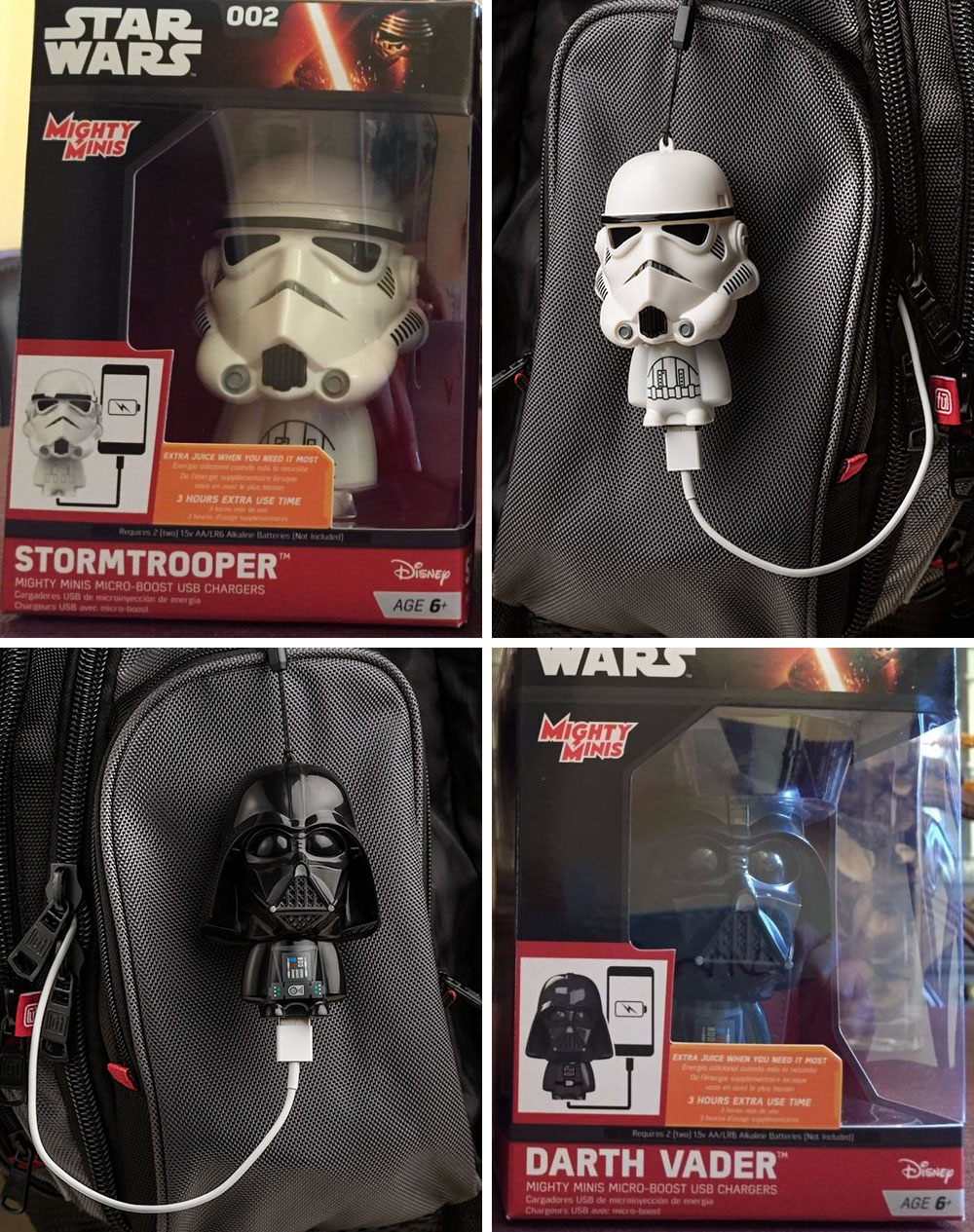 Doctor Who Book Light and UV Pen
How about presenting your friend with Doctor Who's screwdriver? Well, sort of. This cool book light thingy comes with a tiny Tardis and a special UV pen with ink that is absolutely invisible during the day and totally visible in the dark under these cool UV lights. It's the epitome of geekiness! Price: $21.99

Motif. Astronaut Figure Smartphone Stand
Is your friend a fan of Interstellar and all kinds of spacey things? Then think no more. This astronaut smartphone stand is not only handy, but it also looks good in any type of interior. He might look tiny, but this sturdy guy can handle the heaviest of smartphones and comes with a 90-day warranty. Price: $15.82



Batman Projector Pen
Now this is a must-have for all DC fans out there! This cool pen (which is an actual black ballpoint pen), comes with batteries and a Batman Logo Projector. You can project Batman's logo on any surface, all while using the pen for drawing and writing. A truly great present for both kids and adults. Price: $6.95

Cat Ear Headphones
Headphones with cat ears may not sound too impressive at first, but wait till you hear the details! You can use this kitty gorgeousness just like you would any other headphones, which come with handy cushions and provide a very nice sound – or you can switch the mode and turn your regular headphones into speakers with music pumping all around you. Yep, those cute kitty-cat ears are actual speakers with enough juice to turn any friendly meeting into a party. A real must-have! Price: $79.99



Control Your Man Remote Controller
Well, the name of this crazy gadget is pretty self-explanatory, but you (or anyone else for that matter) should use it carefully. No one quite understands how it works or whether it works at all, but we believe that's the fun part about it. Powered by Positive Thinking, this remote controller doesn't require batteries and is completely eco-friendly. Price: $6.80

Tetris Stackable LED Desk Lamp
Tetris-shaped LED lights, anyone? We promise you they won't disappear once you form a straight line! If your geek-friend has witnessed the 90s hype over this mental game, then this present should be #1 on your list. Price: $16.99

Lightsaber Umbrella
If your friend likes walking in the rain as much as Star Wars, then why not combine the two? This way you can be safe from both – the rain and dark forces! Price: $20



Death Star Waffle Maker by ThinkGeek
Do you know what a Death Star is? Don't worry, your nerdy friends know this for sure! And they will be totally ecstatic if you present them with this mad waffle maker that pops out waffles that look like – yes, you guessed it right – cute little yummy Death Stars (which are a weapon, BTW). There's nothing better than eating Death Stars for breakfast! Seriously, we checked. Price: $40

Darth Vader Handheld Shower Head by Oxygenics
There's no such thing as too many Darth Vaders in the house! So why not put one in the shower? Any other person might be seriously creeped out by this one, but your geek friends will be over the moon! Comes with a long-enough hose and adjustable pressure controls. Price: $20



12th Doctor's Sonic Screwdriver TV Remote
Is your friend a die-hard TV fan and will always choose TV over Internet? Well, in that case you just have to present him/her with a programmable TV remote that looks exactly (and we mean EXACTLY) like Dr. Who's sonic screwdriver, 12th edition. It even sounds like the original screwdriver! Price: $119.99

Star Trek Pizza Cutter
Slice through the time-and-space continuum of your pizza with this amazing Star Trek inspired pizza cutter. It's made to look like NCC-1701 Starship Enterprise and the resemblance is uncanny! Comes with a stainless steel blade for precise cutting. It's definitely the best present for a geeky pizza-lover! Price: $23

Dancing Baby Groot Speaker
This baby Groot speaker is not only functional, it's also incredibly cute! And the best part about it? It can actually dance! This Bluetooth cutie pie will warm the heart of any Guardians of the Galaxy fan. The speaker comes pre-loaded with baby Groot's fave song "Come a Little Bit Closer" so you can listen it anytime! Price: $24.99



Light-Up Chop Sabers by ThinkGeek
Eating sushi with Star Wars light sabers? Easy-peasy! It doesn't matter if your friend is a fan of Vader or Luke as these sabers come in different colors – red and blue respectively. The battery part of these chopsticks can be detached for easier cleaning.

Tesla Coil Lighter
We aren't saying that smoking's good, but if your friend just so happens to be a geek and a smoker – this present will make him smile every time he uses it! Girls might be a little bit less impressed, depending on their level of neediness Lighters can be used for all kinds of things and this one is among the most weird-looking ones! Apart from looking awesome, Tesla Coil Lighters are blameless, electric, windproof, and totally safe.