Once you see a movie it's pretty hard to imagine anyone else playing the roles, right? Especially if that movie is a massive blockbuster hit or is basically considered a classic at this point. We like to think that the actors who play the lead roles were basically picked for that job because they suited it best like obviously they were the first choice for the role. But strangely enough, that's not always the case and we're pretty sure you'll be surprised once you find exactly what actors were re-cast for which movies.
1. 10 Things I Hate About You, Heath Ledge – Ashton Kutcher
Can You believe that this movie almost had Ashton Kutcher instead of Heath Ledger? It seems like it would be a very different movie. Kind of also makes you wonder how would Heath Ledger's career go since this was his first breakthrough into Hollywood. But the fact remains, before Heath Ledger got the role, Ashton Kutcher was a very serious candidate.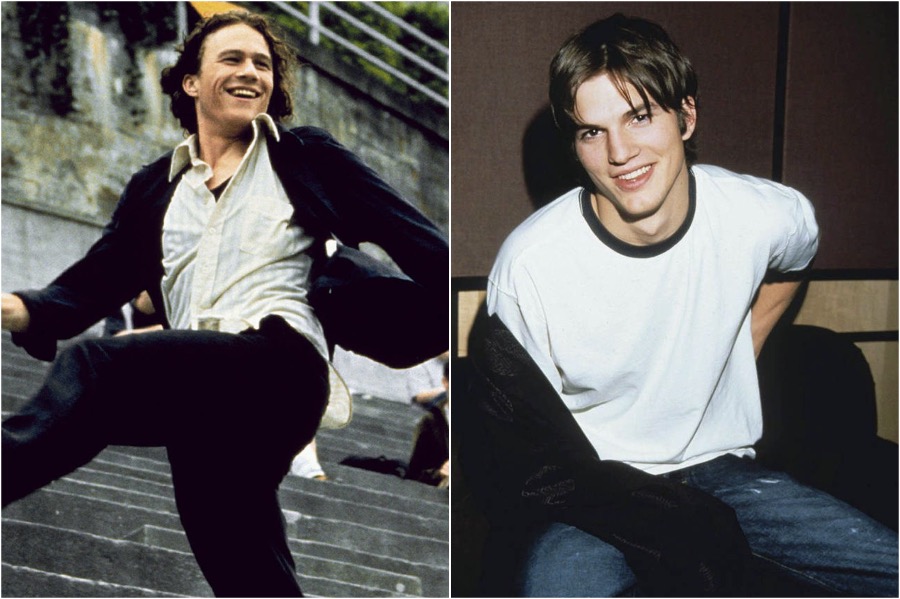 2. Forrest Gump, Tom Hanks – John Travolta
Can you believe John Travolta actually turned down the role of Forrest Gump? That role actually got Tom Hanks his second Oscar. But then again, it's hard to imagine anyone else playing Forrest Gump. Plus, by turning this down John Travolta got to be in Pulp Fiction, so it's a win-win.
3. Titanic, Leonardo DiCaprio – Matthew McConaughey
Can you imagine Rose falling in love with Jack if he was played by a young Matthew McConaughey? Yeah, neither can we, but that was so close to becoming a reality that Kate Winslet actually did read-throughs with Matthew McConaughey, but then they found DiCaprio and recast the role. And look at what a beautiful friendship Kate and Leo formed on the set of that movie.
4. American Psycho, Christian Bale – Leonardo Dicaprio
Speaking of Leo, did you know that he was going to play the lead in American Psycho? But in the end, he decided to drop the project and Christian Bale was recast for it. There's a rumor that Gloria Steinem talked him out of it by mentioning that he's got a young and impressionable audience of teenage girls after the success of Titanic and that they'll watch any movie with him next and it really shouldn't be this one cause it'll be disturbing.
5. The Notebook, Rachel McAdams – Britney Spears
Can you believe Britney Spears actually tried out for this role? It's pretty shocking to realise that status isn't everything, because if it was Britney would've gotten the role. Ryan Gosling has mentioned in interviews that he even did a screen test with Britney and thought she did a great job, but in the end, as we know, Rachel McAdams got the part.
6. The Matrix, Keanu Reeves – Will Smith
It's weird to think that Matrix is a movie one could actually turn down, but that's exactly what Will Smith back in the day. He was offered the role, but he was offered a lot of things at the time thanks to the success of previous projects, and this didn't seem interesting enough for him. Makes you wonder if Neo would've been way cooler if he was played by Will Smith. When asked does he regret turning it down, Will says he did the right thing if he took the job he thinks he would've ruined the whole movie.
7. The Godfather, Al Pacino – Jack Nicholson
The director of Godfather actually hoped that Jack Nicholson wouldn't refuse his offer, but clearly, he did. They then offered the role of Michael Corleone to many other famous actors, they really wanted a famous actor to play the part, but in the end, Al Pacino was just the perfect guy for the part.
8. Pretty Woman, Julia Roberts – Molly Ringwald
We all know and love Molly from Breakfast Club, Sixteen Candles and Pretty in Pink. She was already famous for those roles when she got offered a part in Pretty Woman, and she turned it down. Whether it was because she just didn't like the part, or considered it to be too controversial, she hardly missed out on much, she was already pretty famous. Julia Roberts, however, got the part and it made her a star of Hollywood.