We all know and love the works of Hayao Miyazaki and Studio Ghibli – My Neighbor Totoro, Spirited Away, and Princess Mononoke are among the world's animated movie classics. Not only are those anime films incredibly interesting, they are also made with amazing attention to detail, including food. How many times did we wonder how those scrumptious bento boxes would taste like in real life? And what about mouth-watering pies and cakes with crunchy crusts? Well, it appears that we were not the only ones – and some people actually recreated all those dishes in real life! Meet En93kitchen, a talented Instagram user from Japan who has gained millions of followers with mind-bendingly delicious foods recreated from world famous anime films. Here's a gallery that will definitely make you mouth water!
This yummy lunch box from Up On Poppy Hill is both mouth-watering and gorgeous-looking. How can food be so darn pretty?

Howl's Moving Castle featured a pretty non-Japanese breakfast, which looks to-die-for nonetheless. That bacon looks beyond gentle!

Studio Ghibli's Spirited Away has loads of weird and wonderful foods. This tea party, though, is among the yummiest moments in the movie!

My Neighbor Totoro's lunch box features some pretty delicious ingredients, including rice, fish, peas, and umeboshi (pickled plum).



This amazing fish pie looked quite impressive in Kiki's Delivery Service, but in real life? It's absolutely outstanding!

Nothing beats a nice creamy soup with veggies from The Secret World of Arietty.

Whisper of the Heart features some pretty impressive Udon noodle meals. It's a simple dish that is both filling and savory.

This cake from Kiki's Delivery Service is a perfect match!

Ponyo's ham noodles look incredibly appetizing on screen, but the reality is so much better! Those picture-perfect slices of ham make our stomachs growl.



This meat dumpling soup from Laputa seems unbelievably yummy. It looks good both on screen and on the table!

Who's up for some sunny side-up eggs on a crunchy toast? A cute and simple breakfast from Laputa that will get you going for hours.

That moment when your lunch box has loads of rice, tamago omelette, sausages, veggies, and even a cute happy face to top it all. It's simply amazing!

Are you feeling hungry already? Because we certainly are now! The pancakes from Your Name are really over the top.



These rice bowls with daikon pickles from Spirited Away are simple, yet really tasty!

Talking about simple meals – nothing can beat slices of freshly cut bread with butter and a glass of milk from Alpine Girl Heidi.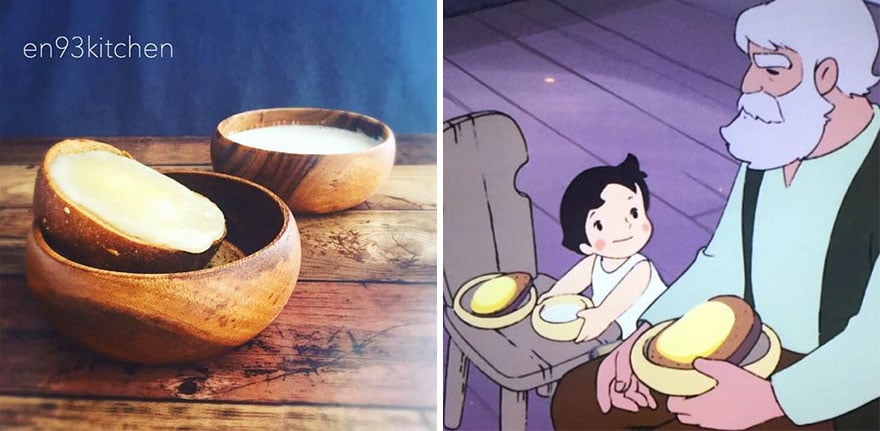 It's impossible not to get hungry while looking at these spaghetti meatballs from The Castle of Cagliostro.

We are not quite sure about sandwiches with onions, but it is definitely a picture-perfect recreation of a lunch from Tales From Earthsea.



A red bean steamed bun is a classic Japanese meal, but its size is not nearly as big as they showed it in Spirited Away! Nevertheless, we would munch it up in an instant.

How about some cute sandwiches from Ponyo?

Meat-lovers would probably do anything to grab a bite of this meat-on-sticks dish with hot sauce from Wolf Children.

Even if you aren't that much into fish, you'll probably want to try this freshly fried piece from The Wind Rises.



Porco Rosso's salmon in béchamel sauce features glazed carrots and a glass of white wine. Fancy!

And how about some crispy cookies in a fairy tale-like setting from Kiki's Delivery Service?

Eggs, greens, rice…This breakfast from Up On Poppy Hill has everything you need to start the day!

Yummy cake and a cup of hot tea from The Wind Rise – it looks just like the original!