Daisuke Nagasawa is the lucky owner of two rescued cats named Daikichi and Fuku-chan. Cats don't strike you as the best travel companions, however, the idea came to Daisuke when he realized that his cats became very unhappy when he was away a lot traveling for work. While a cattery was the number one choice, traveling together was a better solution for mental wellbeing for all three of them. Now 2 cats and their owner have been on the move for 8 years and visited over 1000 places around Japan. He has actually appointed tabby Daikichi as a general manager and ginger Fuku-chan as a company secretary of his own business.




We often see dogs as travel companions so cats as travel buddies is something completely new. In order to make exploration comfortable for his pets, Nagasawa has modified a backpack and a stroller to make the cats more mobile on long hikes. He also has a set of leads and warm clothes for traveling in winter. Both cats seem to enjoy hanging out in the backpack but also like to explore the terrain with their owner.





Traveling Cats Instagram account has more than 18k followers and the story about two rescue cats was featured in many newspapers and websites. The owner posts the photos of the cats in the most picturesque places of Japan showing sightseeing from a totally new perspective. Those images are different from standard cute cat photos as Daisuke tries to find the best spot for his furry companions so their size would match the background.

According to Nagasawa, The Tanegashima Island of Kagoshima prefecture which they visited in August 2018 was the most impressive place the three companions have traveled to. Unfortunately, it was a very stressful time as well as Fuku-chan went missing but returned 15 hours later. Taking photos is a challenge as well as it's best to use places which are not crowded where cats will feel comfortable.





You might be jealous of these cats as they have been to Mount Fuji, enjoyed lovely cherry blossom, explored ancient temples and simply chilled by the beach. Both cats have their own unique personalities which can be discovered through the great Instagram photos. Each cat is used to the attention now but they are still aware of crowds. As cats are naturally curious, discovering new things is very pleasant for each member of the team.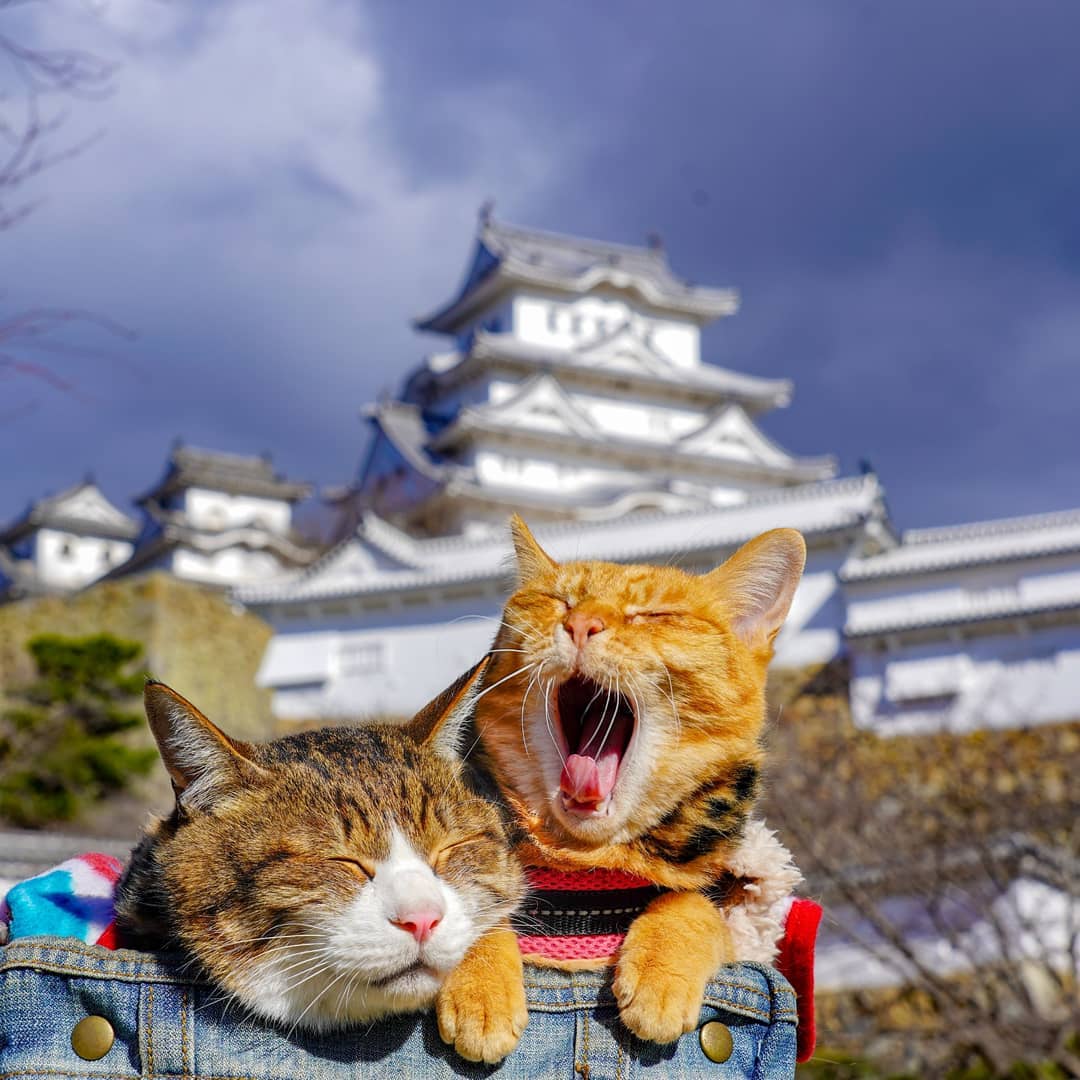 All posts are greatly themed. The cats look enthusiastic about their trips and help the owner with good modeling skills. The owner has his personal blog where he shares more about the personality of each cat and any curious events happening on the way.





The trio doesn't stop planning and new posts can be seen every day. Even a stroll to the park brings a nice surprise as spring in Japan is magnificent. Daisuke has managed to find his zen enjoying adventures with his two lovely cats. Let's hope this experience will popularize cat travelers around the world and it will become something totally normal in the future.