If you became a sensational success overnight what would be the first thing you buy with your first paycheck? Would you immediately buy something big and impressive like a cool car? Or would you splurge on a designer item of clothing? Perhaps you'd purchase some art? Would you throw a party for your friends or celebrate with your family? Or would you immediately choose to give back and give some money to charity? Well, Lil Nas essentially became an overnight sensation with his song Old Town Road so let's see what are some of the things he bought since he suddenly became rich.
1. Celebration With The Family
Apparently, the very first thing Lil Nas X splurged on was a celebration with his family at the bowling alley. He has quite a big family so we're assuming he rented out the whole place and obviously paid for food, drinks and whatever else they needed. That must've cost him a couple of thousand dollars for sure. But props for using the first paycheck to entertain the family.
2. Fancy Car
Now let's jump to the really big spendings. He bought Billy Ray Cyrus a Maserati GranTurismo which cost over $100k, to share some of the wealth with a colleague who made a remix that only spurred on the popularity of Lil Nas X's song and therefore made him even richer and more famous.
3. Cool Shoes
There's a lot of money one could spend on shoes. There are certain Nike collaborations that will set you back a couple of thousands. There's also limited edition sneakers that can cost a lot of money, but Lil Nas X prefers black Air Jordans that are usually around $250 per pair.
4. Stage Outfits
Most performers put a lot of thought into what they're going to wear on stage. After all, this is your big moment, people came to see you and you better not disappoint them with the show and the look. Lil Nas X trusts the designer Jerry Lee Atwood to keep him looking fresh on stage or at any kind of event or red carpet. How much does it cost to get an outfit designer by Atwood? Let's just say a lot.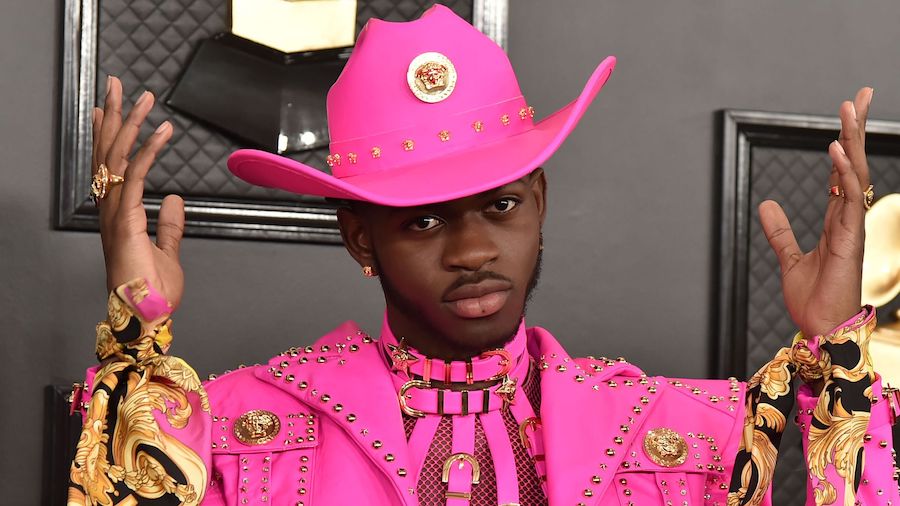 5. Bling
Lil Nas X likes to look fresh and sparkly so it makes sense that for his bling needs he goes to King Ice. His chains are custom made and cost around $500, with pendants adding $200 per piece and those gold watches ain't cheap either.
6. Suits
He likes color and has a special spot in his heart for neons and pastels so it only makes sense that Lil Nas X would get some pretty awesome suits. He gets his suits from Christopher John Waters who's the go-to for unique patterns, color combination and cuts. And those cost a pretty penny.
7. Every Day Outfits
When you're a celebrity your casual outfits still have to be popping. You're gonna run into paps at some point, that's inevitable and pictures will be snapped. You gotta look good 24/7 and Lil Nas X accomplishes that by wearing very cool designer jackets from Fear of God and Missoni which usually cost around $2K and his stylish trousers usually cost up to $1k and are by Marni, Gucci or Michael Kors.
8. Shades For Days
He sure likes to wear sunglasses to round out a look and Lil Nas X not stingy when it comes to buying eyewear. He's got a pair of shades from Jacques Marie Mage that cost $800 and Kuboraum's sunglasses that are $350. On more chill days he goes for his fave King Ice, those shades are about $100.
9. Good Deeds
Just because Lil NasX got rich fast doesn't mean he forgot where he came from. He donated $13K to help a 15-year-old boy get treatment for Lyme disease and this march he asked his followers for their cash app names and sent them money so that they could order food delivery instead of going out and risking their health during a pandemic.