Carrie Fisher & Sandi Gross
One of the fan-favorites – "Star Wars: Episode VI, Return of the Jedi", showed Carrie (and her stunt double) in all her glory. BTW, Lucas stated that there were no underwear in the Star Wars universe. That pervy little bastard.


Harrison Ford & Vic Armstrong
It appears that Vic is Harrison's brother from another mother. At least in this picture from "Indiana Jones"

Emma Watson
Did you know that in "Harry Potter and the Deathly Hallows" Hermione had multiple stunt doubles? I sure had no idea.

Kate Winslet
Unless we're talking about some other "Titanic", I have no idea why Kate would need a double.
Sarah Michelle Gellar & Sophia Crawford
These two girls from "Buffy the Vampire Slayer" also look like sisters, or at least cousins. Damn you, movie magic!


Seth Green & Lee Whitaker
Another "Buffy the Vampire Slayer" couple. A couple of werewolves, I mean. I can't even tell which one's Seth and which one's Lee.


Lucy Lawless & Zoe Bell
Every time Lucy did a flip or some amazing acrobatics in "Xena: Warrior Princess" it was actually Zoe.
Robert Pattinson & Paul Darnell
It's Twilight. Nothing to see here. Let's move on.


Angelina Jolie & Eunice Huthart
Fun fact: Eunice is even more badass in real life than Angie's character in "Salt".


Chris Hemsworth
Nobody expected Chris to do all of his Asgardian stunts himself but this fake – Thor looks pretty impressive!

Shia LaBeouf
Just a couple of buddies having fun on the "transformers" set. Shia ain't doing his own stunts!

Andrew Garfield
How many Amazing Spider-Men are there? At least it's easier to have a stunt double in the shot, since he's wearing the mask and all that.

Johnny Depp and Tony Angelotti
Have no fear, Captain Jack is here! Johnny did a lot of the stunts himself but he still needed a stunt double for more dangerous tricks.

Dwayne Johnson and Tanoai Reed
Even The Rock needed some help with his badass stunts in "Pain & Gain."

Mark Wahlberg
Wait, Mark had a double in "Ted 2"? Why?


Brad Pitt
"World War Z" was full of extreme stunts (and CGI), and the stunt double even had to wear a wig to replicate Pitt's long hair.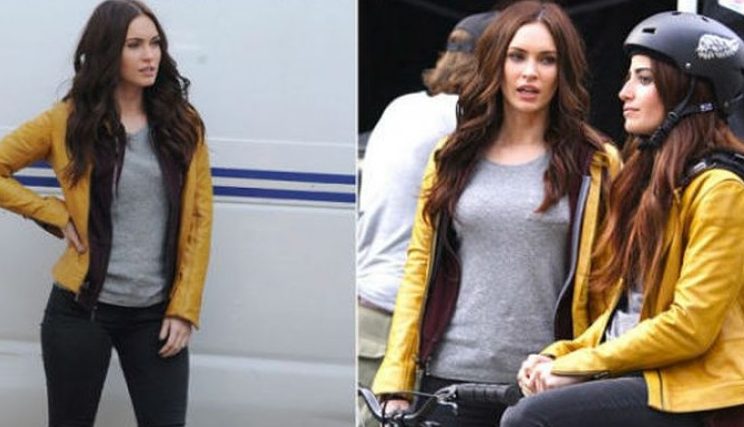 Megan Fox
Just like Shia LaBeouf, Megan Fox had to use a stunt double for the action-packed "Transformers" movie, and they look like twins!

Natalie Portman and Sarah Lane
Natalie Portman is a lot of things but a ballerina she is not, that's why she needed some help with the ballet scenes in "Black Swan."

Daniel Craig
Both are big, both are bulky and look like people you don't want to mess with.

Uma Thurman and Zoe Bell
Uma Thurman's "Kill Bill" performance made her incredibly famous in Hollywood, yet still most of the fight scenes were done by her double.

Bruce Willis
Back in the day Willis did a lot of the stunts himself, but even he needed a double when he was shooting "Red".

Anne Hathaway
We all remember her leather-tight Catwoman bosom in TDKR, but other scenes need a stunt double, especially the combat and riding the motorcycle.

Mark Ruffalo
Now you see him, now it's his stunt double!

January Jones
There's room for only one Emma Frost on the set of "X-Men: First Class"… Just kidding there are two of them.