Nature is full of wonders, so it doesn't really come as a surprise when someone stumbles upon a very peculiar-looking creature that looks like it came from another planet. Looking at them it becomes obvious that we still have so much to learn about amphibians, reptiles, bugs, and various underwater critters hiding in ocean. Some of them look like dragons, while others have features of totally different species, making them look weird, but beautiful in an otherworldly way. Here are 15 weird-looking animals that belong in a sci-fi movie.
Neon Blue Snake
In case you were wondering, this beauty is called Blue Island Pit Viper and, yes, this is its natural colour! You can find it in Thailand and other Southeast Asian countries.
Bogong Moth
Like many beautiful and horrifying things, Bogong moths come from Australia. If you're planning to get a glimpse of these majestic creatures you should travel to the Victorian Alps as thousands of them appear in this region during summer months.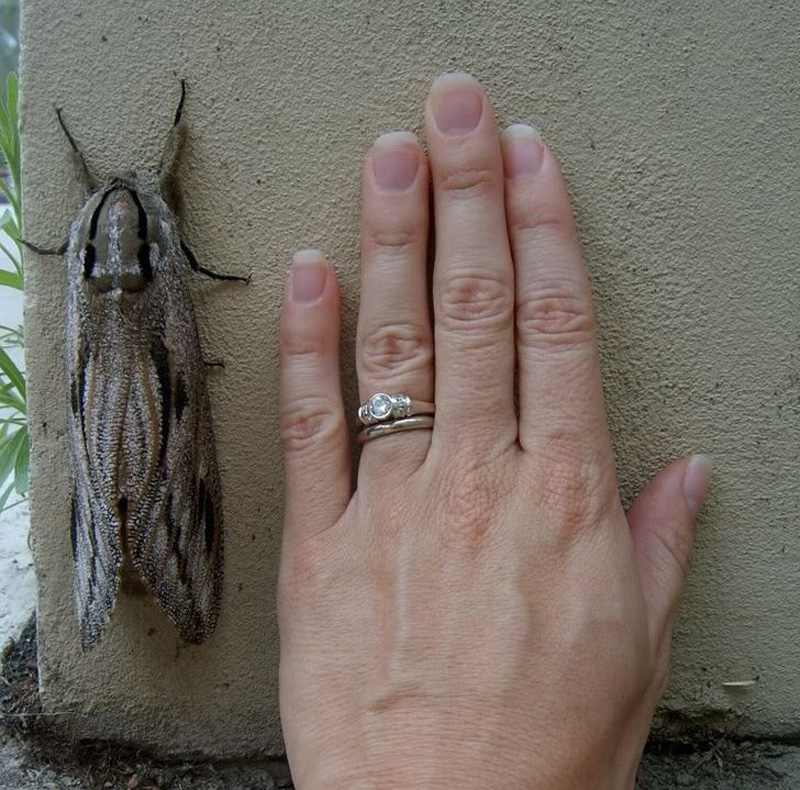 Orchid Mantis
Southeast Asia is home to many beautiful insects, but orchid mantises might just be the prettiest of them all. Also known as flower mantis, this insect is famous for its amazing appearance resembling that of an actual flower.
Venezuelan Poodle Moth
First captured on photo in Venezuela in 2009, this incredible moth looks like a cute fluffy poodle, and that's where the name originated from. It definitely belongs in a sci-fi movie!
Red-Lipped Batfish
This fish looks all pampered up like it's going out to the party! Whether it is true or not, red-lipped batfish does sport some pretty stunning red lips. You can find it near the Galapagos Islands.
Flying Dragon
Did you know that a flying dragon is an actual thing? I mean, it's actually called that way! Also known as Draco volans, this lizard sports wing-like extensions that let it glide in the air like a real dragon. This might be the coolest lizard ever!
Honduran White Bat
Most people aren't big fans of bats, but that's only because they don't take a closer look at them. These creatures are definitely cute! Honduran white bat, just as the name suggests, has snow-white fur and a cute little leaf-shaped nose. You can find it in Honduras, Panama, and Costa Rica.
Glowing Scorpion
It's not really just one scorpion that glows in the dark – it's all of them! You can easily see the effect under the UV light, but they also glow in the natural lighting like that of a moon.
Sculpin
A sculpin is a pretty ordinary fish you can see pretty much anywhere, but this red-coloured specimen is definitely one of a kind! It's huge and looks like some kind of a prop from a horror movie. And yes, it has pointy poisonous spikes along its spine.
Dragonhead Caterpillar
Nature seems to be rather fond of dragons, that's why we get such a huge variety of critters that resemble dragons one way or the other. Dragonhead caterpillar definitely looks like a very distant relative of a dragon!
Satanic Leaf-Tailed Gecko
Just as the name suggests, satanic leaf-tailed geckos have leafy tails that allow them to hide in plain sight in order to hunt their dinner. Stunning visuals aside, why on Earth would anyone name a gecko like that?
Halitrephes Jellyfish
This is definitely something you don't expect to see in real life. Halitrephes jellyfish, also known as the fireworks jellyfish due to its stunning appearance, lives deep in the ocean at around 5,000 feet, so don't expect to stumble upon it during your beach vacation.
Lunar Hornet Moth
What looks like a hornet, but is actually a totally different insect? Meet the Lunar Hornet Moth, a moth that uses the dangerous style and colouring of a hornet to ward off predators and live a long and happy life.
Flying Gurnard
Is this a butterfly or a fish? Seems to be a crazy mix of both, but that's exactly why I like it so much. Flying gurnard is one of those rare fish species that can actually fly! Well, they don't do it like birds, of course, but they jump out of the water and go on lengthy glides using their wing-like fins. That's pretty spectacular!
Two-Headed Turtle
This red-eared slider isn't just a regular little turtle – he was born with two heads! Things like that happen in nature all the time, but seeing it with your own eyes is pretty outstanding. The creature does look like a little alien!