If movies have taught us anything, it is that pulling the pin of a grenade out with your teeth, than running away from the explosion make you look super cool. And that's true, it does make you look cool and badass, but have you ever wondered if it is even possible? Movie industry made us believe in a lot of things. But while a lot of these action movie cliches do look plausible, there are many that are frankly dumb, and don't even work that way.
Check out these dumb things we constantly see in the movies and blindly believe in.
Asteroid belt is dense and crowded
Star Wars fans brace yourself, here comes the truth! Asteroid belt is not that dense. In fact, there are miles of vacuum between them. It's all done for the sake of dramatic effect.
You can pull the pin of a granage out with your teeth
No, you can't! The truth is if you pull the pin with your teeth, you'll end up with no teeth at all. The pins are made really hard to pull on purpose so it won't get pulled by accident. It's a two hand job!
You can talk while skydiving
Movies made us believe that you can talk to another skydiver during a free fall. The truth is you can't. First of all, it's too loud. Second, the wind travelling past your ears makes you deaf to all sounds. So, you just won't be able to hear anything.
You can unlock the door lock with a gun
You can't do that! The padlock shackle is very thick and made of iron. A bullet just can't break it.
Silencers make guns completely silent
Silencers only dampen the noise, you can still hear the gunshot. In fact, that tube shaped thing we see in the movies is called suppressor and it's used to make the sound of a gunshot less audible and more difficult to locate the gunfire.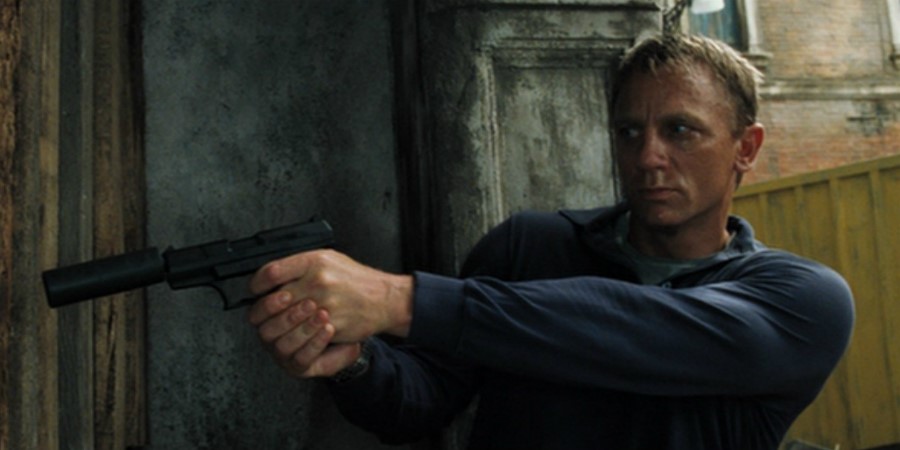 Shooting two guns at the same time
This movie lie is probably the most ridiculous one of all. Aiming at one target can be challenging, especially for one with no proper training, let alone shooting at two targets at the same time. Hardly possible!
Restarting a stopped heart with a defibrillator
In movies the electric paddles are used to restart a person's heart. In real life, they do exactly the opposite. In case of dysfunctional rhythm, medics use defibrillators to stop the heart so they could perform CPR to get it work right again.
Chloroform immediately knocks someone out
Wrong! It takes at least 5 minutes for the chemical to kick in. Yes, chloroform can knock you unconscious but it'll take way longer than it does in the movies.
Police trace a phone call within a minute
In fact, tracing a phone call takes way longer, up to an hour. Ok, this one might refer to the old movies when smartphones weren't a thing yet. Because we all know that nowadays all networks have device tracking feature so it's no longer a problem to track a bad guy via his phone.
Forensics give answers to all questions and solve crime
As much as we love CSI series, this TV show is based on a lie. Forensics do not solve crimes. All they do is collecting the evidence and passing them on to the police detectives who actually work on the case and solve it.
You need to wait 24 hours before reporting a missing person
This is also not true. If you have genuine concerns regarding the whereabouts of a person, you can contact the police immediately.
You are entitled to one phone call when arrested
This cliche has been entirely created by the movie industry. When you get arrested, you do have the right to talk to your attorney, but a phone call is a privilege that can be easily given or taken at any time.
Laser guns are visible
Movies made laser guns cool and plausible. But there is one tiny detail we all missed – lasers are invisible. Light needs a surface to reflect, and there's a vacuum in space, see my point?
The image can be enhanced to infinity and the quality will still be great
There's no way you can get more info out of a poor quality image. The more you enhance the image, the lower the quality gets.
Running away from the explosion is no big deal
In the movies, no matter how strong the shockwave was, you get up and run away from it. In real life though, that same shockwave would tear you apart.