If you're one of those people who are currently stranded at home trying to figure out what to do with the abundance of free time you have at your disposal, fear not, as there are enough TV shows to last you a lifetime. This is the time when you can finally binge-watch all those cool and fun shows you never had the chance to catch due to work and various outside activities. Well, now is your time! From the latest fantasy TV hits like the Witcher and Game of Thrones to upbeat sitcoms like Marvellous Mrs. Maisel and The Good Place, I present you 12 best TV shows to binge-watch while you're sitting at home.
Game of Thrones
Game of Thrones has everything – a mind-bending plot with numerous twists, love, drama, breathtaking battles, dragons, scary magical deadlings, and an extremely believable Medieval-esque setting that brings all the characters and their political games close to home. It's just too relatable! But has enough fantasy elements to be highly entertaining. You will fall in love with characters like Jon Snow and Daenerys Targaryen who are trying to do the right thing, and will absolutely hate the other ones like Joffrey Baratheon who are the epitome of violence and sadism. In any case, you will not stay indifferent!
Buffy: The Vampire Slayer
There really is something special about the 90s vampire-fighting hit show that kept audiences glued to the screens while it aired. Buffy, a teenage schoolgirl, leads a normal life until her destiny catches up with her along with the new 'Slayer' title. With the help of a bunch of friends and one librarian she has to save the world, fight evil, and still do that homework like all normal kids. All the characters are fun to watch and the plot has enough twists to keep you entertained.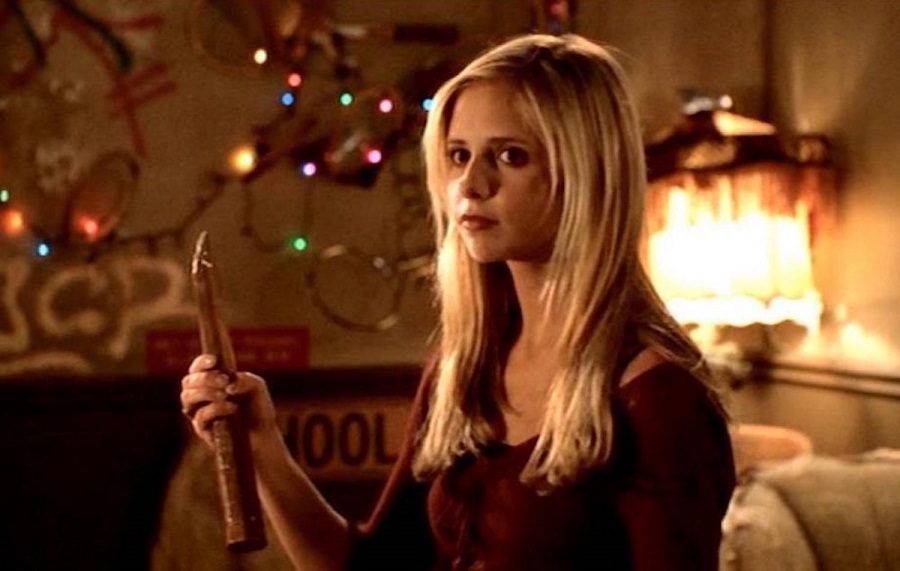 Marvellous Mrs. Maisel
Imagine a 50s wife living in New York with a picture-perfect family including a husband, trying to become a stand-up comic, a bunch of kids, and a rich house, until one day the husband cheats on her and she finds herself pouring her heart out on the stage in a stand-up show. Apparently, she's brilliant at it! So good, in fact, that she decides to make a career of it. The show is full of great humor, ironic puns, and peculiar plot turns.
The Good Place
If you've ever wondered what's one the other side, well, the Good Place might have an answer…Elleanor Shellstrop finds herself dead (which is not a very good thing), but in a kind of heaven (a very good thing). Her only problem is that some kind of mistake was made by the heavenly bureaucratic system and she hasn't been all that good in her lifetime. Of course, she wants to conceal it, but becoming a good person is not that easy! This upbeat comedy will definitely put more than just one smile on your face.
The Witcher
If you're a fan of the grittier style of fantasy genre, you will love The Witcher. Its engaging plotline will devour you whole, transferring into the world filled with witches, witchers, genetic experiments, monsters of all kinds, drama, love stories, and lots of humorous situations that come as a valuable comic relief in the world filled with bloodthirsty beasts. The Witcher is that every guy who has to deal with the nasty creatures and does it for a living. But there are bigger plots unravelling all around him and the whole world is in danger.
Sherlock BBC
With 3 complete seasons and 13 episodes all in all, Sherlock offers mind-boggling plots, charismatic evil masterminds, and stellar performance by none other than Benedict Cumberbatch himself. If you were wondering where and when the Cumberbatch hype started – this is it! Well, among other things. The whole cast of Sherlock BBC is amazing and you will find yourself mesmerized by the witty twists and turns of the detective's mind.
Stranger Things
If you're a fan of 80s thrillers and 90s horror flicks, then this TV show is right up your alley. With a heavy (but not overwhelming) Stephen King aura, Stranger Things delves into all things scary, mysterious, and downright spooky. All told from the kids' point of view, which gives the show a very special nostalgic feel. It now has three seasons, all highly praised by the critics.
Black Mirror
Black Mirror is sci-fi at its finest – a smart, ironic, and sometimes incredibly scary representation of our society's dreams, fears, and variations of the nearest future. They're showcasing everything from social media, artificial, intelligence, to loss of identity and complete surrender to technology. Whatever gruesome or wonderful future you can imagine – it's probably in one of Black Mirror's episodes!
Doctor Who
Doctor Who might seem a bit much to gobble up in one go, but once you get familiar with the eclectic, fun, and spacey Universe of the Doctor, you will never want to leave it. The show started as early as 1963 and has seen numerous Doctors change as time went by. Good news – it's all part of the canon! This adventurous time-traveling alien can regenerate, and when he does, we see a new face, a new arc, and a whole new set of dramatic, thrilling, and mind-boggling adventures. The Doctor travels through time and space, visiting worlds one could never imagine, solving mysteries and helping those in trouble. What's not to like?
Miss Fisher's Murder Mysteries
If you're in need of some light-hearted detective work and don't mind watching a gorgeous lady solve crimes and showcase her detective capabilities, then this show is definitely worth your time. Meet Phryne Fisher, the best detective in 20s Melbourne. She rarely gets officially hired for a case, but always seems to find herself in the midst of the action. There's plenty of gorgeous flapper fashion, a bit of jazz, some romance, all sprinkled up with smart dialogues and witty remarks.
Farscape
Farscape is one of those lesser-known late 90s hit sci-fi shows that will definitely keep you entertained for hours. John Crichton, an American astronaut, finds himself thrown to the other part of the Universe as a space experiment goes bad. He's picked up by a group of rebel aliens, who, like him, don't really have a place to go. As he tries to find a way back home, John takes part in mind-blowing adventures and visits worlds he never thought existed, teaming up with various creatures and aliens of all sorts.
The Expanse
If you're looking for Game of Thrones, but set in a sci-fi setting of a distant future – this is it! The Expanse is a masterfully crafted sci-fi show telling a story of a fully colonised Solar System filled with rivalry and fights for resources and a better way of life. Officer James Holden finds himself in the middle of a horrendous conspiracy involving a deadly virus, rebels of Mars, and a plot to overthrow the government. The twists and turns of the show will literally make your head spin!