It's no secret 90% of Hollywood's crème de la crème look quite beautiful. I guess there's just a certain standard that doesn't let less stunning people into the circle of poster boys and Vogue cover ladies. Yet sometimes even the most gorgeous of Hollywood stars have to shed that beautiful skin and don an attire of a crook, homeless person, a beast, or even a monstrous clown whose image will haunt you in your dreams. That's why we love movies so much! We get to see different sides of otherwise impeccable celebs who seem to be too perfect for this world. I bet this is why they do movies, too! So, without further ado, here are 10 'ugly' movie characters who look stunning in real life.
Vanessa Hudgens – Agnes (Gimme Shelter)
No one expected sweet Vanessa Hudgens to go from a Spring Breakers cutie clad in skimpy swimwear to a problematic teenager with an emo cut wearing oversized hoodies in Gimme Shelter. Vanessa Hudgens plays Agnes, a pregnant runaway teenage girl in search of her father and a place she could call home. Her transformation is quite spectacular!
Joey King – Gypsy Blanchard (The Act)
Joey King who played the young girl Gypsy confined to her wheelchair due to an illness in Hulu series The Act definitely knows a thing or two about transforming for a role. She looks so much better in real life!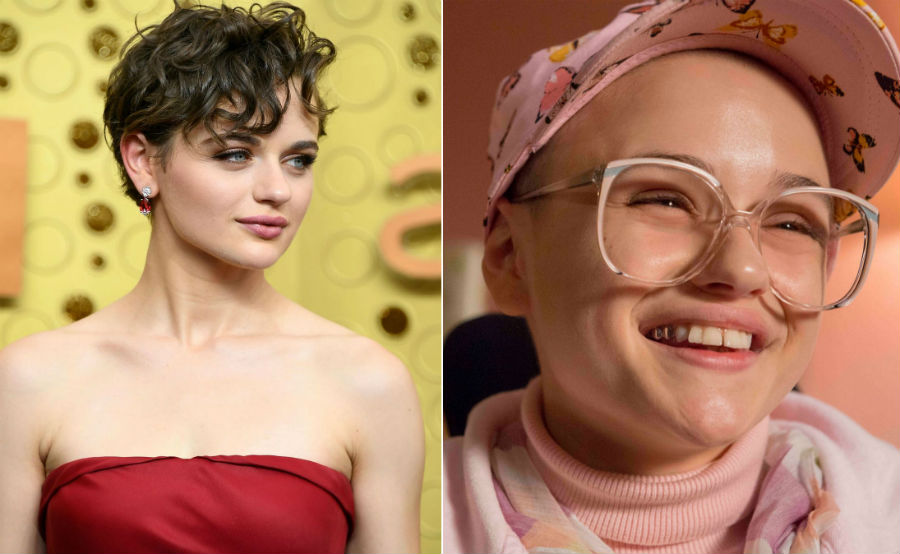 Christian Bale – Aly Weisman (American Hustle)
It's not a secret Christian Bale is truly dedicated to each and every role he chooses. Whether it's The Machinist, a movie that got him turned into a skinny shadow of a man, or the American Hustle that made him gain 43 pounds of extra weight, Christian Bale never says 'no' when the role demands some kind of transformation. To become bigger for the role of Aly Weisman Christian Bale went on a diet of doughnuts, cheeseburgers, and literally any junk food that came his way.
Mariah Carey – Ms. Weiss (Precious)
It's hard to imagine Mariah Carey looking anything but spectacular, yet this happened when she decided to tap into some acting and took on a role of Ms. Weiss in the movie Precious. Needless to say, she doesn't look like herself and it's good this acting gig of hers didn't last for long.
Uma Thurman – Poison Ivy (Batman and Robin)
We're more used to Uma Thurman playing the classic 'pretty girl' roles, but it doesn't mean she can't pull off something more extraordinary! Her Poison Ivy in Batman and Robin is something else entirely. She goes from a funny-looking geek to a posh villainess and it's a look that is not easy to forget!
Matthew McConaughey – Kenny Wells (Gold)
Matthew McConaughey, a romcom superstar in the past and a huge sci-fi enthusiast as of late, has been on the lists of hottest male stars more than any other actor. And yet, here's a role that stripped him of all Hollywood glamour, leaving with nothing but a receding hairline and a cramped suite. Still, it's a role he pulled off brilliantly!
Lizzy Caplan – Janis Ian (Mean Girl)
Now this is a role that might have done Lizzy Caplan more harm than good. Indeed, the movie became a cult classic that everyone knows and loves, yet Lizzy got pegged as a weirdo with poor fashion choices for years to come. In real life, though, she actually looks pretty stunning!
Charlize Theron – Aileen Wuornos (Monster)
This is one of the most popular roles of Charlize Theron due to the incredible depth of character and the transformation she went through to achieve the look of the criminal Aileen Wuornos. It's been years since the movie came out and we still can't get over this look!
Naomi Grossman – Pepper (American Horror Story: Asylum)
Well, playing a Freak Show childlike yet murderous microcephalic woman definitely has its pros and cons. It's really hard to understand how Pepper looks in real life! All fans wanted to see her transformation and they weren't disappointed, because Naomi Grossman looks so gorgeous in real life!
Bill Skarsgård – Pennywise (It)
Bill Skarsgård might be a handsome young man in real life, but there's just something that keeps pulling him to darker roles that make him ditch the glitzy Hollywood look. Lately it's been the two-part movie adaptation of Stephen King's It that turned Bill Skarsgård into an evil killer clown spirit that looks like the stuff of nightmares.