We haven't had a lot of opportunities to travel lately, but that doesn't mean we can't see new places! Video tours and documentaries are exciting to some extent, but it's so much better to dive into a new location with the characters of a movie. This way you get to enjoy interesting plot, exciting adventures, and mind-blowingly beautiful natural vistas all at the same time. You can go to the mountains or travel deep into the jungle – everything is possible with the right film! Here are 10 movies that allow you to travel the world without leaving the house.
Tracks
Can you imagine crossing the Australian desserts on your own? That's exactly what Robyn Davidson did back in 1977 with just her dog and a few camels to keep her company. You may think it's brilliant or totally crazy, but either way it's a biopic that will take your breath away. She travelled for over 1,7000 miles for 9 months! Well, there also was a handsome photographer who documented some of her journeys.
Into the Wild
If you aren't a fan of hot climate, then how about travelling to Alaska? Into the Wild tells a story of Christopher McCandless, who decided to give away all his riches and live a life of a hitchhiker in the wilderness of Alaska. Be prepared for some breathtaking views of Lake Tahoe, the Colorado River, and plenty of beautiful animals. The plot does take a darker twist towards the end of the movie, so it's not a light-hearted film.
Seven Years in Tibet
Seven Years in Tibet will take you deep into the mountains of Tibet, to the very heart of Tibetan Buddhism – Lhasa. It is a movie about a fearless explorer who embarked on a journey of a lifetime, but disappeared for long seven years. Having travelled the harsh, yet beautiful landscapes of the Himalayas for what seemed like eternity, he finally reached the destination and met the 14h Dalai Lama, who was just a little boy back then. It's a spectacular biopic that is based on real events of Heinrich Harrer's life.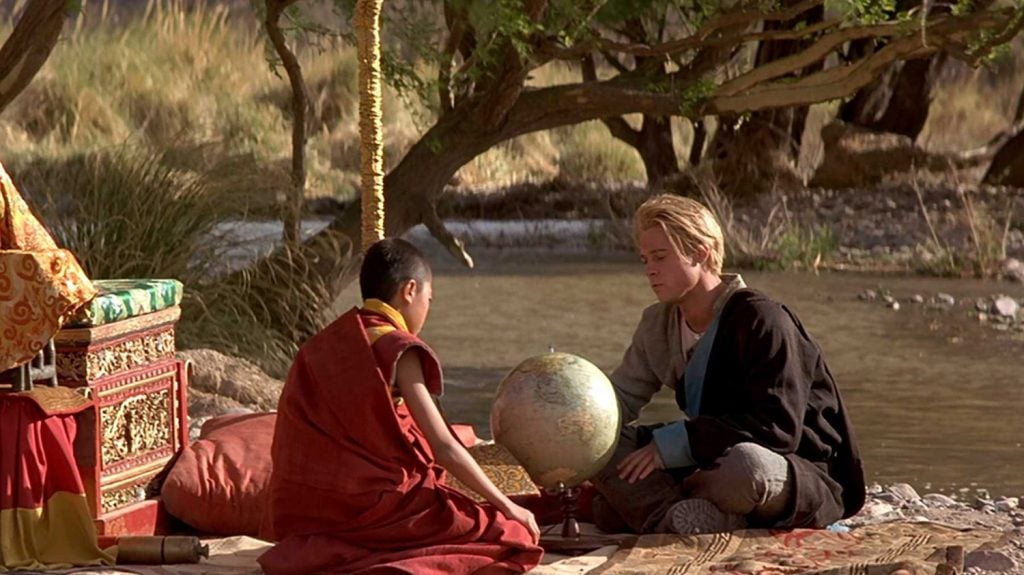 The Beach
A travel movie list won't be complete without The Beach starring young Leonardo DiCaprio. If you've never been to Thailand and want to get a feel of what it can be like – wait no more and dive into this film! It has a bit of everything – adventure, escape, beautiful beaches, breathtaking nature, a paradise that is too good to be true, and dark secrets lurking in the jungle.
¡Mamma Mia!
If you want to experience a luxurious Greek vibe, then look no more because ¡Mamma Mia! has it all. In this movie Meryl Streep plays a hotelier, whose daughter is about to get married. One thing bothers the soon-to-be bride – who is her father? Mother is keeping it a secret, so she decides to bring all her former lovers to the wedding. It's a beautiful movie packed with Abba songs!
The Way
The name of this movie is very fitting as it will take you on a journey to Camino de Santiago, also known as the The Way of St. James. A widowed father finds out his son has died while walking this route, so he decides to finish it in his memory. It's a heart-wrenching movie about closure filled with beautiful landscapes of this pilgrimage route that stretches for around 500 miles from France to Spain.
Eurotrip
If you're craving to see more of Europe, then this movie is right up your alley. A bunch of friends travel from the USA to a number of European countries trying to catch up with a girl one of them has met on the Internet. Things get a little out of control when they venture into the unknown, but it's always fun to watch. It's a teen comedy filled with beautiful places of Germany, Czech Republic, Rome, and England.
The Darjeeling Limited
There are so many movies representing India in good or bad light that you have to wonder if any of that is actually true. You will have to see the truth with your own eyes as the experience is different for everyone, but until you take that trip, share an adventure with these three brothers in The Darjeeling Limited. They come together a year after their father's death to restore their brotherly bonds. The journey will take them all across India to the Himalayas where they will meet someone really special.
Lost in Translation
Explore the hectic city of Tokyo with a strange, but believable couple who meets in a hotel, out of all places. Bob is an actor who comes to Tokyo to film an ad and gets totally lost in the culture he can barely understand and the language he can't speak. Charlotte came to the city with her husband and seems like the most ordinary girl on Earth, and that's exactly what makes her so special. It's a romcom filled with exploration and little journeys inside the crazy city of Tokyo.
Eat, Pray, Love
An empowering movie about the search of true Self and the power of love. Based on an autobiography of Elizabeth Gilbert, the movie tells a story of a woman, who is sick of everything in her life. She embarks on a journey to find what is really important to her. She travels to Italy to eat – to enjoy herself and remember what life tastes like. She travels to India to pray – to restore the connection with her heart and spirituality, and find out that happiness is not about material things. She then travels to Bali to find the meaning of her life and to realize that she has changed a lot. Once she realizes that, she is ready to experience the healing power of love.