Some Bollywood movies are so nuts that it's impossible to take them seriously. While romcoms and dramas explore some pretty twisted plotlines, action movies are the ones where there are no limits to Indian imagination whatsoever. And what imagination that is! You never expect a hardcore villain to break out into a song in the most suspenseful moment, but that's exactly what he'll do. Singing, dancing and an absolute overload of special effects are the things that make Bollywood movies stand out so much. So if you're looking for something different and cheesy plotlines don't scare you, then here are 10 Bollywood movies that will keep you on the edge of your seat.
Rab Ne Bana Di Jodi
This movie's really heavy on dancing, so prepare your eyes and ears. The plot's more than just a little twisted – gorgeous Tanja is sneaking out to have dance lessons with a hot guy, which turns out to be her modest lovely husband. Really?



Raaza 2
Possessions, evil within, gooey-slimey stuff that's stalking some of the main heroes…should we continue? When Indians try to make horror flicks, things can go south real quick. But who said you couldn't dance and sing their heart out in a horror movie? In fact, that could also be quite frightening.



Dhoom 3 a.k.a Tashan 2
Nope, it has nothing to do with Doom, but it has everything to do with…circus! And revenge. And growing-up without a father. And twin-brothers. We could go on and on, but the fact is, you will either really love this movie, or hate it to bits – there's no in-between. So if you're not afraid of a movie that has bikes riding on a tight rope from one building to another, you should give it a try. And there's lots of outstanding dancing happening on screen.

3 Idiots
Just as the name suggests, the story of this movie revolves around 3 crazy friends that more often than not do really dumb things. These three room-mates all live together at a prestigious engineering college, but manage to come up with the most unbelievable (and useless) gadgets. For example, they used a makeshift vacuum to deliver a baby. If that's not cool enough for you, then how about the cycle-based horse shaver? This movie is full of surprises.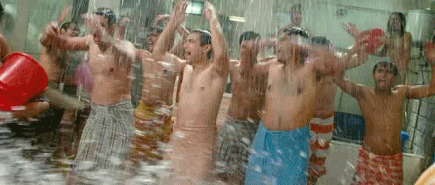 Janwar
Have you ever wondered what Beatles would look (and sound) like if they were Indians? Probably not, but in this movie you have a one-of-a-kind chance to experience the Hindu version of the world famous group. And try not to die of laughter when you see these guys dancing!

Magadheera
No words can describe just how badass this movie is. Many compare it to Die Hard, but we bet Bruce Willis never tried to fight a chopper with a sword (and win, by the way!). Prepare yourself for a plotless, cheesy, action-heavy movie with the most bizarre fighting scenes you've ever seen. You have a lot to learn, Bruce!



Chandramukhi
This movie's genre is comedy horror and that's exactly what you're getting in each and every scene. You'll experience some crazy dance moves, evil ghosts, colorful Hindu priests, hilarious fighting scenes and some of the most unusual plot twists ever.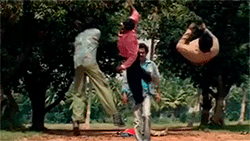 Alluda Majaka
Most of us haven't seen the movie, but the gifs have hit the Internet hard. It has the best chase scene in movie history! It's so over the top that no decent Hollywood company would ever dare to show something like this on screen. That's why we love Indian movies so much! This movie has horse-sliding, balls of steel, jumping Jeeps and lots of singing (duh). If you like bizarre and absurd, Alluda Majaka is your perfect choice.



Endhiran (The Robot)
Terminator can only dream about doing some of the mad stunts the Robot in this movie gets to do. Remember that Indian imagination has no limits (and sometimes crosses all possible borders of sanity)? Well, this movie is proof of that. If you thought Matrix was action-packed and crazy cool, wait till you see what this movie has in store for you. How about a guy with guns instead of hands?

Miruthan
Can you imagine an Indian zombie movie? Well, now you can watch it! If you think that singing doesn't go too well with an action-packed zombie-thriller, you'll definitely change your mind after you finish watching Miruthan. The plot has all the usual find-the-vaccine survival elements, but it's the visual effects that make it truly unforgettable.