What's the first thing that comes to mind when you think about makeup? Is it the process of applying it that you enjoy or the result that follows? Most mainstream media will have you think that makeup is the solution to your problems. It's a way to hide imperfections and highlight your best features. We've been seeing this our whole lives. Makeup being advertised by picture-perfect models with flawless skin, or celebrities in full glam looking like porcelain dolls. Even Instagram and Youtube beauty gurus are all about contouring your face to perfection, creating sharp eyeliner looks and applying eyelashes that look big enough to use as wings. But things are changing. A revolution is brewing and it's the @uglymakeuprevolution.
It seems like we're finally remembering that makeup is meant to be about self-expression. It's a form of art and therefore it should be about freeing your inner self instead of conforming to the beauty standards of society. It's your makeup and your face and you should be able to do whatever you want with it.
German artist Eszter Magyar works as a regular makeup artist during the day but she has a whole other side to her which she expresses online. When she would post her makeup experiments online she would often get a lot of hate and negative comments calling her makeup looks ugly, but she saw them as an expression of her feelings and moods.
One day she was joking with her friends that ugly makeup is the new thing that's going to spread like wildfire, it's going to be the new Kardashians. She first used the #uglymakeuprevolution as a joke but when she checked back in a couple of months she noticed that many people were using this hashtag and tagging their own creative makeup photos with this hashtag.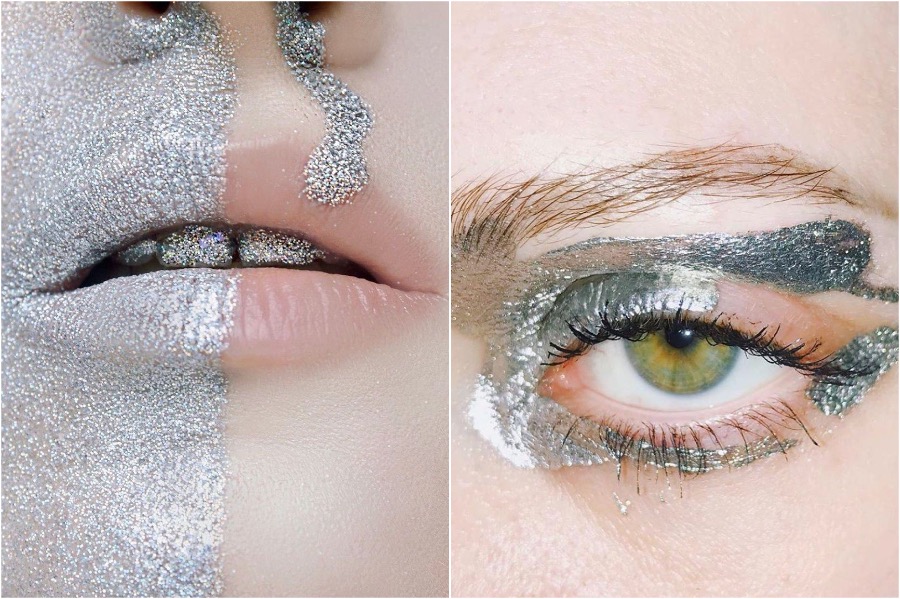 So Magyar started an Instagram account where she would post not only her "ugly makeup looks", but also those that she'd find under the tag by other people. In a way, she built a community based around ugly makeup. But of course, the makeup looks aren't actually ugly, they're just unusual. They're not something you're used to seeing at work or on the street, it's more of an art project than an everyday look.
The whole idea is to be creative and channel your moods and feelings into it, create looks that are unique to you, express yourself in whatever way that feels and looks right to you. It's not even about makeup, people use face paint, and random objects they have at home to add to their looks and the results are always fascinating.
If you're new to this world of "ugly" makeup we encourage you to take a look and we bet you'll be intrigued and possibly even inspired to experiment with your makeup looks. This is the perfect time to do that, since we're all stuck at home self-isolating and you don't have to worry about going outside and what others will think.
You don't have to be a professional makeup artist to create cool makeup looks. You just have to give yourself permission to be creative and play around.