Everyone has their favorite era of ancient art. For me it's medieval paintings of war (seriously, google them, they're hilarious), but art, sculptures, and architecture from Ancient Greece are a very close second.
Here are the top 10 Ancient Greek masterpieces.
Pergamon Altar
The Pergamon Altar was built around 150 BC at the highest point in the Ancient Greek city of Pergamon. The King Eumenes II built this structure, and it is currently on display in the Pergamon Museum in Berlin. It is nearly 36 meters wide and 33 meters deep and served as a terrace in the acropolis (a fortified part of an Ancient Greek city).
Mask of Agamemnon, King of Mycenae
This one is a personal favorite because when we were learning about it in school, it was really fun to pronounce out loud. Also, it looks incredibly cool. The gold Mask of Agamemnon was supposedly created around 1500BC and was discovered in 1876 by Heinrich Schliemann. When it was discovered, it was covering the face of what was presumed to be the body of a legendary Greek soldier and leader during the Trojan War, Agamemnon. However, when scientists carbon-dated the mask, they found that it was crafted nearly 300 years prior to the period of the Trojan war. Nevertheless, the name stuck and that's what this mask is called to this day.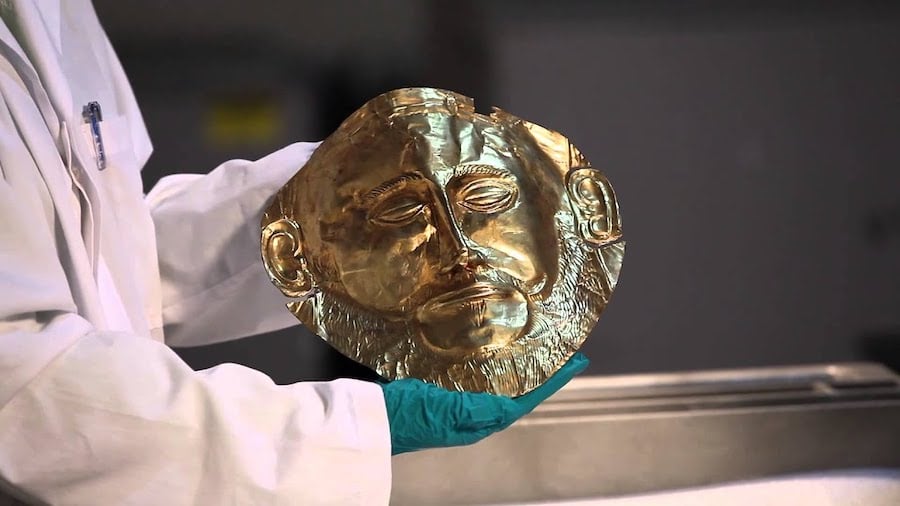 Venus de Milo
I actually had a chance to see this with my own eyes when I visited the Louvre, and it was incredible. This marble sculpture of Aphrodite of Milos is one of the most famous works of art we have from Ancient Greece. It is presumed to have been created by Alexandros of Antioch around 200 BC. It is 6 feet and 8 inches tall (so, larger than people would have been in 200BC (and now, for that matter), but it is meticulously crafted and very detailed.
Fun fact: all though all the sculptures that we see in museums today are white and marble, there is evidence that all sculptures were painted with vivid colors when they were actually created!
Winged Victory of Samothrace
This statue is also on display in the Louvre Museum. Winged Victory (Nike) stand on the prow of a ship looking forward. According to historians, this statue was offered by the people of Rhodes to commemorate a naval victory around 200BC. The monument was discovered in 1863 by Charles Champoiseau.
Fun fact: this is the Nike goddess after which the actual Nike brand is named after.