Jonathan Stryker has been on our radar for quite some time now, especially after his debut as a cosplayer of Disney characters. His transformations are so close to the original, it is hard to tell how exactly he creates all those looks. They are stunning and filled with such care and attention to detail that it's impossible not to fall in love with his work. Jonathan takes everything into consideration from poses to facial expressions of the character, and perfectly-made clothes. Here's what he looks like as Mad Hatter, Squidward, Mojo Jojo, and a dozen of other TV, cartoon, anime, and movie characters.
Jack Sparrow
One might think it's easy to turn into a pirate, but not when this pirate is Jack Sparrow played by the mesmerizing Johnny Depp. The resemblance is uncanny!
Squidward
We must admit that meeting Squidward in real life would be a pretty horrifying experience. But the costume itself is truly superb!
Rick
Rick & Morty are now among the most legendary animated TV series, so no wonder cosplayers also like to turn into these characters. Jonathan Stryker definitely knows a thing or two about being a genius, so no wonder he chose Rick for his cosplay.
Zoidberg
Continuing with sci-fi legends, behold Zoidberg from our beloved Futurama. This real-life interpretation is quite spectacular!
Mr. Burns
Out of all the Simpsons characters he picked, Mr. Burns. This characterization is definitely one of the most disturbing of the bunch.
Shoto
Is it hard to create cosplay for anime? You bet! But Jonathan Stryker seems to be up for any challenge, including cosplay of My Hero Academia's characters.
Cry-Baby
For those of you who love a younger version of Johnny Depp – behold Cry-Baby, one of his most under-rated movies.
Mandark
If only animators realized what their characters looked like in real life…Mandark from Dexter's Lab is a true work of art!
Mojo Jojo
Are we the only one's thinking that creating a real-life adaptation of Power-puff Girls is a really good idea? At least Mojo Jojo would look smashing.
Mad Hatter
We seriously can't believe that's not actually Johnny Depp under all that makeup. This cosplayer really is amazing.
Midnight
Who said a male cosplayer couldn't pull off female characters? Meet Midnight from My Hero Academia.
Grape Juice
Is there such thing as a too accurate cosplay? This must be it! My Hero Academia's Grape Juice is way too realistic.
Raoul Duke
Who would pick Fear And Loathing In Las Vegas for cosplay? Only a really talented and bold costume maker would. Jonathan pulled off Raoul Duke brilliantly!
All Might
My Hero Academia is packed with striking characters, All Might being among the most spectacular ones. His real life interpretation is just as awesome!
Nuktuk
We've seen our fair share of Legend Of Korra cosplay, but we must admit this is one of the most accurate Nuktuks we've ever seen!
Sterling Archer
Jonathan Stryker looks like he came straight from the silver screen! This is not something you see every day.
Nigel Thornberry
We've all watched The Wild Thornberries when we were kids, but we could never imagine that someone would actually transform into one of these characters!
Willy Wonka
This cosplayer really knows his way around Johnny Depp characters, we have to give him that. Meet Willy Wonka from Charlie And The Chocolate Factory!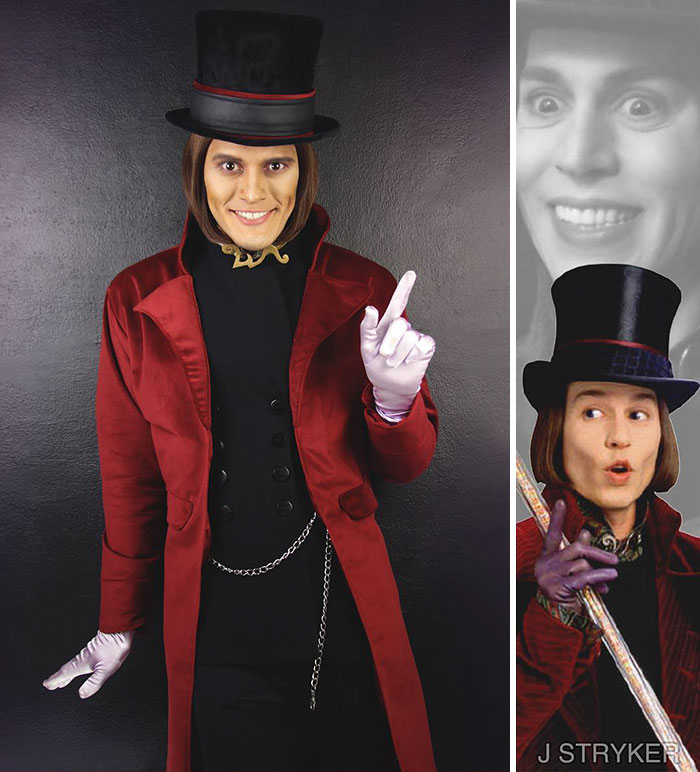 Chaz Finster
Chaz Finster from Rugrats brings so many childhood flashbacks. It was one of the most fun cartoons we watched as kids.
Jack
The key to creating a believable Samurai Jack look is copying those bold eyebrows. He looks beyond realistic!