Before you scroll down, I have to warn you, even though the headline has "cartoon" in it, the drawings you are about to see below are destined to become your worst nightmare.
Miguel Vasquez is a 3D artist who brings popular cartoon characters to life and the result is way too creepy. Miguel managed to make your favorite characters like Spongebob, Patrick, and Homer Simpson to look like hell-spawned creatures that come to you in your nightmares.
American artist Miguel Vasquez has been working with the original 3D models since 2015, but his talent to portray fiction characters as close to real life as possible is what made him truly famous worldwide.
In fact, there's nothing "real" about his art. There's nothing "physical" about his work. All he does is taking a 2D drawing and transforming it into a 3D one. But the way he does it, that's what makes his art both fascinating and cringeworthy. He uses a high resolution digitalization and creates monsters in the finest tradition of Guillermo del Toro.
It all started with Mario's brother Luigi who for some reason turned out looking kinda sad.
Then, Miguel moved on to the characters from "Monsters Inc.". 3D visualization, a bit terrifying teeth, huge eyeballs that seem to pop out of its socket… and innocuous cartoon character doesn't seem so harmless anymore.
Later Miguel did the 3D version of Homer Simpson, and this was the time when his popularity really skyrocketed. His Instagram community has grown up to 200K followers and it just keeps growing.
We all love the screen version of Homer Simpson, right? And he's a person, right? But have you ever imagined Homer being an actual, real person? These huge eyes and ridiculously high forehead along with somewhat gorilla like jaw, real-life Homer would definitely freak me out.
Those who think there's nothing freaky about real life Homer, you should see his 3D version of Spongebob and Patrick.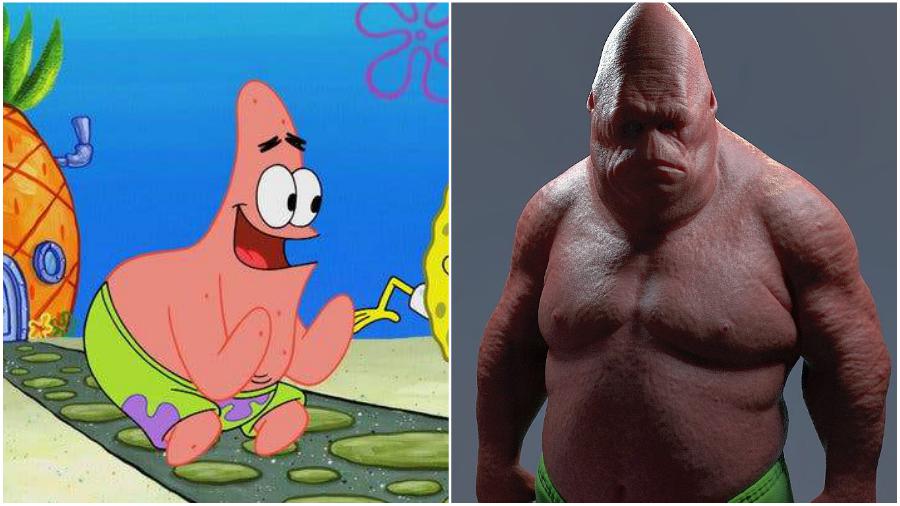 While Patrick looks like a wrestler with a pointy head, the realistic rendering of Spongebob will haunt your dreams forever.
Again, Miguel Vasquez's art is without a doubt impressive, but it's not for everyone I guess. This real life rendering trend is way too terrifying to say the least.