Swimming pools are generally considered to be everyone's favorite part about a good vacation. It cools you off, it gives you exercise and it allows you to show off that poolside body you've been working on for two days in January. Don't worry, no one follows through on their New Year's resolutions.
But sometimes, swimming pools can be more. Some pools are exciting and quite the adrenaline rush. Well, I'll be honest with you: swimming in them is probably a lot more expensive too. But let's pretend that's not an issue and take a look at some great locations for your next daring swim!
Sky Pool, London
Well, they didn't make up the name. It's a pool in the sky. It's suspended 115 feet above the ground and has a glass bottom, which also means you can tell how far the fall down is at all times. Not for people with vertigo!
Marina Bay Sands, Singapore
Known as an "infinity pool", this rooftop swimming pool pretty much runs all the way to the edge of the building. I mean, there's a very thin edge for safety reasons, but you could pretty much literally swim to your imminent death. It has the best poolside view in the world, though! The pool seemingly flows over into the ocean below, hence the "infinity" pool.
Hanging Gardens, Bali
This pool is practically in the middle of a beautiful forest. While the pool itself might not be that exciting, you'll get more than enough thrills from looking at that amazing view. Now that's paradise.
Continental Festival City Hotel, Dubai
Just another rooftop pool on an expensive hotel, right? Wrong! Well, not entirely wrong, but this expensive hotel rooftop pool has a part with a glass bottom.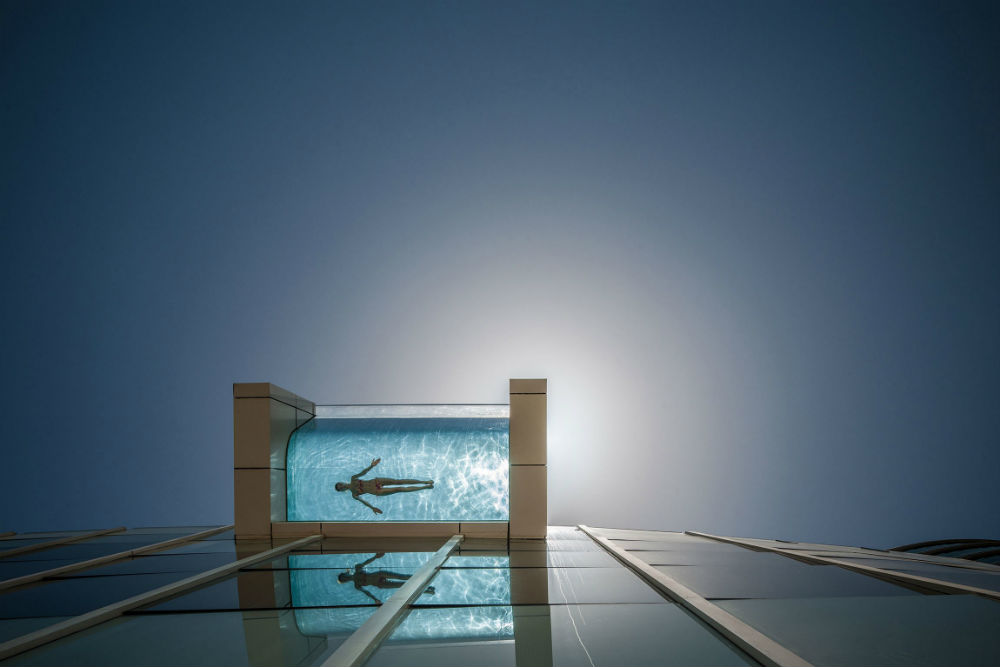 Hotel Indigo Pool, Hong Kong
Surely not another hotel that went with the good old "rooftop swimming pool with glass bottom" trick, right? Well, they went for it. I guess it's one of those things hotels do now.
Hotel Villa Honegg, Switzerland
We've had city skylines, we've had forests, we've had oceans, but why haven't we had a pool with an amazing mountain view? Because I saved the best for last, that's why. They even put a lounge seat in the pool so you can watch the mountains and pretend you don't have to go back to your 9 to 5 job in a few days. Wonderful!