They always say that you should feel like a fairy tale princess on your wedding day and sure, most wedding dresses are made to look like that either way. But if you've ever had a specific Disney Princess in mind that you've always wanted to look like – now you can actually do that. Disney has collaborated with Allure Bridal and released a collection of wedding dresses specifically designed after Disney Princesses. The collection is called Disney Fairy Tale Weddings Collection and it features 16 wedding gown designs that are modelled after 9 Disney Princesses with some alterations that add different details depending on what you prefer. The average price for a dress from this collection is between $1,200 and $2,500. There is also a special Disney Fairy Tale Weddings Platinum Collection that features 7 dresses which are more expensive because they're decorated with hand-embroidery, crystal beading and even pearls. The dresses from the Platinum collection are priced between $3,000 and $10,000.
Ariel
If you are always related to Ariel you'll probably love this dress. I mean, who wouldn't want a gorgeous mermaid wedding dress that features such beautiful and gorgeous details. It's not your regular mermaid tail, this dress is way more voluminous at the bottom, and is meant to symbolize the waves of the ocean.
Aurora
If Aurora is more your cup of tea this wedding gown with a cape will probably be exactly what you've been dreaming about since you were a little girl. Except this one doesn't look childish at all, it's sophisticated and elegant but with a slight nod to your love of Disney.
Tiana
Tiana's dress is meant to combine her unique taste and practicality. It's great for those who don't want a poofy voluminous dress, but still want to feel like a true Disney Princess on their big day.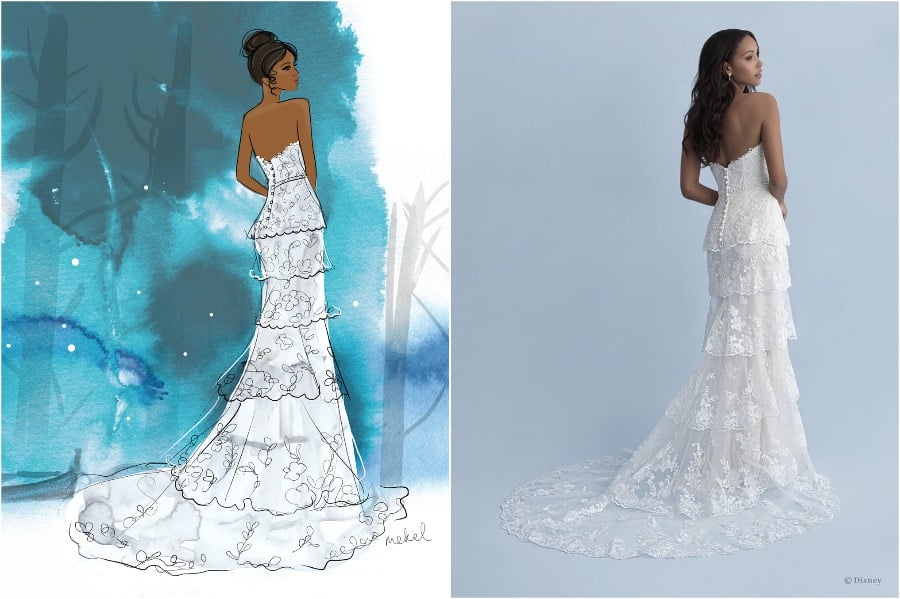 Belle
Belle's dress is elegant and feminine, the open shoulders and the cut of the decolletage are meant to showcase your most graceful features without making it vulgar or too revealing. The skirt is full but not poofy and the button detail on the back is just too beautiful to pass up.
Cinderella
If you wanted to feel like Cinderella this is the dress for you. This wedding collection has got you covered, just make sure you find a fitting crystal slipper to complete this Disney Princess look. The beading on the dress makes it shine and sparkle and reflect light in the most magical way, making you look like you just stepped out of a fairy tale.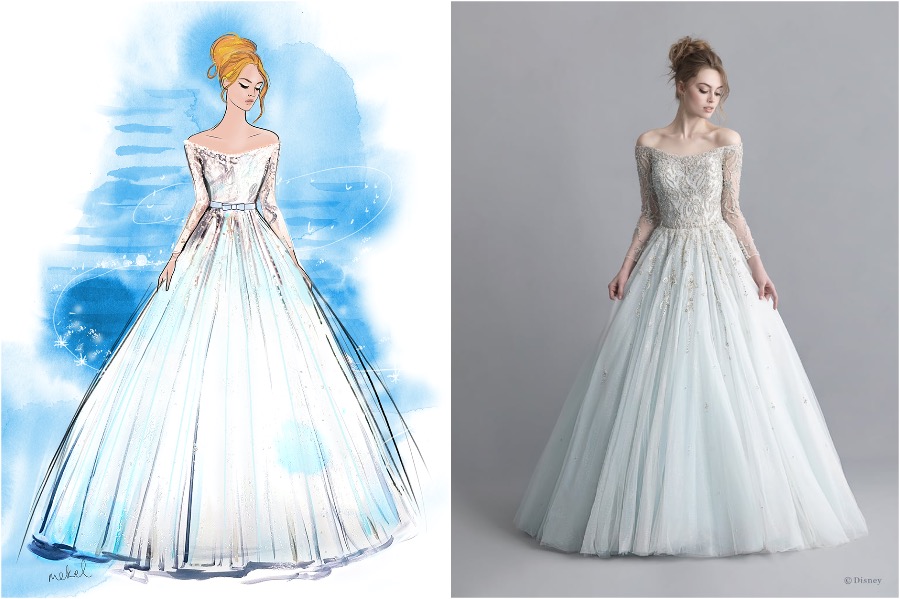 Jasmine
Jasmine's dress has the most beautiful details along the bodice, leaving the skirt mostly smooth to showcase the beautiful material, and then there's a detailed applique along the hem of the dress. It's absolutely stunning.
Pocahontas
The Pocahontas dress has the simplest cut, but it's the best for accentuating your natural shape. It's almost minimalistic in its cut but the material is so delicate and beautiful that you don't need a poofy skirt to make sure it looks like a wedding dress. And again, that button detail at the back is so beautiful.
Rapunzel
The Rapunzel dress is long and flowing, just like her hair, it's perfect for a bohemian themed wedding. The wedding gown features a slightly raised waistline and short see-through cap sleeves that add that Disney Princess touch.
Snow White
This is possibly the most dramatic dress of the collection. The massive bow at the back is too extra but so freaking gorgeous. This is a dress that will not only impress people when you enter the room but will keep their attention and make them do a double-take every time they catch you out of the corner of their eye.