It's been a long time since most of us went to school and even more time have passed since something exciting happened there. Well, this was the case with my school and probably with most schools that were teaching kids 20 something years ago. But now, it seems, things are really taking a turn for the better. Teachers are constantly going viral with their quirky approach, fun-filled lessons, and a unique view on how one should teach children. Kids these days can tolerate boring stuff even less than we, now-grown-ups, could do it. That means teachers need to come up with some really cool new ideas to keep things interesting for the kiddos. This teacher certainly outdid herself!
Meet Veronica Duque, a 43-year-old teacher with a talent to surprise her students and keep them engaged. She's been a teacher for 15 years now, specializing in English, Spanish, art, as well as a natural and social science. Veronica understands that teaching techniques need to evolve as times change and kids change with them.
Veronica is always looking for ways to make her lessons more interesting. One day she was surfing the web and this frighteningly gorgeous swimsuit popped up on AliExpress. She knew she had to get it! It's really hard for young kids to visualize the internal organs, so she decided to become a real-life model for them.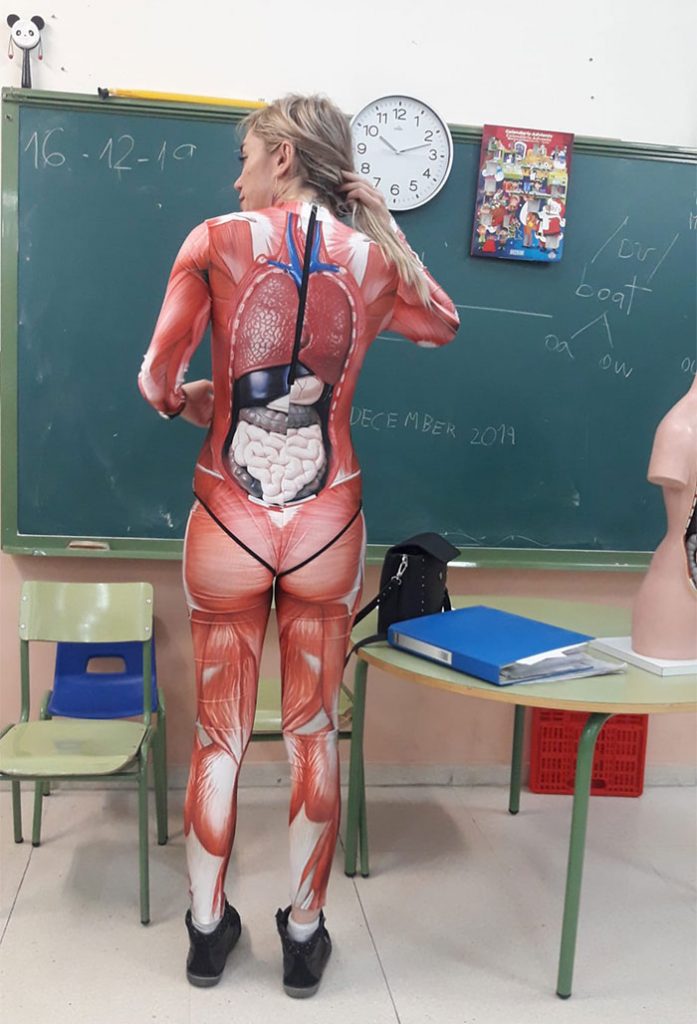 Her husband was quick to tweet about his wife's creativity and the post soon went viral, gathering lots of comments and likes in a blink of an eye. People applauded Veronica's ingenuity and dedication. The teacher herself confessed that this is just a small part of her inventory and she really likes to help kids visualize things (for example, she uses disguises during history lessons).
The idea to wear a swimsuit like that is not new. Many Internet users remembered John Burstein and his Slim Goodbody character he created especially for kids. He's been hugely popular in the 80s and his educational shows are still watched by thousands of kids.
But what really matters here is that 'good teachers are still there' as one of the Twitter users commented. If everyone was so creative and dedicated to their work, schools would become a much more fun place for students. Learning anatomy is really tough at a young age, so kudos to the smart teacher and good luck with finding more creative ideas to use during her class. She's a real inspiration!