Meet mamekoro51, a photographer from Japan whose main hobby is taking photos of adorable baby animals. If that's not the cutest kind of hobby, I don't know what is! During his visit to the Inokashira Natural Cultural Park he met a family of adorable meerkats with one particular baby meerkat that was camera-shy. His shyness didn't last for long, though, and soon the whole gang was posing for pics! Here's how it all happened.
Baby meerkat was peeking curiously from behind the wall, feeling absolutely shy. A few moments later, though, the baby revealed itself and it was a real 'aww' moment for the photographer.
Meerkats belong to the mongoose family and are known for the communication skills. A bunch of them is called a mob, gang, or a clan, and they work incredibly well together.
Found mostly in the desserts of southern Africa, these furry animals can form groups from 3 to 50 members. They live underground to keep themselves safe from predators and scorching sun, and hunt during the day.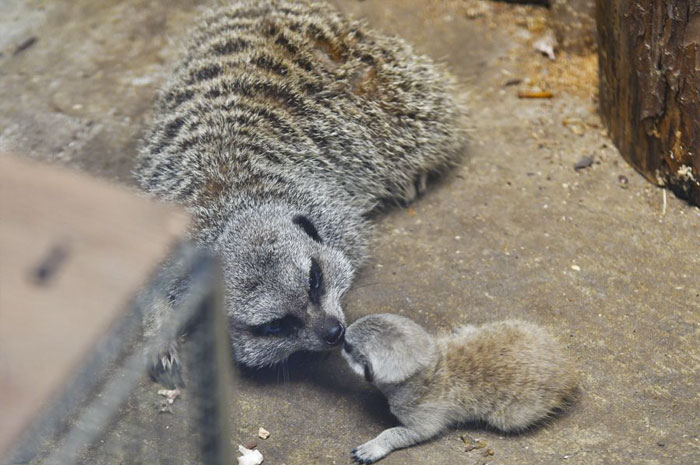 Their favourite foods are beetles, scorpions, caterpillars, and spiders. They even teach their young how to properly eat whatever they catch! A grown-up meerkat would remove scorpion's sting and show how to properly have dinner.
If you think that's cool, wait till you hear about their babysitting skills! Yep, meerkat females who don't have babies are still engaged in feeding and looking after the youngsters. If there's some danger the responsible adult meerkat will quickly lead the babies underground for safety.
Meerkat mobs are matriarchal – everything revolves around the main alpha couples, out of which female is the boss. She's the only one allowed to reproduce! If another female gets a baby, she may be punished by exile and her cub may be killed.
Despite the egomaniac Matriarch, meerkat adults treat their youngsters well. Research shows that they eagerly give up their food to the babies when those cry in a particular high-pitched manner. As the grow older, though, and their voices change, adults become less inclined to share their meals and babies need to learn to fetch for themselves.
While being social animals, meerkats have deadly turf wars over territory. One collision like that can wipe off half of the adult population of the gang! These brave critters will also fight when a predator finds them – if there's a bunch of them they will stand close together, arching their backs and hissing to scare off the enemy. This sometimes works as they get mistaken for a huge animal!
Studies show that meerkats even recognize the 'voices' of their family members from the gang. Now how cool is that?