Minnie knew she wanted her life to revolve around art from a young age. When most kids were talking about wanting to become a doctor, a very or a policeman she said she wanted to be an artist. And boy did she follow through. She aced her exams at school, went on to study Fine Art in university and started growing her online art presence. She loves makeup and art and now she's famous for creating these incredible and wonderful lips looks on her Instagram. According to Minnie, she created the first one as a final piece for her art exams at school and she's been at it ever since.
Minnie comes from quite an artsy background, both of her parents are artists, so they're supportive of her work. When she finished university she chose not to look for jobs and instead focused on creating her brand and growing her following. Her parents supported her decision and even converted their dining room into her studio where she could create art. She really loves what she does!
In the meantime, here are some of the best lip looks Minnie has created.
1. Makes you want to take a bath with rubber duckies, doesn't it? We love the choice of colors and the bubbles really add to the overall idea. Rub A Dub Dub.
2. Apparently, this is the amount of alcohol Minnie can handle. But look at the details. The little margarita, the corresponding colors, even the salt on the edges of her lips.
3. Anyone else craving a burger right now? And does that lip color make you think of mustard? It's just all so yummy.
4. This is one of the looks Minnie created around Halloween. What a clever idea. Eyes cream instead of ice-cream.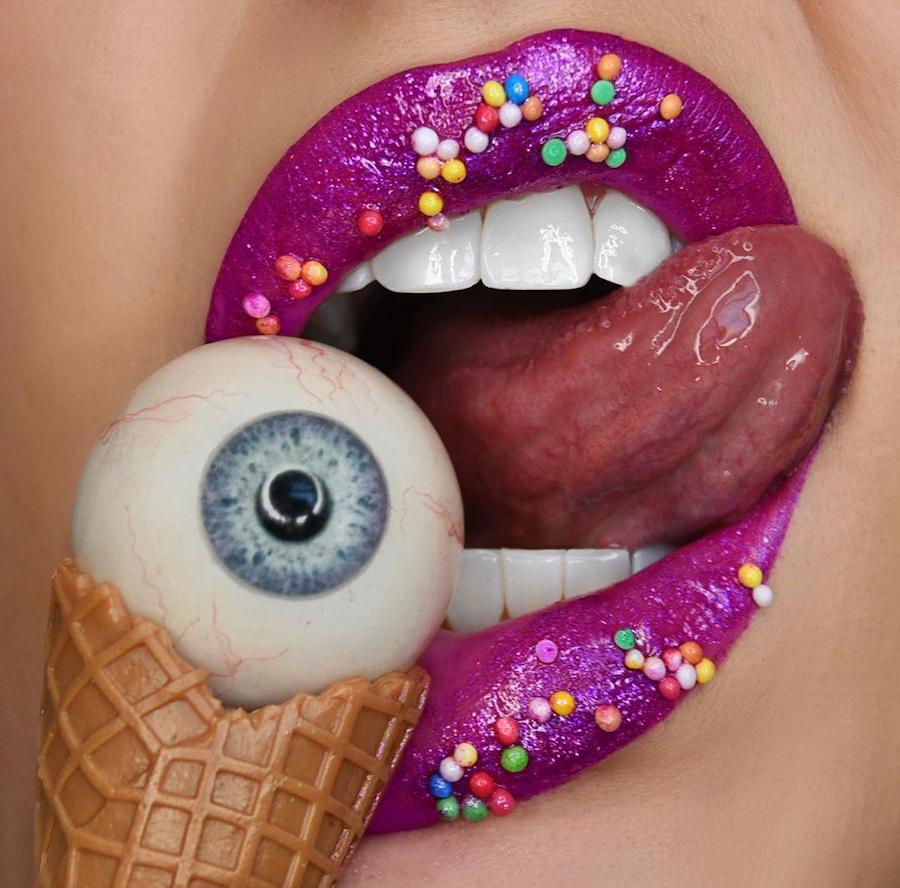 5. Normal vampires are so last year. Be more glam, be more sophisticated, be unique. Be a glampire.
6. Minnie captioned this with "Art should disturb the comfortable, and comfort the disturbed"… and boy if this doesn't do just that I don't know what will 😂. Are you 🤩 or 🤢 for this?
I admit even I- who is completely fascinated with insects (dead or alive) was creeped out creating this." And before you ask, yes the flies are real.
7. Horrified by the fires in Amazon Minnie made this lip look with a panda eating bamboo (not smoking a joint as some people thought) to bring attention to what we can do to make the world a better and greener place. She suggested going vegan, walking or biking more and using cars less, and switching to a green power source.
8. Funny story about this one – the Buddha is made of rubber and is meant to be used as an eraser. So when Minnie was taking photos and gripping him with her teeth she nearly bit off his head by the end.
9. Such a beautiful work of art, isn't it? But actually quite dangerous, when Minnie sniffed one of those butterflied got lodged in her nose.
10. This one's called 'The Colour Of Money" and we think it's a very fitting name. Funnily enough, the main lipsticks were called Crocodile Tears and Venus Flytrap.
11. This one is from Minnie's series called "Lip Couture" where she chooses luxury fashion designers and created lip looks uniquely suited for them.
12. Classic red by Minnie. We won't be surprised if we see this in a lipstick ad in the near future. It looks stunning.