Do you love cute animal accounts on Instagram? Because this little squirrel is the best thing you'll ever come across online. Jill the squirrel could've met a very different fate. When she was a baby she fell out of a tree during a Hurricane Isaac in Louisiana in 2012. That could've been the end for her. But nice people rescued her and took her in. When they rescued the squirrel in thought it would be temporary and eventually, they'd just let it back out into the wild. But it's been 7 years and Jill the squirrel is still living with them. In fact, she became their little member of the family. They travel together, they provide for her, they love her and they do lovely photoshoots with her. Jill is living the life, she has an Instagram account that has 699K followers, she gets to enjoy yummy treats provided by her family, and even occasionally rocks cute outfits. What's most adorable is that she has a tiny teddy bear that she insists on holding in her little arms whenever she takes a nap.
1.Here, meet Jill the girl, she's the lucky squirrel we're talking about. Isn't she sweet?
2.Here she is wearing a flower crown and looking like a high fashion model.
3.Jill also keeps up with her blog and her Instagram account, you know, she's a busy business squirrel.
4.Here's her little teddy friend that she always likes to sleep with.
5. Looking chuffed, holding a yellow flower. Just look at that cheeky smile.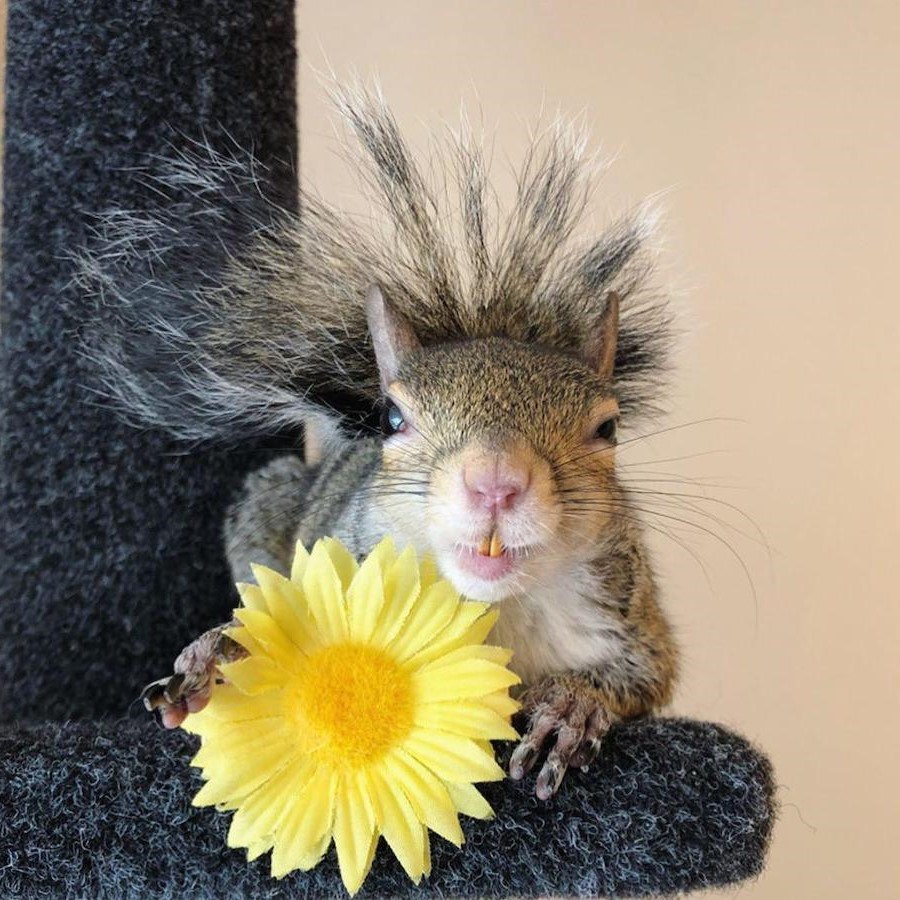 6. Some mornings are rough, especially if it's a Monday morning.
7.A profile shot. But really she's just watching ducks through the window.
8.Anyone up for a Hawaiian vacation? Jill the squirrel is all dressed and ready to go.
9.New Year's celebration call for a special outfit and Jill knows how to dress to impress.
10.Pharell makes the rules when it comes to hat height. Jill just follows them.
11.A warm hat and a cosy scarf is essential on a cold winter day.
12.Jill also gets into the Halloween spirit. Except don't give her sweets, she prefers peanut butter or any other nut as a treat.
13.Birthday celebrations are a good reason to wear a funny hat.
14.What? Sometimes you don't even need a reason for celebration. Sometimes you just look cute in a hat.
15.Did anyone say "party animal" ? Cause Jill heard you and she's here to play the part.
16.The best place to fall asleep. Many would agree. Even humans know this for a fact.
17.Here's Jill with her little nap companion again. Isn't it just adorable?
18.Scarfs are a great way to make oneself look a little bit french.
19.Goodnight folks, I've had a long morning and am going to take a nap with teddy now. Have a nice day!