It's not a secret that gorillas and humans are pretty alike, after all, we're sharing more than 90% of DNA! That being said, we rarely compare ourselves to them, perceiving gorillas as somewhat intelligent primates, but no more than animals. Here comes Anaka, a cute gorilla from Zoo Atlanta, that has recently taken over the internet with her unusual exceptionally human-like hand. She's a reminder that we are all connected in ways humans can't really fathom on a broader scale than any of us thought possible.
Not long ago gorilla named Anaka celebrated her 6th birthday in Zoo Atlanta. The zoo workers are fond of Facebook just as much as anyone of us, so they clicked a few shots of the happy occasion and posted them on the Zoo Atlanta FB page.
Everyone was happy to see the cute gorilla and her family, but what really amazed Facebook users were Anaka's fingers. Yep, this absolutely normally-looking young gorilla has some pretty outstanding fingers that lack pigmentation. As a result, they look startlingly human, which came as a surprise to most people.
The zoo workers also revealed that not only Anaka's fingers were special – here personality was pretty outstanding as well! She is often seen bossing around her mom and other gorillas, barking to get a good spot near food and drink. She also likes to ride on the backs of her brothers and sisters, showing off her unique personality.
Of course, everyone was wondering what made Anaka's finger look so different. Many believe she has vitiligo, a skin condition that makes parts of the skin lose its pigmentation. The zoo workers were quick to dismiss that theory as Anaka has had her pink fingers ever since she was born and it hasn't changed or spread in any way over time. They think it's just a really cool birthmark and nothing more.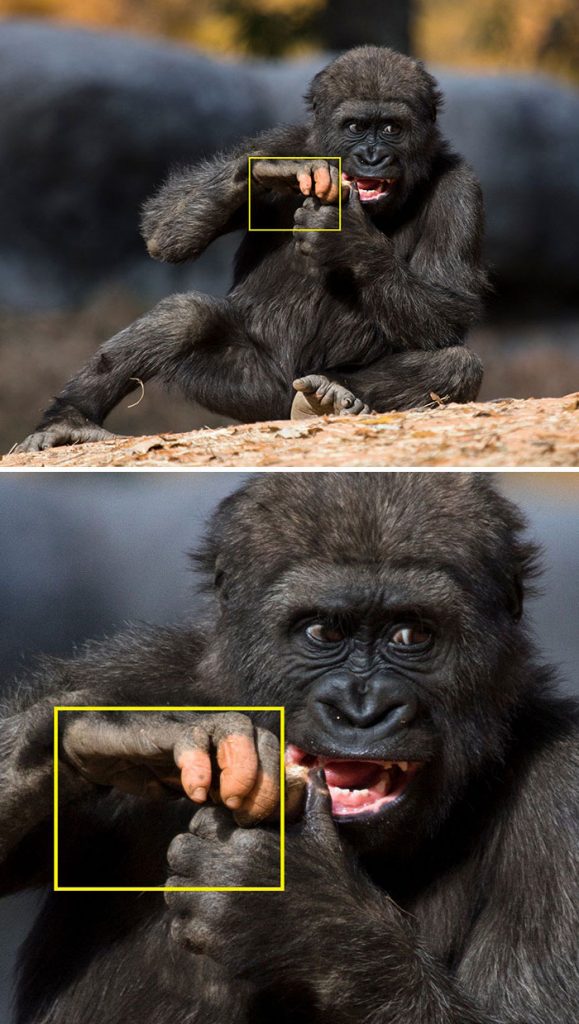 Well, whatever this is, people are in love with Anaka and her charming fingers. They also note how neat and clean her fingernails look. Many readers remind about the evolution theory, believing that it is another striking confirmation that humans and primates are closely related.
Just like humans, primates use their fingers to perform various tasks like cleaning, scraping, scratching, etc. That's why they have fingernails and not claws unlike other animals. Interestingly, just like all primates gorillas have individual fingerprints and toeprints, which can also be used for identification the same way as it is done with humans.