If you think sewing and embroidery is something older people do, think again. We're about to share with you works by a telneted artist named Kathrin Marchenko.
She does absolutely stunning embroidery on tulle. Her works are always beautifully intricate, colorful and vivid without being flashy.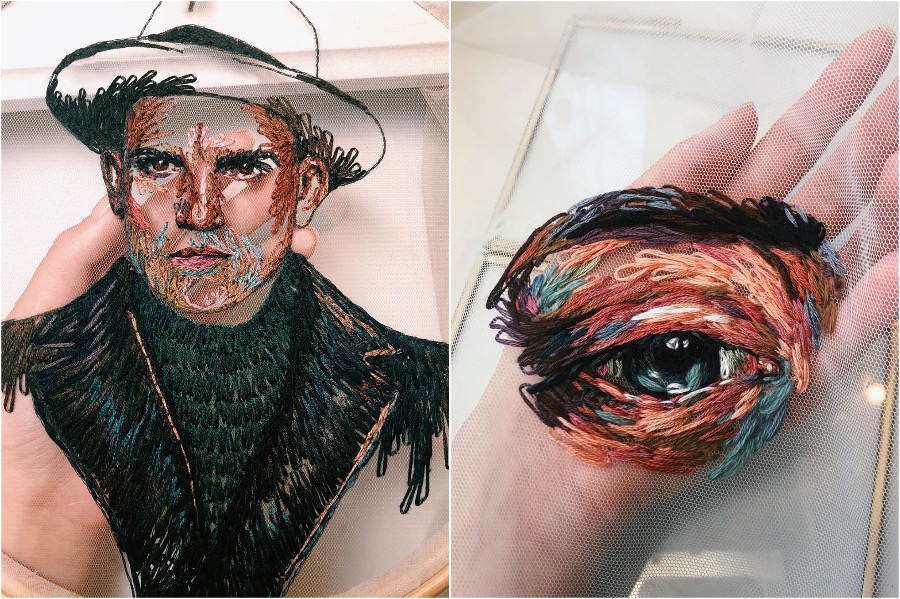 She says that she was never interested in sewing or embroidery when she was a kid. The kind of sewing they taught at her home economics classes at school didn't inspire her at all, she didn't want to make aprons, so she always asked her grandma to do it for her.
It was later in life when she graduated from school and entered a college that she got interested in the world of art, and specifically fashion.
Kathrin kept seeing beautiful dresses made by famous fashion designers that had the most gorgeous embroidery details and she decided to try it out. At first, she would do it on dense fabric, but after about a year she moved on to tulle. Kathrin found that doing embroidery on tulle makes it stand out more and the design looks more real and 3D.
What's interesting is that no one ever taught her how to do embroidery at first. She just decided to try it. She never plans ahead and doesn't do an outline or a sketch of what she wants to make. She just has an idea and goes with it, picking colors and shapes as she goes along. She likes the element of the unknown, the improvisation.
It took her years of practice, a lot of trial and error and just a lot of perseverance to get where she is now with her embroidery skills. She did eventually go to a school in France to learn a bit more about embroidery and various techniques, but she still chooses to improvise a lot in her work and just let her imagination go wild.
Over the years Kathrin has developed her own style of embroidery that incorporated a lot of color and layers of stitching. She says it's like organized chaos, but it makes sense to her and she likes the result, so she keeps going, proving that you don't always have to have a plan, as long as you follow your heart.
Our favourite works by Kathrin include all the hand embroidery that she's done. It just looks so beautiful and sensual. But she also likes to do eyes, pets, fish, landscapes and portraits. She can really do it all.