It's no secret that Australia is home to many weird animals and insects, but it's also a home to many outstanding natural attractions. And the most extraordinary natural wonder is believed to be its pink lakes. Australia's bubblegum pink lakes truly are a sight to behold and here's why…
While most of the lakes are located in national parks and are parts of tourist attraction routes, there are some lakes that are mostly used for farming and other aquaculture purposes.
Lake Hillier, Western Australia
This famous pink lake can only be reached by boat or plane, and unlike other pink lakes, this beauty stays pink all year round.

Second of all, these rose-colored lakes are a result of a very interesting natural phenomena that is pretty much one of a kind. This weird bubblegum hue comes from an algae growing at the bottom of the lake that produces red pigment as a response to an extremely high salt level in water.
Pink Lake & Lake Warden, Western Australia
These two lakes are literally located next door to each other. If you ain't up for a helicopter flight or a boat to a lake Hillier, visit these two buddies, they are gorgeous!

Most pink lakes doesn't stay pink permanently, and they can change color all the time, throughout the day and certain times of the year.
Lake MacDonnell, South Australia
Even though it takes almost a ten-hour drive west of Adelaide to get to the lake, it's totally worth visiting. Just look how beautiful it is!

The intensity of pink shade varies depending on the weather conditions. The very high salt levels, high temperatures, sunlight and lack of rainfall – these are the ultimate conditions to make the algae produce as much red pigment as possible. As a result, we get to see this rich roseberry milk colored lakes. Unfortunately, some lakes are losing their color due to the salt mining, and other construction works that's been going on around the lakes.
Hutt Lagoon, Western Australia
Hutt Lagoon is probably the biggest lake in Australia. It stretches over 70KM along the western coast and welcomes thousands of tourists every year.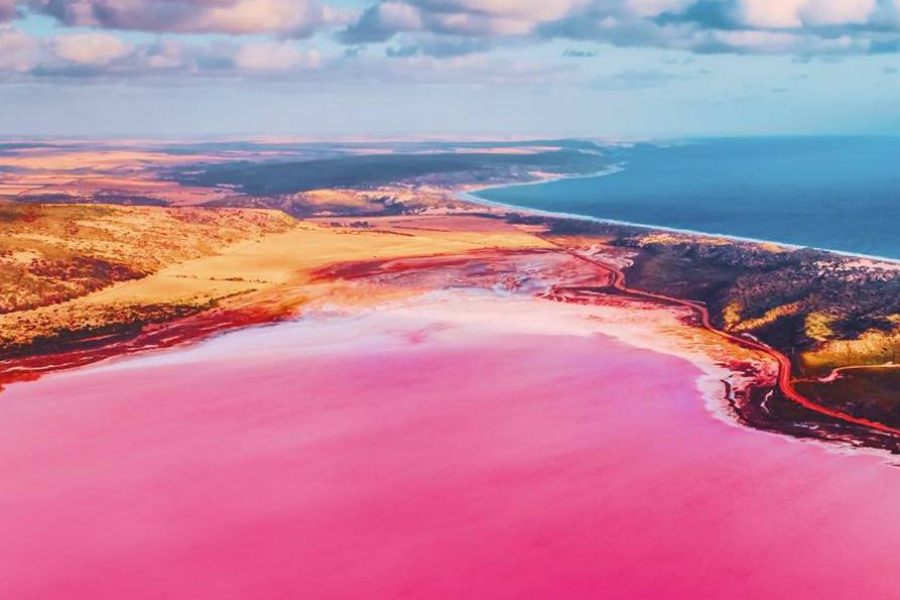 Due to the very high temperatures, the water in some of the lakes might dry out during Summertime. As a result, the lakes lose their intense pink hue. Also, please, don't try and drive or walk through it as the surface is very salty and soft. As the salt has this ability to erode, it might severely damage your camping gear, clothes and car tyres.
Crosbie, Becking, Kenyon and Hardy Pink Lakes, Victoria
The Murray-Sunset National Park in Victoria is home to these for gorgeous pink-tinted lakes. They are inspiring and totally worth your attention.

You might be wondering whether it's safe to swim in the pink lakes? Most lakes are totally safe to swim in, but they are also off limits as the locals are trying to protect them. Good news is that even though swimming is not allowed, camping is more than welcome. Some lakes are located so close to each other that you can set a camp and enjoy the beauty of the lakes within the 20 min hike range. So, feel free to bring your camping gear with you. Also, if you happen to find a pink lake to swim in, make sure you don't have any open wounds so you don't end up in a lot of pain when in contact with the salt water.
Lake Eyre, South Australia
Lake Eyre is an 8 hour drive from Adelaide but it's totally worth the effort. The beauty of this pink wonder is a sight to be seen.