The amazing French animator Thomas Romain figured he'd help his little guys out and turn their not-quite-worth-publishing doodles into very-much-publishable anime drawings. All of a sudden the somewhat odd drawings made by his children become a source of inspiration for his greatest work. He has an Instragram page you should follow if you're into bad drawings being turned into good drawings. I won't judge.
Before Thomas spent all his free time turning his sons' work into anime masterpieces, he actually created Code Lyoko and Oban Star-Racers. The last one jump-started his career in Japan, leading to his eventual move to Tokyo. He's only been animating his sons' drawings since 2017, so you can be sure that there'll be a lot more in the years to come.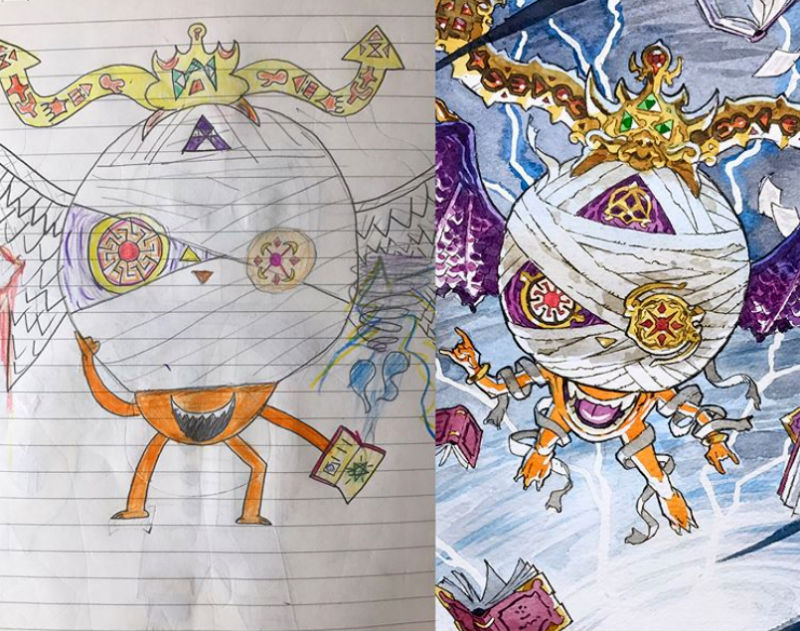 It's pretty obvious that these drawings are a clear upgrade from what Thomas' sons did with them. The fact that Thomas is a professional animator probably helps with that. I'd be pretty bummed if I was an animator and my infant kids were able to draw better than me. Just imagine. Anyway, the work speaks for itself. If you want to have a physical copy of this – why wouldn't you? – he's also currently allowing preorders for the book he made about him turning those drawings into something worth publishing. I hope his kids get a share of the profits.



Thomas' ability to turn these barely-something-identifiable doodles that are quite typical for small children into vivid and unique anime drawings is truly a marvelous talent to have. Most of what his kids draw does seem to be built on the general concept of monsters and animals, which makes it a lot easier for Thomas to actually convert them into a proper character. And we all know children have limitless imagination, so why not tap into that for your own work as an animator? Kudos to him for doing this!