When looking for inspiration for their next project artists often look to their favourite pop-culture characters. There's always something there to get inspired by, incorporate into their art or perhaps try to reimagine it completely. Many have tried to reimagine certain characters or celebrities as Disney characters, we've all seen some artists try to draw certain pop-culture characters as babies or as old people. But digital artist Gedo better known as gedogfx on Instagram had a different idea. He decided to draw his favourite pop-culture characters as religious figures but add specific elements to the drawings as references. Take a look at what that looks like below.
1.Timothee Chalamet
Timothee Chalamet is clearly blessed with good looks and we've seen him photoshopped into classical works of art seamlessly. Well what do you know, he doesn't look out of place as a deity or a saint either. All praise our lord and saviour Lil Timmy.
2.Keanu Reeves
Keanu is known as a very lovely dude and it seems like all the characters he plays are pretty phenomenal too. Like, have you ever seen a movie with him and not liked it? Yeah, me neither.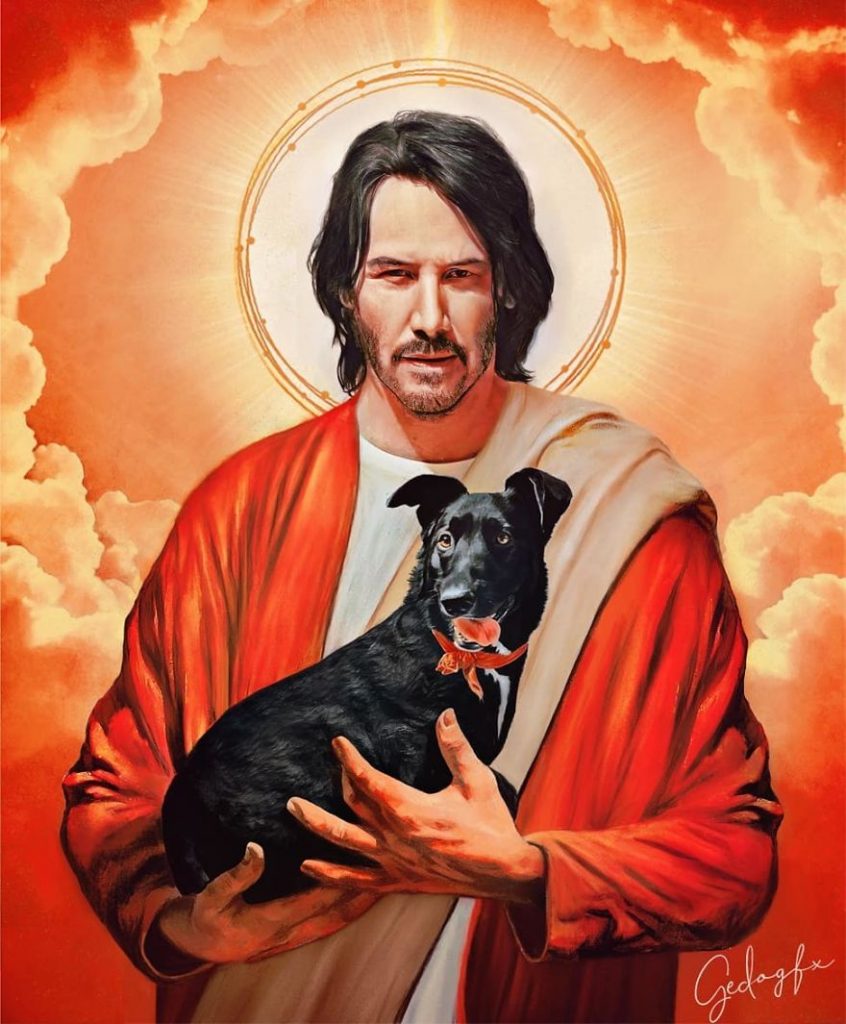 3.Freddie Mercury
He might be pictured as a messiah here but he's also still the ultimate Queen, note the crown and the cape. Actually, I'm pretty sure Freddie would love a portrait of himself like that, he'd probably find it hilarious.
4.Emilia Clarke
The most notable role Emilia Clarkw has played to date is that of Daenerys Targaryen. Obviously, she's a talented actress but GOT brought her fame to a whole new level. As you can see Gedo pictures Daenerys with a little dragon on her shoulder.
5.Heath Ledger
Heath Ledger's Joker has become the golden standard for that role. He just did such an amazing job on this movie, we wish he was around to see the appreciation everyone has for it. But what a fun saint would he make, huh?
6.Johnny Depp
It's been quite a few years since Johnny Depp played this role in Cry Baby but it's a cult classic and if you've never seen it because it was before your time – do yourself a favour and watch that movie.
7.Brad Pitt
The first rule of Fight Club is we never talk about fight club, but we kind of have to mention how freaking genius it was to depict Brad as Tyler and with a bar of soap instead of the usual heart in its place.
8.Samuel L Jackson
Does he look like a god? Yup. I dare you, I double dare you, to say that Jules wasn't an iconic role and that Samuel L Jackson wasn't the perfect guy for it. And listen up here, Jules really likes cheeseburgers, ok?
9.Robert Downey Jr.
I mean he essentially got to play god with that snap in Avengers, didn't he? So this drawing of Tony Stark as a diety seems pretty on point to me. And with is level of ego this is probably exactly how he sees himself.
10.Joaquin Phoenix
Joaquin's Joker is very different to that of Heath Ledger but nonetheless, it's also become a topic of discussion ever since The Joker came out and people can't stop talking about it. Some hate the movie, some love it, but you can't deny that Joaquin did an amazing job.
11.Uma Thurman
Uma Thurman in Kill Bill is a freaking legend at this point. You will recognize that character from the tiniest of details. It's a go-to for many at a costume party or during Halloween and we see why. Because that character is a pop-culture staple at this point.
12.Uma Thurman – Mia
Uma Thurman has been in a few of Tarantino's movies, clearly, he really likes her. But when it comes to her most memorable roles these two we're mentioning are probably the best-known ones. I mean you can't beat dressing up as Mia to and doing the dance. We also love the little syringe in the heart as a reference to the movie.
13.Marlon Brando
Getting Marlon Brando to play Vito Corleone in the Godfather was a genius decision. He embodied that character so well. But in Gedo's artwork, we love the fact that he included the cat. It was actually an improvised thing that Marlon did on set but it became such a well-known detail in the movie.
14.Natalie Portman
Leon (The Professional) is such a classic at this point. It was probably this iconic role that skyrocketed Natalie Portman's career in Hollywood. The way she played little Mathilda was absolutely stunning. And the plant and the cigarette is such a great way to add detail to this drawing.