While dining in unusually decorated restaurants has become trendy, unusual restaurants are something interesting to try. The experiences that follow are not necessarily about food but rather the history behind each location. Have you imagined dining on the tree or maybe in a working prison? Definitely something new to experience.
Restaurant in the Sky
Dining on a flying table has become one of the new things to try for thrill seekers. The first company to do it was Dinner in The Sky started by a Belgian agency which offers such experience in amusement parks around the world. A similar adventure is offered by a Dutch chef at CuliAir Sky Dining. The diners are lifted in the air by hot air balloon and the food is cooked right in front of you 50 meters (164 ft) above the ground.

Caveman Dining
Caves provide natural shelter and are a great place for a restaurant. The Grotta Palazzese restaurant in Italy has a 300-year old history offering a fine dining experience in a natural cave with a view of the Adriatic Sea. As this trend caught on, new restaurants have opened around the world including The Grotto in Thailand and La Caverna in New York. You can enjoy beach dining under a huge limestone cliff in The Grotto and totally escape the city in La Caverna enjoying cocktails in a cave-like hideaway.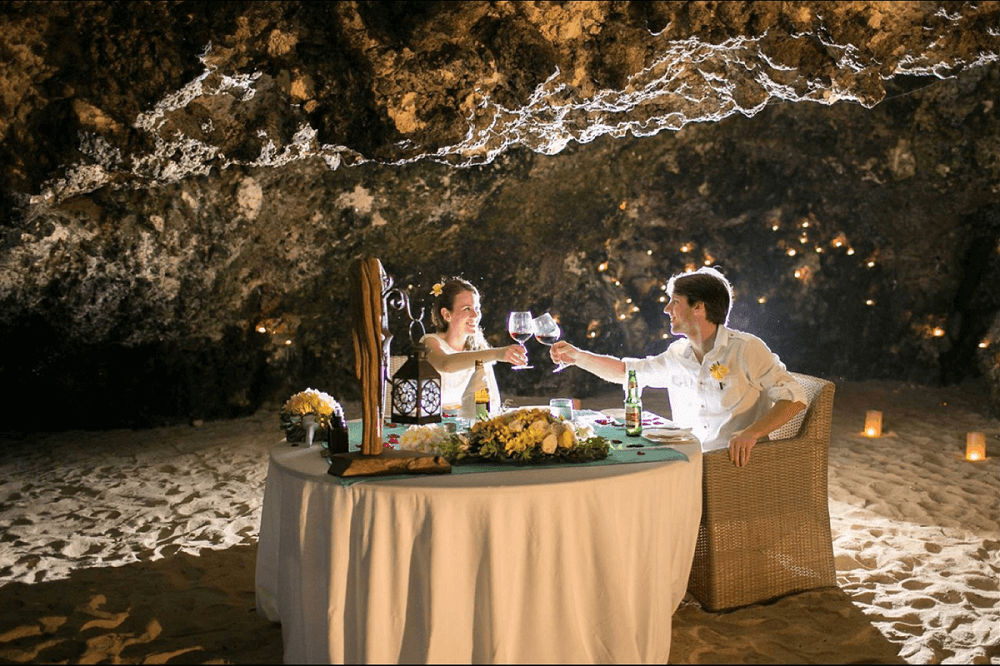 Food Served in Mental Asylums
As health care has changed significantly over the last few decades, many old mental asylums were abandoned. Nevertheless, buildings were not forgotten and hotels and restaurants have refurbished them for own needs. You can visit historical the asylum restaurant in Edinburgh, New York and New Mexico as well as few in Asia. This experience will leave you crazy about food.



Treetop Restaurants
If climbing trees is something that you enjoyed as a kid, this dining experience will be right up your alley. Redwoods Treehouse restaurant in New Zealand serves food 30 feet off the ground in the secure structures of the treetops. The stunning view is a great addition to a nice meal. Thailand offers a similar restaurant with views over the rainforest and the ocean and food served from connected cables.

Old Churches
Modern society went through a rapid change and many churches were repurposed. While some became houses, others were turned to restaurants. Church crypts are a particularly exciting place as they were used for burial, some have been transformed into fine dining locations. St Martin-in-the-Fields in London even saved old tombstones and features them in their restaurant.



Old buses and trains
Converting a bus into a restaurant or a cafe sounds like a great idea as this is an everyday thing that we might have eaten on. Quirky London pizzeria called Big Red Bus uses a famous London Red Double-Decker Bus as the main seating area for its customers. This idea was picked up around the world and old trams and buses are used as coffee places in the US and Europe. In Asia, you can dine in a plane!



Working prison
Prison is not the place you would think of when booking a table in a restaurant, however, a positive experience of a couple of prisons worldwide proves that anything is possible. Fortezza Medicea in Italy and The Clink in Wales both give prisoners the opportunity to learn a new skill and start their career in the hospitality industry. The restaurants are located on prison premises so going through security is mandatory prior to dining.



Old Toilets
Toilets and food consumption is not something that combines but old buildings with a rich heritage are a hotspot for many tourists. The Attendant Cafe in London used to be a men's public toilet which is reflected in old urinals featured on the walls. Similar places have opened in Australia where old toilet buildings were converted into cafes. Will it change your opinion on eating in toilets?, who knows…