Have you ever enjoyed something without context or even basic explanation? These GIFs right here are just like that. Let them soothe you with their perfection. Just watch a loop of Slinky going down the treadmill for five minutes, and don't ask why. Have fun!
So close… Woah! TOO close!

Why do I have serious Titanic vibes from this?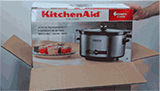 Is this a taffy machine? Sweet!

This is for all you painters and art enthusiasts.

When you know the music is good.



I need this kettle in my life right now! It's like a lava lamp, but less… trippy.

Heated knife + beeswax = perfection

This looks both soothing and aggravating.

And now you want a chewing gum, am I right?