We, human beings, are great at creating all kinds of things, including works of art. But as much as we try to use our imagination and create both realistic and abstract art, Mother Nature seems to be one step ahead of us. Everything she does is pure beauty! She creates unbelievable masterpieces using all instruments that are at her disposal: shadows, light, wind, gravity, color, and numerous laws of physics. Just stop for a minute and look around you – there's so much beauty it's impossible to fathom it all at once! Here we've gathered 20 times art created by Nature was much better than the actual art.
A frosty painting that will cease to exist once the sun comes out.
All shades of orange and red are reflected in a broken mirror. It's the most abstract-looking sunset we've ever seen!
Is this a Monet painting? Oh, no, wait, it's just mud spattered all over the window during a road trip.
Volcanic explosion or Mt. Fuji on a lid? Probably both.
Sometimes paint can look more artful than any painting created with it. Just don't stir it!
We need to learn to see the beauty in the smallest things…like on the bottom of a coffee cup!
What happens if you gaze into your shampoo bottle? You'll get to see the fractal bubble art!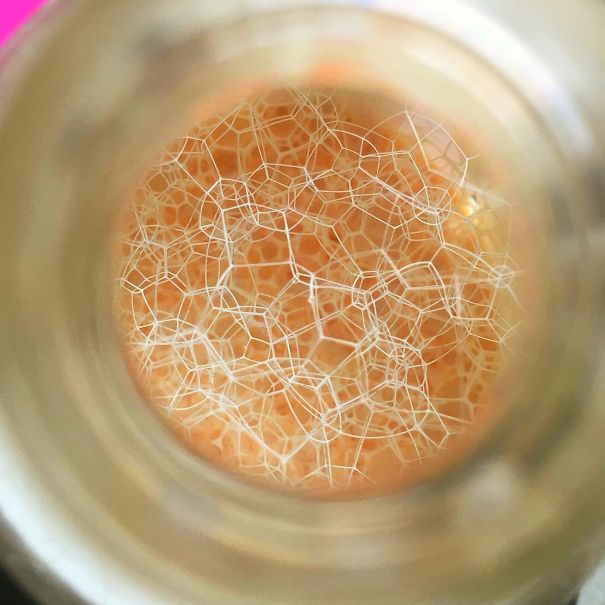 Frost created an optical illusion of gorgeous white birds flying off a tree right in front of the house.
This Chinese lake is filled with algae that looks like it came right down from an Impressionist painting.
This purple Galaxy of unstirred paint is one of the most stunning 'artworks' we've ever seen.
This gorgeous 'pixelated' leaf could easily be an aerial photo of an autumn farm field. Just look at these colors!
Ice creates all kinds of patterns, but this one here looks like it was drawing a topographic map!
The simple art of light, shadow, and form.
It's impossible to tell whether it's a strangely lit waterfall or an actual watercolor painting. What a striking illusion!
Driving through wet snow can also result in some pretty outstanding accidental art.
That moment when you realize you're living in a spectacular landscape painting.
The dreamy landscape created by wind and frost got lit by the rising sun, creating a truly otherworldly picture.
Almost-symmetrical heart-shaped tire marks…How is that even possible?
Put on some Easter decorations and your cat can suddenly turn into a dreamy art piece.
Old paint peeled off the rusty container in the most creative manner. It would be really hard to re-create this effect by hand!