Halloween is coming up, and if you've already got your outfits chosen for you and your significant other, it's time to decide whether you're going to a party or throwing a party. And, of course, if you're throwing a party you're going to need to come up with some Halloween themed party food. I'd like to make a few suggestions in this article.
Here are 20 Halloween food ideas.
Oreo Spiders
Everyone hates spiders, but everyone loves Oreos, so if you make Oreo spider's you'll essentially be making a very neutral kind of food. And it's so easy! All you need is to shove some sticks into the white cream of an Oreo and you're done!
Pumpkin Cupcakes
The beauty of Halloween food is that there are some very clear symbols that are associated with the evening. Spiders, pumpkins, bats, witches, etc. So, if you decorate your cupcakes with any of these symbols — you're golden. And making a cupcake look like a pumpkin is just so simple. You'd be a fool to not try it out.
Fingers
Who doesn't want to eat something that looks like the severed fingers of a human being? And on a night like Halloween it seems like the perfect finger food.
I love bad puns almost as much as I love food.
Hands
And if fingers just aren't cutting it, why not make a pie that looks like a whole hand? The key here is to make it either a raspberry pie or a cherry pie, so that when you cut it open it looks like the whole thing is filled with blood. The creepier you make it, the closer you'll be to the overall theme of Halloween.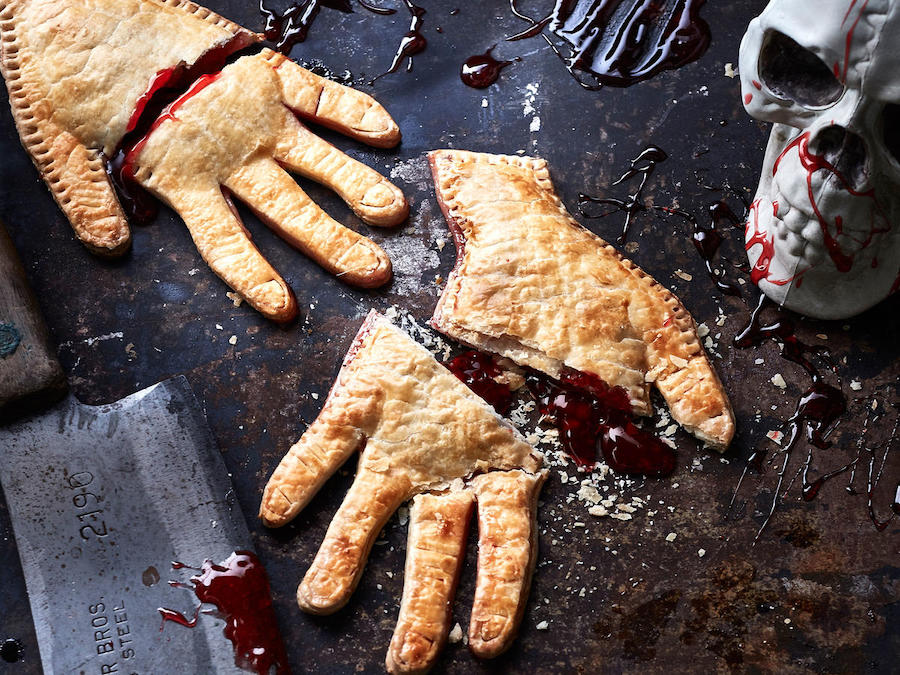 Mummies in a Blanket
Everyone knows that pigs in a blanket are a great party food. They're easy to make, really easy to serve, and really easy to eat. If you get the dough right they won't even leave any crumbs behind. So, all you have to change in the recipe is to use a little less dough, so that it looks like your little piggies are wrapped like mummies.
The "Sweet Tooth"
Take two cookies, put some jam in-between them, and then use marshmallows (the small ones you usually use for cocoa in the winter) to make them look like tiny teeth. This snack is really easy to make and really is going to add to the overall "Halloween" look of your food table.
Freaked Out Donuts
All donuts are already 90% on their way to looking like the terrified open mouths. So, all you have to do is add some eyes to the decoration and you've got your Halloween snack ready to go.
Ghost Cookies
Like the pumpkin cupcakes I mentioned before, Ghost Cookies are a great and easy way to make a simple thing (cookies) into a perfect Halloween snack (ghost cookies).
Spider-web Cupcakes
And, just as was the case with the pumpkin cupcakes, you can throw a spider web design on top of them to look creepy and Halloween-y.
Dried Pumpkin, Beetroots, etc.
Take some vegetables, dry the (either on your windowsill or in a dedicated fruit/vegetable dryer) and you've got yourself a great halloween snack. It's healthy, it looks appropriate for the occasion, and it's actually really easy to make. The best thing about this snack is that you get double the snack! You get the round pieces with the shapes cut out, and you get the actual shapes. None of the vegetables are lost, and all of them are going to look great as your Halloween snack.
Syringe Shots!
The key here is to A) make sure that no children drink this and B) make sure that you're using some red liquid (if it doesn't look like blood you're missing a great opportunity).
EYES
Basically, any snack that looks like a body part that isn't connected to an actual body is a great Halloween snack. So, if you make something that looks like eyes — you'll do great. There are many options to do this. Soft cheese dollops with olives in the middle. Oreo cookies with a small Hershey's chocolate in the middle. Get creative!
Cemetery Brownies
Brownies already look like dirt, so all you need is another cookie that says RIP and you've got yourself a cemetery brownie.
Sausage Spiders
Man, when I was a kid and throw birthday parties, these little sausage spiders were my favorite snack. And they're so easy to make! Just stick some spaghetti into sausage and then cook both together.
Jack-o-Lantern Pumpkin Pie
This one is great because once you've cut out the face on the top of the pie you get to bake and eat the extra crust as a cookie!
Swamp in a Cup
Again, take a brownie (the kind that's not gooey) and put it in a cup. Put some whipped cream to make it look like a fog, and sprinkle it with spiders. You've got yourself a great swamp in a cup.
Halloween Pizza
Who doesn't like pizza? And it's so easy to make it look like it belongs at a Halloween party.
Literally Candy
You know you're going to have kids trick-or-treating, so you know you're going to have candy. Save some for yourself and for your guests.
PASTA
Pasta with tomato sauce already looks like the spilled guts of some human beings, so just add a little extra RED to your pasta to make it look even scarier!
Finger-Dogs
We've already talked about finger food, but this is the easiest snacks to make. All you have to do is cut off a tiny little bit of the hot dog, and then BOOM — it looks like a finger!