If you've ever been to Asian countries, be it hi-tech Japan, civilized Thailand, or some wild parts of Indonesia, you know that you can expect to see all kinds of weird things at any moment. Well, if you haven't, just take my word for it – Asian people have a different way of thinking that often helps them come up with the most creative and bizarre things that will make a Westerner stare in disbelief. Here are 20 bizarre things you will only find in Asia.
Cows are sacred animals in India and are protected by law. Thus, you may often find them roaming around not only small towns, but big cities as well! They can occupy roads causing traffic slowdowns or storm into the shop to eat something yummy if they can grab it. No serious punishment will ever follow!
Japan is a country of many flavors and Japanese people really love their snacks. Would you try Lays with cherry blossom and matcha flavor? I certainly would!
Many Asian businesses are often inspired by bigger brands that are already famous. So why not use that fame to grab some attention for their own product? Meet 'Binbows' from Japan, a new competitor in the computer software market.
One of the main rules in Japanese households is that you should leave your shoes when entering the house. This rule applies to many public places as well! Here are slippers you should put on before entering a public toilet in Japan.
Plastic food packaging like this is a very common thing you will see in many Southeast Asian countries. Whether it's liquid or non-liquid – it will be packed like this! And if you will ask for takeaway tea somewhere in Myanmar, you will most definitely get it in a plastic bag too.
This huge green QR code was created in China using more than 130,000 trees! Naturally, you won't be able to scan it from the ground – only from high up above. It won't work with just any app as it was created specifically for a Chinese app called WeChat.
Japanese people definitely know a thing or two about parenting and that you not always get to roam around with your baby and spouse both at the same time. That's why all public toilets in Japan are equipped with these handy baby holders.
The Maeklong railway (Thailand) passes right through this busy market and vendors often have to grab their goods last minute to save them from the upcoming train.
Using big brand names is quite a common thing not only in India, but in other Asian countries as well.
Japanese people are famous for having a very unique and tender sense of beauty. They will try to make everything look aesthetically pleasing, even if these are manhole covers nobody really looks at while passing!
Santisuk, a 5-year-old monkey was found with a broken arm and nursed back to health in a local clinic in Thailand. But then no one came for him, so the police decided to train him and make him one of their own. Now he uses his charms at roadside checkposts to ease the tension of people who are being stopped by police.
Bird droppings are known to carry various diseases and can spread infections that are harmful to people. So no-no feeding of pigeons!
Singapore is very strict when it comes to cleanliness, so if anyone catches you chewing a gum and throwing it somewhere on the street – a huge fine will follow!
Whenever you feel like you're riding in the most packed subway train ever, just remember this train from Bangladesh and thank God you've never had to experience anything like this.
A new product of Apple just hit the market somewhere in China.
We all know China is a crowded place and there isn't much space for new houses. That's why the constructors came up with a new idea – to build houses on top of everything else!
Does this dog look a bit square to you? It's because it is! Square dog haircut is apparently a thing in Japan and Taiwan, so don't be surprised if you see some square-looking furry friends walking down the street.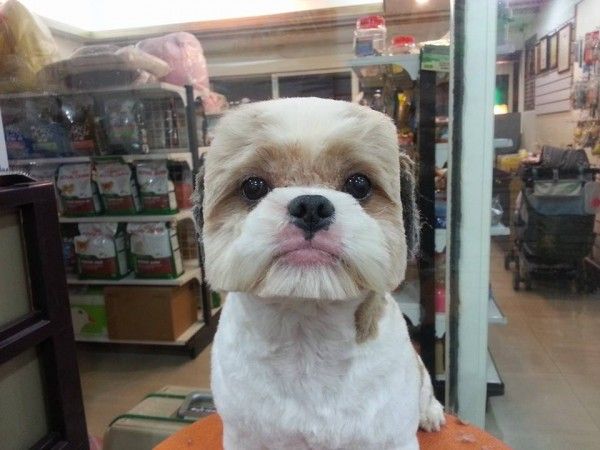 There are many ways to protect your skin from the sun – you can use a super strong sun cream or you can go for a special face mask that will make you look like a creature from a horror flick. They come in different colors, too!
Think wearing braces is the most horrible thing that can happen to a teen? Well, not if you are a teen from a Southeast Asian country! Teenagers wear fake braces to emphasize their status and to look cool. Only wealthy people can afford braces, which makes wearing them very trendy.
Crocodile ice-cream made of actual crocodile eggs, anyone? Definitely not vegan!