A picture is worth a thousand words and that's exactly why we're creating these galleries with beautiful places – to inspire you to drop everything and just go out there into the wild following your heart. If you're wondering where to start exploring this big and beautiful world, well, we have a few places that will definitely take your breath away. They are mysterious, enchanting, and unusual in all possible ways. Here are 15 weirdest places around the world you should visit in 2020.
Die Rakotzbrück
Also known as the Devil's Bridge, Die Rakotzbrück is a bridge in Germany famous for its nearly perfect architecture. Together with its reflection it creates a perfect circle that looks simply mesmerizing no matter how you look at it. It's definitely a must-see!
Salar de Uyuni
This large prehistoric Bolivian lake turns into the world's biggest natural mirror when a thin layer of water covers its white rocky bottom. The lake itself is long gone and what you see is the beautiful salt rock formation left from it. Salar de Uyuni is also home to flocks of gorgeous pink flamingos.
Underwater Park
This Underwater Park is not just some gimmick created on the bottom of a lake – it's an actual green park that goes under water from time to time due to seasonal changes! Located on the Green Lake in Tragoess, this natural phenomenon is a must-see for all beauty-lovers out there.
Jellyfish Lake
The Palau region is home to more than 70 lakes, but only one of them is called the Jellyfish Lake. You can easily guess why! Back in 2013 the authorities closed the lake for visitors as the jellyfish were almost gone…and then everything changed! In just a few years the population of jellyfish got back to its 'normal' level.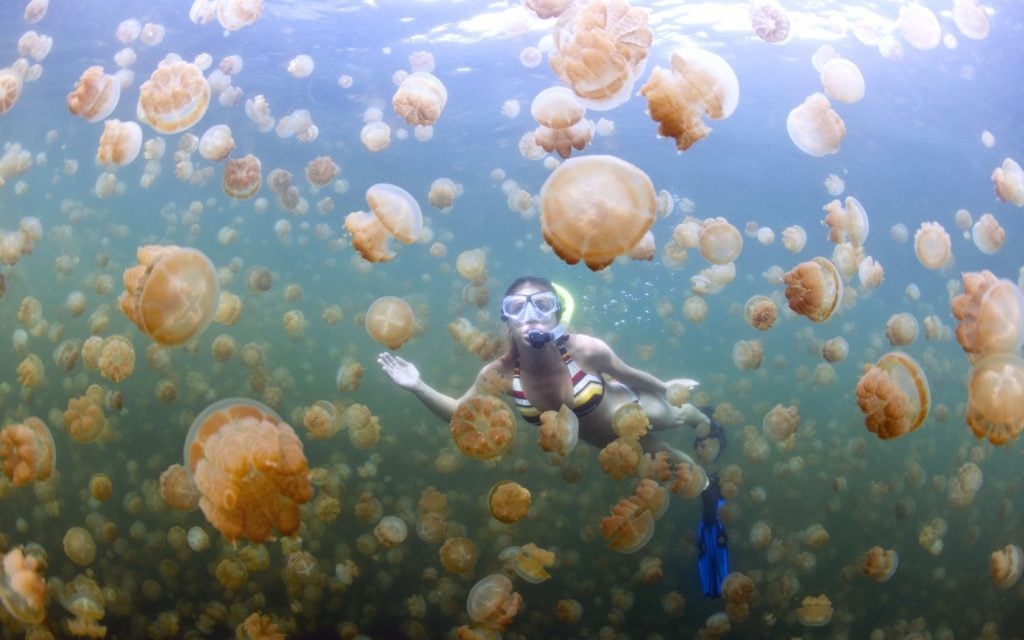 Lake Natron
How about a lake that mummifies its visitors? Birds and animals that happen to visit Lake Natron often turn into creepy-looking mummies through calcification. I don't know if the lake actually plays a part in these animal's deaths or they just happen to meet their end here, but the result is spine-chilling to say the least.
Dead Vlei
Visiting a dried out oasis might not seem like the most romantic idea, but just look at the colours and textures of Dead Vlei! The name can be roughly translated as 'dead marsh', and it offers views like you've never seen before.
Christ of the Abyss
The submerged bronze statue of Jesus Christ is a favourite place of sea divers from all over the world. It's 2.5 meters high, which is impressive even under water! Add this place to the list of must-see things in Italy.
Huashan Mountain
Huashan Mountain might not be the most spectacular mountain in the world, but its gravity-defying Plank Walk in the Sky certainly is one of a kind! In the end of this horrifying trail you will find a tea house (it's China, okay?), but to get there you will have to cross the most head-spinning and dangerous path on the planet.
Lake Retba
Did you ever dream to swim in pink water? Well, even if you didn't you can absolutely go to Senegal and do it in the gentle pink waters of Lake Retba in Dakar. The lake owes its special colour to Danaliella salina algae, a special type of plankton, and some minerals. It's safe to swim in the lake, so don't forget your swimsuit!
Blood Falls
Antarctica is home to many wonders, but rarely do we hear about the creepy Blood Falls! They look especially weird and menacing amidst the beautiful white surroundings covered with ice and snow. Blood Falls owe its gorgeous red colour to huge amounts of iron in the water. It's the same process that makes actual iron rust!
Vinicunca Rainbow Mountain
Montaña de Siete Colores, also known as the Rainbow Mountain or simply Vinicunca, is a colourful wonder of Peru not many people know about. It's very hard to reach, but once you get to the peak you'll be rewarded with a sight only few have seen with their own eyes.
Fingal's Cave
The remote islands of Staffa in Scotland are home to a rare natural phenomenon – square caves! We are used to caves being all round and rocky, but this is not the case with Fingal's Cave. It has a square entrance and all the formations inside are also very geometric. They look simply breathtaking!
Monolith Of Uluru
Australia is home to a plethora of weird and wonderful things, but the Monolith of Uluru is one of the most prominent ones. This gigantic mountain is actually one huge rock 348 meters high. Yep, you heard it right – just one rock! And you won't see anything like it around – it's just lying there on flat land like someone threw it there…
Mt. Kelimutu
Mt. Kelimutu is a very special mountain as it contains three differently coloured lakes. One is turquoise, another one is pitch black, and the last one is sky blue. Together they create the most mesmerising sight! To make matters even weirder, the colours of these three lakes change all the time.
Ruby Falls
Head to the Lookout Mountain near Tennessee to experience the most majestic sight – the Ruby Falls. Yes, the lighting is human-made and is far from a natural occurrence, but it doesn't make the Ruby Falls any less spectacular! Enjoy the stalactites, stalagmites, and numerous cave formations inside the Lookout Mountain as you marvel at its red waters.