I've always loved strong female characters. I grew up seeing Zena and Captain Ripley as my role models. And in the last years, one more character has joined my list – this amazing woman is Brienne of Tarts from the Games of Thrones. This lady-knight captured my heart the minute I saw her on the screen. She's strong, she's fearsome, she's beautiful, and she's… ridiculously tall!
This is why I'd like to direct your attention to the talented woman who brings Brienne of Tarth to life on screen – Gwendoline Christie. A noble warrior and protector of Arya and Sansa Stark on screen, in real life, Gwendoline is a fashion icon who slays runways and modeling for big names like Miu Miu, Vivienne Westwood, and Iris Van Herpen. Whenever she on the red carpet, Gwendoline always makes sure she looks stunning and every inch a queen.
As her modeling game is stronger than ever right now, here are some of the most iconic fashion looks of beautiful Gwendoline Christie…
1. Gwendoline definitely made those heads turn at the premiere of the final season of Game of Thrones with her gorgeous dress from Iris Van Herpen.

2. That time when Gwendoline walked the runway for Tomo Koizumi.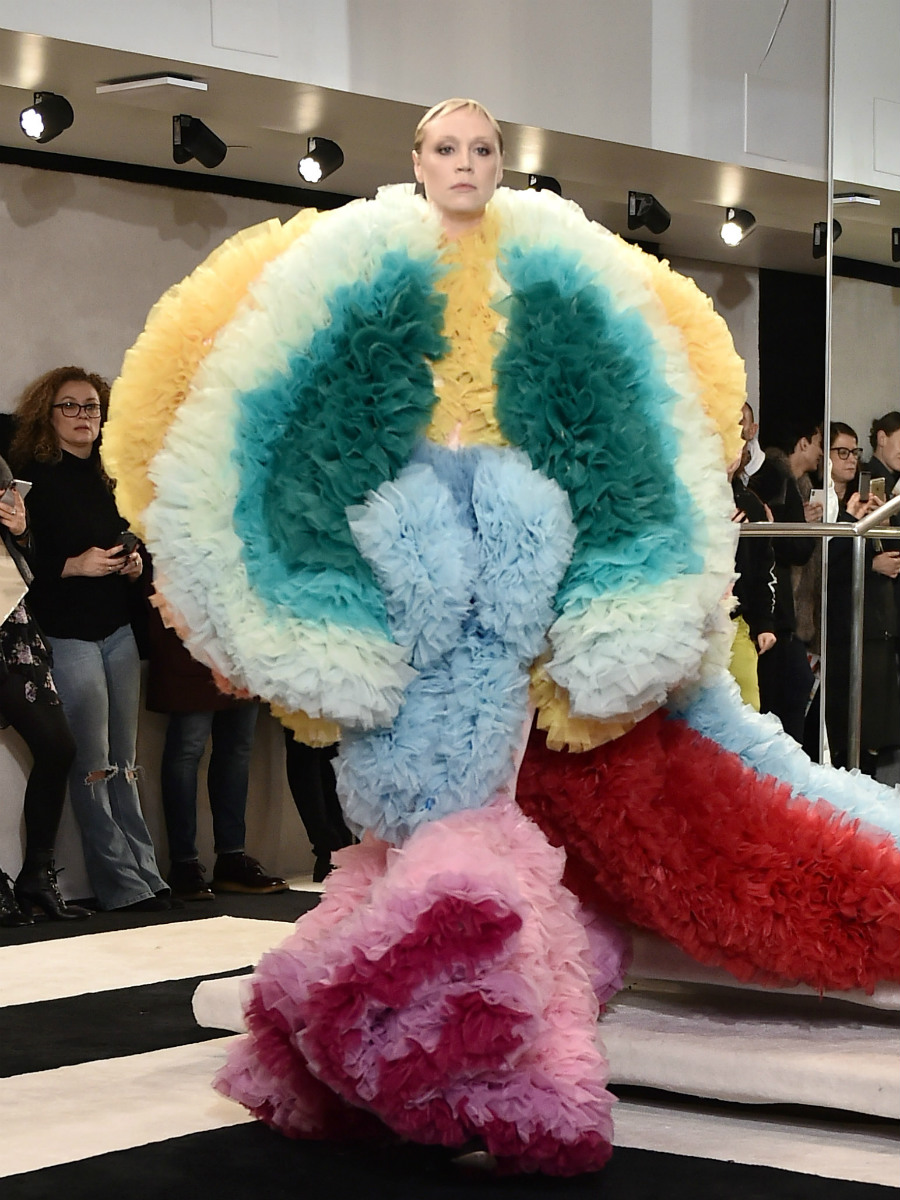 3. Gwendoline kept everything simple at the 74th Golden Globes Awards by wearing this creamy gown.

4. The Game of Thrones star totally wowed the crowd at the premiere of The Last Jedi with her glamorous gown.

5. If you are looking for a chic work inspiration, look no further! Gwendoline totally slayed this satin trouser suit look!

6. The man behind Gwendoline's extravagant outfits is actually her partner Giles Deacon, a fashion designer.

7. That time when Gwendoline was modeling in a Star Wars themed gown made by her designer boyfriend. The high fashion gown was featuring images of Gwendoline's character in The Last Jedi movie, Captain Phasma.

8. For the premiere of the Last Jedi in LA, Gwendoline picked a stunning gown and totally stole the spotlight that night!

9. Gwendoline is known for being a big fan of Miu Miu brand, and she walked runways for them many times.

10. Just like I said, she loves Miu Miu and will never miss a chance to model for their collections.

11. You might say a pajama queen, I would say a satin queen!

12. Did you know that Gwendoline is best friends with Kate Moss? It was actually Kate Moss who introduced Gwendoline to the fashion world and basically kick-started her modeling career.

13. That time Gwendoline modeled and walked runway for Vivienne Westwood.

14. And I'll say it again – Satin Queen!

15. Just look how cute and girly she looks in this lip-printed dress and a dino-shaped purse!