A watch is not just a piece of jewelry that helps you tell time, it's also a great way to brag about how rich you are without saying even a single word. Just flash your piece in front of your victim and watch their eyes fly out of their orbits! That is, of course, if your watch is hugely expensive. Because, trust me, you won't win any impression points by rocking a $5 Montana. Compared to the 10 watches you're about to see, even a $1000 Apple Watch feels like chump change.
Here are the 10 most expensive watches in the world! Try to memorize their design, because you never know what you'll find on the beach.
1. Breguet Antique Number 2667 – $4.5 Million
If you happen to have $4.5 million laying around, this bad boy can be yours! Great vintage design combined with luxurious 18k yellow gold case makes this watch a real steal!

2. Louis Monet Meteoris – $4.6 Million
In the whole wide world there are only 4 of these exquisite watches. This, combined with a moon rock inside each of them, makes the price somewhat more bearable.



3. Hublot Big Bang – $5 Million
Diamonds! Diamonds everywhere! For a measly $5 mil you can get the Hublot Big Bang watch, encrusted with 1280 diamonds. My point is, it's got rocks for days!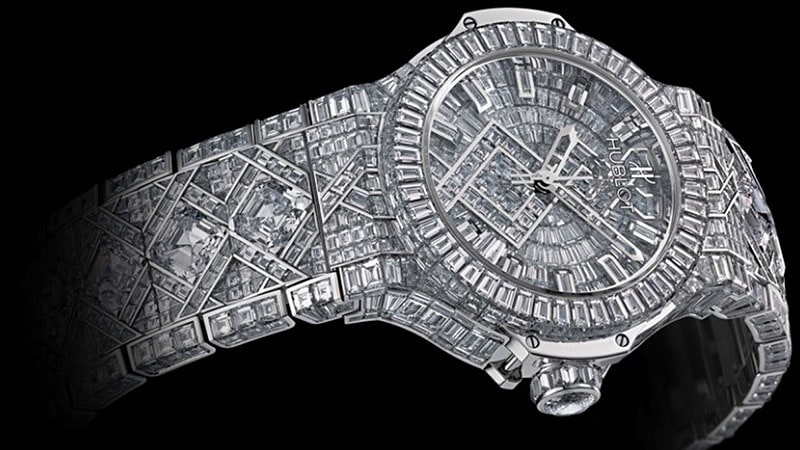 4. Patek Philippe Ref. 1518 in Stainless Steel – $11 Million
At first glance, this stylish watch looks no different from something you can buy in a good store, so where does the $11 mil price tag come in? Turns out it's a limited edition watch and its casing is one-of-a-kind – stainless steel instead of yellow or rose gold. … wait, what? They charge more for a stainless steel casing? That's not right.



5. Jacob & Co. Billionaire Watch – $18 Million
People call this piece the Billionaire Watch. And looking at the $18 mil price tag, I'd say they're correct. The luxury of having 260 carats of emerald-cut diamonds will be yours if you can afford it!

6. Patek Philippe Henry Graves Supercomplication – $24 Million
This $24 mil watch features 24 complications ($1 mil per each complication) and allows the wearer to use tools such as the perpetual calendar, minute repeater, sunrise and sunset times, and some other unnecessary functions.



7. Chopard 201-Carat Watch – $25 Million
You can guess from the name why this timepiece costs $25 mil. A 15-carat pink diamond, a 12-carat blue diamond, and an 11-carat white diamond are all prominently featured, and the rest of the stones you see are white and yellow diamonds… 163 carats of them.



8. Breguet Marie-Antoinette Grande Complication Pocket Watch – $30 Million
First of all, this thing is ancient! Legend has it, it was commissioned by Marie Antoinette's lover boy in 1782. Too bad she didn't even get it, as it took the clockwork masters over 40 years to complete this bad boy.

9. Graff Diamonds The Fascination – $40 Million
This particular timepiece consists of 153 carats of white diamonds, and has a 38 carat pear-shaped diamond in the very center! Looks amazing, though.



10. Graff Diamonds Hallucination – $55 Million
And the very first place of this list goes to Graff Diamonds Hallucination – a $55 mil watch. No jokes. When I asked my mom how much does the most expensive watch cost, she said "over 50 thousand". Aaah, my mom is very naїve, so millions were not even an option. This "watch" has a platinum bracelet covered with over 110 carats of diamonds. Nothing like your average Apple Watch.