Who doesn't like a good story about a haunted house, right? But what if those stories were closer to real people than we all thought and you, yourself, had the chance to witness some unusual activity? Hotels are those amazing places that draw not only people, but spirits as well! Some of them are neutral; others are quite aggressive and can scare people to death. Would you like to spend the night in a hotel like this? Here are 10 stories that will send shivers down your spine.
Place D'Arms Hotel, New Orleans
Place D'Arms Hotels is not on the list of haunted hotels, but it should be! Built on top of a schoolhouse that burned to the ground, not many people have experienced sightings there. One TripAdvisor traveller described her 'visit' – during the night she felt that someone came to her bed and got in, moving the covers. The woman was scared out of her mind!

The Marshall House, Savannah
The Marshall House has a long history of being a hospital – first time during the Civil War, and second time during the yellow fever epidemics. Dozens of guests have had weird encounters and ghost experiences. One woman woke up to a loud whirring noise that almost made her jump, others have seen faucets turning on by themselves. Sounds of children running around the hallway are often heard in the hotel, but there are no kids around.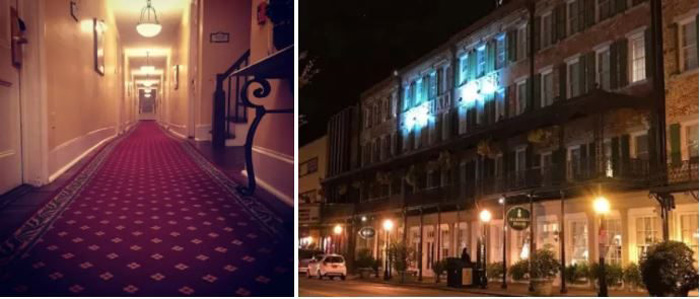 The Fairmont Banff Springs, Banff
It's a dreadful thing to die on your wedding day, but that's exactly what happened to the young bride that was getting married in the Fairmont Banff. No one knows the exact reason of her death, only that she fell from the stairs. Many people state they've seen her in the ballroom waiting for her first dance, or walking around the hallway in her wedding gown. She's become a real legend in Canada!

The Mizpah, Tonopah
Rumor has it that at the turn of the 20th century a prostitute was killed in the Mizpah hotel. Also known as the Lady in Red, she can still be heard (and sometimes seen!) in the hotel. One of the 'encounters' happened on the 4th floor – visitors heard voices behind closed doors, but when they opened them, there was no one in the room.



Casablanca Inn, St. Augustine
Owner of the Casablanca Inn got into bootlegging back in 1914 and often used a lantern to signal ships that would bring illegal alcohol ashore while no one was watching. People can still see her walking around the hall with a lantern. Many have experienced some kind of presence with lights going on and off.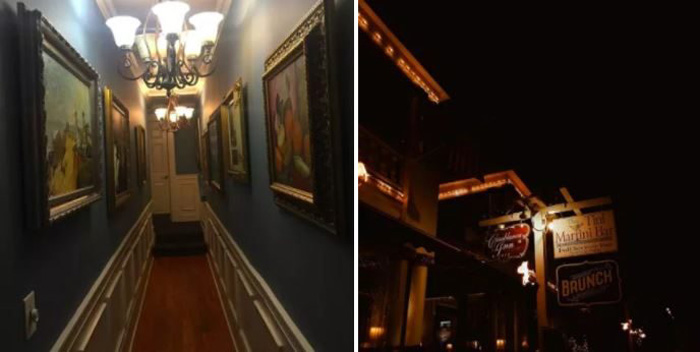 The Queen Anne Hotel, San Francisco
After a boarding and day school for girls was closed in 1890 due to financial problems, it was soon turned into a hotel. Yet Mary Lake, the principal of the former school, never left the building. She is still taking care of its residents – people often here footsteps, furniture starts moving around, and someone goes around tucking people at night.



The Pfister Hotel, Milwaukee
The owner of the Pfister Hotel just couldn't leave the place behind. MLB players tell about paranormal activity with TV and air conditioning turning on and off, while someone is knocking on the door. Adrian Beltre also stated that he heard hitting noises as if someone was pounding at his headboard.



The Battery Carriage House Inn, Charleston
Apparently, ghosts like to have fun in New Orleans in general and Charleston in particular. The Battery Carriage House has a few stories up its sleeve. In 1997, the owner got a call from one of the residents stating he has seen a torso of a man with no face, moaning in the hallway. A carriage driver in Charleston also told that they used to hand pirates from the trees on the hotel's premises back in the day.

Bourbon Orleans Hotel, New Orleans
This hotel in New Orleans used to be a convent during the infamous yellow fever epidemic. Residents have been sending reports about paranormal activity: many of them have heard a girl bouncing a ball in the hallway, but no girl has ever been found!



Hotel Del Coronado, San Diego
Kate Morgan was a con artist that traveled around the country with her husband. One night her husband went out and never came back. She waited for him, but one week later was found dead near the staircase leading to the beach. According to the coroner's report, she was pregnant and took her own life. People now see her ghost wandering around the beach and hotel's first floor.