It's officially the festive season, so you can scroll through gazillions of Christmas images all the while listening to the cheesiest of Christmas songs – completely guilt-free! Make yourself a cup of warm cocoa sprinkled with cinnamon and marshmallows and get into your festive mood by viewing some of the most spectacular Christmas light displays all over the world. In my opinion it's the most cheerful and exciting part of the whole celebration, and I'm not talking about a few more lights on the city Christmas Tree, I'm talking about whole streets and districts putting up spectacular light displays of various shapes, colours, and themes. Here are 10 of the best Christmas light displays from around the world.
Kobe Luminarie, Japan
Each year the Kobe town of Japan lights up with thousands of carefully designed lights to commemorate the Great Hanshin earthquake of 1995. The theme of the light show changes every time.
Cathedral Square, Vilnius, Lithuania
Last year's Christmas Tree in Vilnius, Lithuania, was made out of 70,000 bulbs, give or take, composing a sight so bright it could be seen from the planes landing in the city. Visitors could also enjoy a festive market, a special Christmas train run by elves, and 3D light show projected onto the Vilnius Cathedral.
Shiodome Caretta Illumination, Tokyo, Japan
Shiodome Caretta is a grand shopping mall located amidst the skyscrapers of Tokyo. Each year it presents an exciting light show, surprising the visitors with unique themes. The theme for 2020 is Arabian Nights and some live performances would be held as well.
Village de Noël, Nice, France
Village de Noël in Nice is a real French Wonderland that offers a variety of festive treats to anyone looking to get into a Christmas mood. Apart from a huge market with around 60 chalets you will find an ice skating rink, and more twinkling lights than you've ever seen on the Promenade du Paillon near Place Masséna.
Luci d'Artista, Salerno, Italy
The light installations in Salerno, Italy, are among the must-see Christmas decorations of 2020. The fascinating LED replication of the starry night sky is accompanied by light animals and a huge 60-foot Ferris wheel that allows you to enjoy the spectacular show from up above.
Ayala Triangle Gardens, Manila, Philippines
You don't have to be in a cold and snowy environment to celebrate Christmas – Manila's Christmas light display in the Ayala Triangle Gardens is proof of that! Each year the place is decorated with millions of lights dancing to the beat of Christmas songs. It's a sight like no other!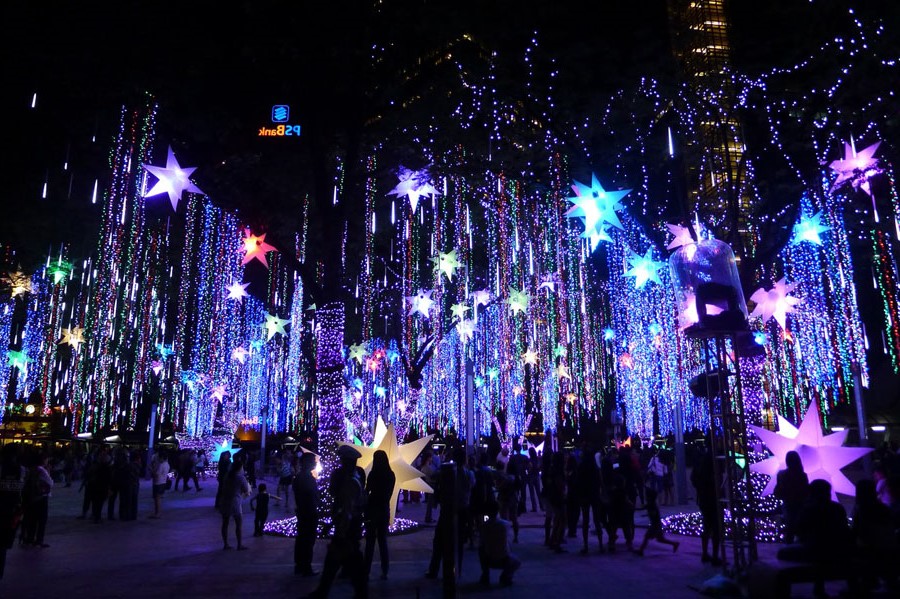 Kew Gardens, London, England
The show-stopping light installations at London's Kew Gardens are a sight all Christmas-lovers should enjoy at least once in their lifetime. The light show is rich with laser projections and various 3D light effects.
Tivoli Gardens, Copenhagen, Denmark
The gorgeous Tivoli Gardens of Copenhagen draw thousands of visitors from all over the world each year. Both locals and tourists enjoy strolling the well-lit streets and lanes with the magnificent Tivoli Castle sparkling at night. During the festive season the Tivoli Lake is illuminated by frequent fireworks that turn the whole place into a real wonderland.
Amsterdam Light Festival, The Netherlands
The city of Amsterdam is always innovative when it comes to Christmas light decorations. This year the Amsterdam Light Festival has gathered 20 artists from 16 countries all across the globe to create light installations in various parts of the city. It might be the most thrilling and creative Christmas light display ever!
Canyon Road Farolito Walk, Santa Fe
Head to Santa Fe to enjoy one of the most endearing Christmas traditions that involve strolling down the well-lit streets of the famous Canyon Road Farolito Walk. Unlike most Christmas light displays, this one doesn't involve electric lights – instead, it features hundreds of farolitos (paper bags filled with sand and topped with a candle). It's a sight you'll never forget!